Justice League Review
By Lora Grady
A "League" of Their Own
After several dour outings, DC finally stakes out space on the Marvel playing field with "Justice League," a fast-paced superhero adventure that's part origin story, part teambuilding tale, and altogether entertaining. The DC Extended Universe finds its footing with this offering that succeeds in a difficult balancing act: it gathers a cadre of powerful characters and lets each shine in their own particular way while simultaneously introducing a new legion of world-threatening baddies and successfully teasing what's next for this far-reaching storyline.
Following the death of Superman (Henry Cavill, "The Man From U.N.C.L.E.") in last year's "Batman v Superman: Dawn of Justice," Batman aka Bruce Wayne (Ben Affleck, "Live By Night") sets himself to the task of assembling a team of metahumans - genetically gifted humans, in DC-speak - to ward off a potential alien threat to the earth. Based on info he wrested from arch-villain Lex Luthor in "Batman v," he eventually tracks down super-speedy Flash (Ezra Miller, "Fantastic Beasts and Where to Find Them"), the mechanically enhanced Cyborg (newcomer Ray Fisher), and Aquaman (Jason Momoa, Game of Thrones), who can harness the powers of the sea and, as Bruce Wayne puts it, "talks to fish." Helping in this quest is Amazonian warrior Wonder Woman (Gal Gadot, "Wonder Woman"). Once assembled, they're the team that will eventually become the Justice League.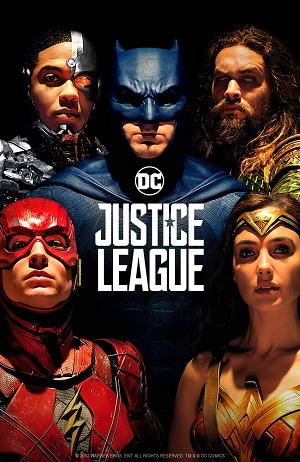 There's a ton of material here and director Zack Snyder ("Man of Steel"), working from a script penned in part by Renaissance nerd Joss Whedon ("Avengers: Age of Ultron"), handles it more nimbly than one might expect. The action drops in on the new characters long enough for us to grab a bit of backstory on each; meanwhile, there's a gathering storm on the enemy front as towering bad guy Steppenwolf (voiced by Ciaran Hinds, "Silence") has returned from exile - with the way that baddies pop in and out of exile in these films you'd think it comes with a revolving door - and is poised to wreak havoc on Earth. He's on the hunt for three Mother Boxes, cubes of ancient power that were distributed, Tolkien-like, among different ancient races for safekeeping. For casual viewers the Boxes serve as the MacGuffin around which the plot coalesces, but loyalists will know that they hold much greater import in the DC Universe.
Either way, the quest for the Boxes provides an opportunity to revisit the home island of the Amazons, and a rollicking chase scene where the warrior women take to horseback to keep their Mother Box from Steppenwolf is one of the best action sequences in the film. As you'd expect in a film packed with this many superheroes, there's lots of action overall, though several of the epic clashes suffer from an overreliance on CGI. "Justice League" is at its best when it manages to keep the focus on the characters in the midst of the melees. There's a strong scene mid-film when The Flash comes up against an adversary who's able to match him in speed and skill, and the action slows down in order to show the impact as he's thrown off guard and struggles to recover.
As The Flash, Ezra Miller gives a breakout performance; he's got the funniest lines and demonstrates a light comic touch that's unexpected given his prior work with heavier dramatic roles. But his Flash is more than just comic relief, and Mr. Miller is equally adept in showing vulnerability as the fledgling hero notes that his super speed leaves him feeling disconnected and out of sync with others. Theater actor Ray Fisher is equally compelling as Cyborg, who also has a tragic backstory and the bitterness to go with it. Even through his character's prosthetics Mr. Fisher's facial expressions are magnetic, and he holds his own in scenes with veteran actor Joe Morton (Scandal) as his scientist father.
Gal Gadot continues to prove that she was born to play Wonder Woman. Mr. Snyder wisely resists the fetishizing urge that lurked in some of his earlier outings, though he does frame the Amazon warrior's introduction by showing her perched atop a massive, gleaming statue of Lady Justice. But she's the centerpiece here, whether she's protecting hostages from a band of bank robbers, coaxing Cyborg to join the proto-Justice League in fighting Steppenwolf, or reining in fellow combatants Batman and Aquaman when their alpha elbowing threatens to get out of hand. As Bruce Wayne/Batman, Mr. Affleck maintains an effective world-weariness, and Mr. Momoa's Aquaman hits just the right notes as a grudging team player, though of all the origin stories his remains a bit murky. But keep an eye out for a moment when he turns introspective; it's a small touch that leads to a great payoff.
Although "Justice League" is lighter than prior DC entries, it still retains a satisfying layer of darkness. The film opens on a downbeat note, as the world mourns the death of Superman, and his loss is signified by increased crime and general pessimism. Steppenwolf's arrival is presaged by an infestation of creatures best described as armored, flying zombies - truly creepy. The "hellscape" that Steppenwolf seeks to bring to earth is pretty frightful, and in order to combat it our heroes are driven to equally dark acts. This tinge balances the high-energy fight scenes and keeps matters from straying into frivolous territory.
"Justice League" will have its naysayers, but it's a solid comic book movie that's yards ahead of its predecessors in the DC Extended Universe. It stands on its own as a fun viewing experience, but the film's biggest accomplishment may be that it sets up a great story and will have you truly excited for DC's next chapter.