Joy Review
By David Kempler
A Joyous Time
For a half hour or so, David O Russell's "Joy", which is based on a true story, is close to perfect. I thought that I might be viewing the one that could bring home the statue for Best Picture. It reminded me of a good Wes Anderson film, with its quirkiness. My hopes were not quite crushed. Eroded slowly would be a more accurate phrase to describe the path it took. Don't misunderstand. It's got plenty going for it, but more in the way of a bunch of fun skits strung together, rather than a complete product.

Joy Mangano (Jennifer Lawrence) is a beleaguered woman who takes care of everyone around her. She shares her house with her grandmother, Mimi (Diane Ladd), her mother, Terry (Virginia Madsen), her ex-husband, Tony (Edgar Ramirez), her father Rudy (Robert De Niro), and her children. She works for an airline as a ticket agent, fixes everything that breaks in the house, helps run her dad's business, and tries to keep everyone happy.

Once her high school's valedictorian, she has been reduced to a full-time care giver. The early scenes that lay this groundwork are outstanding. It's when she starts to find her way that it starts to feel too much like scenes strung together. It's still entertaining, but the momentum periodically stalls. Despite this, there are some sections that almost live up to the first 30 minutes.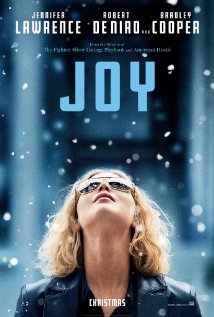 Joy taps into her dreams as a little girl of being an inventor and devises a new kind of mop, which will eventually be known as the Miracle Mop. Inventing it was the relatively easy task. Bringing it to market was the tough part. She turns to Trudy (Isabella Rossellini), her dad's latest girlfriend, a widow who has her husband's money. Trudy obliges, but with great reservations. Now armed with a prototype, Joy hangs out in parking lots trying to interest ladies in her invention. It's not successful.
This is all occurring in the late 1980's and it's the time of the birth of shopping via television. QVC is in its infancy. Joy goes there and gains an audience with Neil Walker (Bradley Cooper), a powerful executive at the company. He likes it. There are still lots of bumps left in Joy's road, but the outcome isn't a mystery.
I really enjoyed "Joy", but couldn't help but feel that there is a great movie in there that gets sidetracked by numerous little things that block it. Perhaps the best part is that it's a rare film where a woman serves as the total package. Once she sets her mind to doing things her way, everything falls into place for her. You don't see many movies where the female does it all by herself, without the help of a man. I imagine "Joy" will bring great joy to the females in the audience. Most of the men, too.