John Carter Blu-ray 3D Review
By Chris Chiarella
The Movie
Director Andrew Stanton has brought Edgar Rice Burroughs' classic adventure novel A Princess of Mars to grand, glorious life with his film John Carter. Renamed for its Earthly hero (what member of the young male demographic is going to beat a path to a "Princess" movie?), this take follows a Civil War veteran (Taylor Kitsch) who is suddenly transported to the red planet of Mars, or "Barsoom" as the locals call it. He lands in the midst of two factions battling with fantastical contraptions, and his own skills as a brave, skilled warrior come in mighty handy, first to help him stay alive, and then to turn the tide of Martian history.
In drawing upon a 95-year-old text, Stanton and his co-writers are stuck with a lot of wonderful ideas that have since gone on to become clichés. And in updating the storytelling with literally thousands of digital special effects shots, at some point the movie falls a little too in love with its own pageantry, its own lavish spectacle, losing focus on the human element.
Leaving so soon, stranger? Or do you have the courage to stay and read Joe Lozito's review of John Carter?
The Picture
Visually at least John Carter is stunning. The 2.4:1 movie was shot on film and displays only a modest film grain and video noise, but a pleasing level of shadow detail and some impressive nuances in the elaborate Martian airships. The palette shifts significantly when we transition from our green planet to that red one, well-presented in HD. Sandstorms and such reproduce with clarity and stability.
The movie was produced in 2D and later converted for 3D exhibition, with that faint telltale outline around characters and such. The effect is applied smartly, on windows and prison bars and generally imparting a bit more realism to the proceedings.
The Sound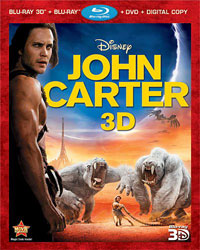 Mars is where all of the serious audio action can be found, with smooth, marvelous flight plus other cues spread across the DTS-HD Master Audio 7.1-channel soundfield. The multiple surrounds are also called upon for fun bits like a chamber full of crying babies and a tunnel of crackling energy. The big battles offer an exciting directionality and ample bass.
The Extras
Just a couple of trailers on the Blu-ray 3D disc, but the 2D Blu-ray offers the Disney Second Screen feature, which automatically syncs the movie with their free app running on our iPad or laptop, pushing extensive relevant bonus content. Viewers looking for a more straightforward peek behind the scenes will likely enjoy "360 Degrees of John Carter" (34-and-a- half minutes). Filmed on Shooting Day 52, it covers most aspects of this massive, complicated production from catering on up, from before sunrise to quittin' time.
"100 Years in the Making" (eleven minutes) takes a personal look at the long journey to the big screen. There are also ten deleted scenes (19 minutes total) with an optional on-camera introduction and director commentary, in addition to two minutes of bloopers. All of these video extras are in HD. Stanton joins producers Jim Morris and Lindsey Collins for the audio commentary as well.
Also included in this four-disc set is John Carter on DVD, along with the audio commentary and "100 Years" featurette, plus a Digital Copy for iTunes or Windows Media.
Final Thoughts
A sprawling fantasy epic that plays well in the 2D/3D home theater, John Carter probably won't be the most original movie you'll watch this year, but it will make for an enjoyable evening's diversion.
Product Details:
Actors: Taylor Kitsch, Lynn Collins, Mark Strong, Dominic West, Voices/Performance Capture of Willem Dafoe, Samantha Morton, Thomas Haden Church
Director: Andrew Stanton
Audio Format/Languages (2D/3D): DTS-HD Master Audio 7.1 (English), Dolby Digital 5.1 (French, Spanish), Dolby Digital 2.0 (English Descriptive Video Service)
Subtitles (2D/3D): English SDH, French, Spanish
Aspect Ratio: 2.40:1
Number of discs: 4
Rating: PG-13
Studio: Walt Disney Studios Home Entertainment
Release Date: June 5, 2012
Run Time: 132 minutes
List Price: $49.99
Extras:

Audio Commentary by Andrew Stanton, Jim Morris and Lindsey Collins
"360 Degrees of John Carter"
"100 Years in the Making"
Barsoom Bloopers
Deleted Scenes with introduction and optional commentary
DVD of the movie with select bonus features
Digital Copy