Jeff, Who Lives at Home Blu-ray Review
By Rachel Cericola
The Film
Going into Jeff, Who Lives at Home, you'd think it was a comedy. That's understandable, given stars Jason Segel and Ed Helms. However, this isn't another Hangover or a buddy comedy.
Jeff, Who Lives at Home is the story of two brothers, Jeff (Segel) and Pat (Helms). Pat has a boring job, a mid-life crisis and a really crappy marriage to Linda (Judy Greer). Jeff is the title character, who lives with his mom and is completely obsessed with the name Kevin and the movie Signs -- yeah, the M. Night Shyamalan movie with Mel Gibson. The film also features a side plot about mom (Susan Sarandon), a widow that works spends most of her work day trying to figure out the identity of her secret admirer.
For such a short movie, Jeff packs in a lot of drama, but also has a lighter side, especially when it comes to the two brothers. Because it's not the type of raucous comedy Segel and Helms are known for, this film sort of flew under the radar. That said, it's a very sweet, satisfying way to spend 83 minutes.

The Picture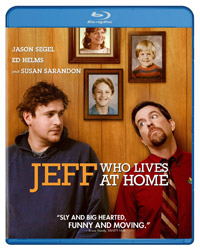 For a guy that lives in his mom's basement,
Jeff
is very attractive looking. The 1.85:1 image has a few soft shots, but that seems to be the result of the film's intentional shaky-cam. Still, the image is clean and very lifelike, with a good balance of colors. Nothing is ever too bold, but it looks good. Close-ups are probably this image's strongest suit, showing off a lot of facial hair, pores and blemishes.
The Sound
This DTS-HD Master Audio track injects a few jumps into an otherwise mellow listening experience. For the most part, this film is all about the dialogue. That sounds nice and clear throughout the entire film, and the soundtrack makes itself known in the front channels. It's nothing memorable, but works for this film.
The Extras
With such a talented cast, it's disappointing that there's no commentary, no featurettes and no blooper reel. The release doesn't even include the film's theatrical trailer. Paramount has attached an UltraViolet Digital Copy of the movie and nothing more.
Final Thoughts
Don't expect an Apatow-fest on this one. Jeff, Who Lives at Home is a dramedy that may have you shedding a few tears by the end. If not, you should definitely have some newfound respect for Jason Segel and Ed Helms, who both get to delve into a little drama, with sweet results.
Product Details
Actors: Jason Segel, Ed Helms, Susan Sarandon, Judy Greer, Raw Dawn Chong
Directors: Jay Duplass, Mark Duplass
Audio/Languages: DTS-HD Master Audio 5.1 (English), Dolby Digital 5.1 (French, Spanish, Portuguese), DVS (English)
Subtitles: English, English SDH, French, Spanish, Portuguese
Aspect Ratio: 1.85:1
Number of Discs: 1
Rating: R
Studio: Paramount Pictures
Blu-ray Disc Release Date: June 19, 2012
Run Time: 83 minutes
List Price: $40.99
Extras: