JVC Introduces Six 3D-Capable D-ILA Projectors
By Greg Robinson
Every year, front projector enthusiasts wait anxiously for the CEDIA Expo - a favorite venue of projector manufacturers to flaunt their newest light canons. With this year's show just getting underway in Atlanta, we're already off to a promising start with JVC's introduction of six (yes, six) new D-ILA projectors boasting 3D capabilities.

As is customary with JVC, three of the new models (the DLA-X3, DLA-X7 and DLA-X9) will be marketed and distributed through JVC's Consumer Electronics Group while the other three (the DLA-RS40, DLA-RS50 and DLA-RS50) will be available only through JVC's Professional Products Group.

To handle the demands of new 3D content such as that from satellite and cable providers plus that of the Blu-ray 3D format, each of JVC's six new projectors has been outfitted with two HDMI 1.4a ports, supporting the side-by-side (broadcast), frame series (Blu-ray 3D) and above-below forms of 3D video transmission. 3D playback is made possible by the use of an external 3D Signal Emitter (PK-EM1) which syncs the projected image with JVC's Active Shutter 3D Glasses (PK-AG1).

In addition to their 3D capabilities, these new models deliver what JVC is calling "unmatched" contrast performance, with the higher-end models promising a native contrast ratio of 100,000:1. "No other three-chip projectors in the home theater market can match the amazing 100,000:1 native contrast ratio of the DLA-RS60 or DLA-X9," says Gary Klasmeier, JVC's product engineering manager. "JVC's contrast ratio numbers are not artificially inflated by electronic circuitry or a dynamic iris, so every frame consistently and faithfully reproduces peak whites and deep blacks."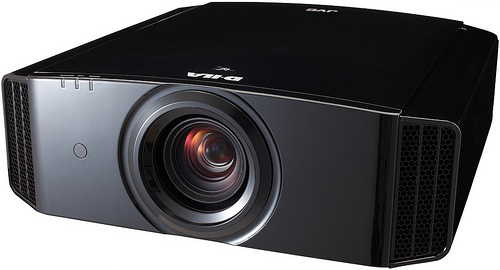 All six of these new 3D projectors will be available in late November with pricing as follows:
DLA-RS60/DLA-X9 - $11,995
DLA-RS50/DLA-X7 - $7,995
DLA-RS40/DLA-X3 - $4,495

The PK-AG1 3D glasses ($179) and PK-EM1 3D Signal Emitter ($79) will also be available in November.

Read the complete press release at JVC.com.


Where to Buy:
More 2010 CEDIA EXPO Coverage Live from Atlanta: