JVC Expands D-ILA Projector Line with Performance Enhancements and 4K
By Ian White
JVC makes some of the best projectors in the world so when they announce a new line-up, videophiles and home theater hobbyists can get a little excited. The price of entry for JVC used to be quite high, but in recent years the manufacturer has gotten smart and started offering high-end D-ILA projectors for less than $3,500.
If you've never had the opportunity to watch a calibrated JVC projector do its thing in a home environment, you're missing out on a great home theater viewing experience. The 2013 expanded line-up announced at CEDIA Expo 2012 includes the brand new DLA-X35/DLA-RS46 ($3,495) and the Reference Series DLA-RS66/DLA-X95R ($11,999) among others.
All of the new models include 3D playback but the entry level DLA-X35/DLA-RS46 do not offer JVC's e-shift2 technology which upconverts and scales 2D content to a 4K signal. JVC introduced e-shift last year but has expanded the technology to almost its entire line-up for 2012/2013. Unlike Sony which is offering native 4K projectors, the JVC models only upconvert a 2D HD signal (1080p) to 4K (3840 x 2160) so don't try to connect a native 4K source to this projector (assuming you can even find one).
The new 2K to 4K scaling includes a new proprietary JVC algorithim which replaces the older two-band filter with an eight-band filter which applies correction to more areas of the image.  E-shift2 technology includes a higher native contrast ratio combined with a polarazing wire grid engine.T he result?  A cleaner, brighter, more detailed image.
At this point, there really isn't any 4K content to watch at home; not to mention the lack of 4K players, so the 2K to 4K upscaling feature is useful in making your existing library of films on Blu-ray, DVD or streaming sources look more detailed and realistic on that huge home theater screen.  It's impressive, for sure.  At least until manufacturers figure out how to make 8K flat panels that are over 90" and affordable. Look for that around the time President Christie is finishing his first term in 2020.
Horrible looking SD images will certainly look better (well maybe) via 2K to 4K upscaling, but unless you are using a really big screen and sitting relatively close, your eyes are probably not going to see it. We look forward to the Blu-ray 3D 4K copy of Avatar 2 in 2016 (don't hold me to these dates, by the way... I'm just speculating here).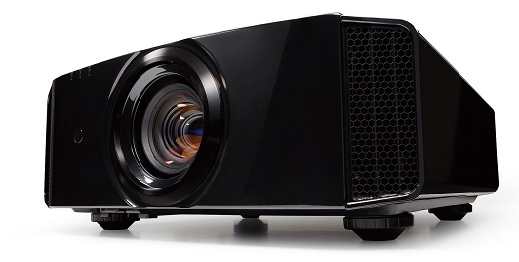 JVC took some heat last year for its 3D performance so the new projectors have revised circuitry and a new optical engine which reduces ghosting and results in a brighter looking image. JVC supports active 3D which means full resolution HD images to both eyes, but it also means it needs all the help it can get in the brightness department.
All of the projectors are using a newly designed lamp and power supply which should deliver an improvement in brightness over the life of the lamp; JVC's lamps are expensive so that's a good thing. The warranty has also been revised to one-year/1,000 hours.
To provide enthusiasts with a true measure of performance, JVC has long focused on native contrast and refused to artificially enhance contrast specifications through the use of a dynamic iris. For 2013, native contrast has been improved in most models through the use of a new polarizing wire grid, ensuring that every frame consistently and faithfully reproduces peak whites and deep blacks. The flagship DLA-X95R and DLA-RS66 offer a rated 130,000:1 native contrast ratio. The DLA-X75R and DLA-RS56 offer 90,000:1 native contrast, and the DLA-X55R, DLA-X35, DLA-RS4810, DLA-RS48 and DLA-RS46 are specified to deliver 50,000:1 native contrast.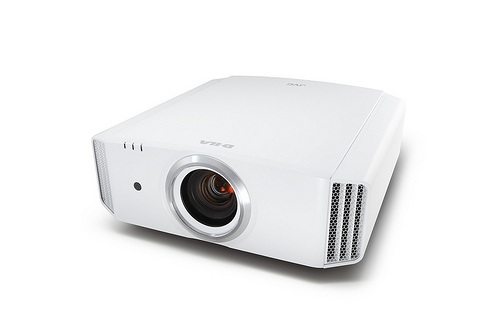 JVC has also switched its active shutter 3D glasses from IR to RF operation for greater reliability and extended range (how far can you possibly sit?). New for 2013, is the ability to control your projector with your smartphone or tablet which should be great for users and less fun for installers who are certain to get those annoying 11pm phone calls.
The 2013 models also include additional lens memory settings - Ten for the DLA-X75R, DLA-X95R, DLA-RS56 and DLA-RS66 and five for the DLA-X35, DLA-X55R, DLA-RS46, DLA-RS48 and RS4810. These store custom focus, zoom and horizontal/vertical lens shift position. This allows a constant height display of 4:3, 16:9 , 2.35:1 or any other scope content without the additional expense and complexity of an anamorphic lens ("and there was much rejoicing!").
The DLA-X95R, DLA-X75R, DLA-RS66 and DLA-RS56 feature e-shift2, upgraded light engine, full color management, ISF certification and advanced calibration functionality. In addition, they are designed to pass the 400-plus tests necessary to achieve THX® 3D Certification (pending) - a promise to consumers of the highest level of quality and performance.
The entry-level models still do not include a CMS (color management system) for calibration, but if the picture quality of the DLA-X35 is even marginally better than the DLA-X30 which it is replacing, it is a projector to put on your short list to audition: black levels to die for at $3,500 and an image that just pops. The entry-level projectors are also available in white for the first time and it's not hard to figure out why. Man caves are vanishing and family media rooms are the new black...I mean white. WAF of a white projector that blends into your white ceiling? High. Ugly black box on the ceiling that everyone can see? Not so much.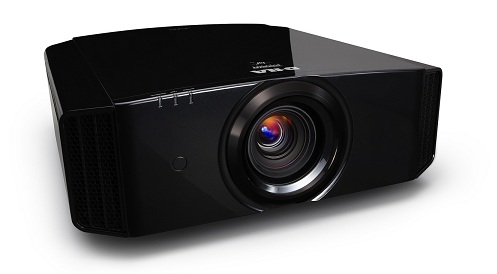 A DLA-X55R ($4,995) will be replacing my recently departed 2D JVC DLA-RS25 when it becomes available in November.
For more information: