It's Always Sunny in Philadelphia: Season 7 Blu-ray Review
By Rachel Cericola
The Film
By the seventh season of any show, it's hard to keep things fresh. That is so not the case with It's Always Sunny in Philadelphia. FX's little gem is as weird and wonderful as ever.
The comedic gold that the show cranks out on a consistent basis has a lot to do with its cast, which includes Charlie Day, Glenn Howerton, Rob McElhenney, Kaitlin Olson and Danny DeVito. Yeah -- it's that Danny DeVito. When I first started watching, I wondered how this little FX show managed to snag a star of that caliber.
It doesn't really matter, though. Just know that he just fits this show like a glove. Yes, putting DeVito in the middle of a show about four young people barely running a South Philly bar works insanely well.
Fans are used to DeVito as Frank Reynolds and probably shouldn't be surprised when he falls in love with a crack-smoking hooker (Alanna Ubach), puts on his own kiddie beauty pageant, hijacks a tour boat filled with Asian tourists, or receives a wedgie at the gang's high school reunion. In fact, they will be giddy with delight during every weird, uncomfortable minute of It's Always Sunny in Philadelphia: Season 7.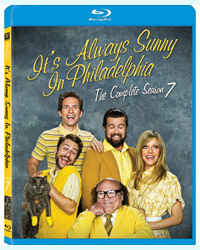 DeVito certainly isn't the entire show, though. The rest of the cast (which also has a huge hand in the writing process) has just as many strange, hilarious adventures and deserves just as many accolades. It's Always Sunny in Philadelphia: Season 7 will have you laughing, wincing and regularly wondering exactly how they come up with this stuff. One of the best episodes of the season is definitely one of the best examples: "Chardee MacDennis: The Game of Games?" Don't try to decipher; just grab yourself a rum-soaked ham and enjoy.

The Picture
It's Always Sunny in Philadephia: Season 6 sort of broke the mold as far as the image is concerned. Before the sixth season, the the show was always shot in standard-def, so the Blu-ray was always lacking. This set continues last season's streak, with a nice 1.78:1 transfer. Sure, there are some soft shots and detail is missing in a few spots, but it's a great image overall -- and definitely a nice improvement over the FX television broadcast. For a show about a group of people hanging around South Philly, the set also has a great color palette, from the bar neon to the Jersey Shore to the city streets.
The Sound
Occasionally you'll catch a few ambient effects in the surrounds, as well as the show's theme. However, It's Always Sunny in Philadelphia is a dialogue-driven show. Expect this set's DTS-HD Master Audio 5.1 track to deliver on every word, whether it's slurred, yelled or spoken through the confines of a dog crate.
The Extras
For all of the awesomeness that is packed into this 2-disc set, the extras are a bit lacking. Last season's set had a nice collection, so what happened here? Charlie Day, Glenn Howerton and Rob McElhenney participate on three episode commentary tracks, with Howerton dropping out of a fourth. This is out of 13 episodes. Sometimes it's funny, like when Day and McElhenney talk about DeVito's hair, McElhenney's fat, and how Ocean City was less than thrilled about their presence. In some of the other segments, the commentary is a little muddled. It would have been nicer to have a few deleted scenes and maybe some behind-the-scenes antics. There have to be both in someone's closet somewhere. Instead, the two other features include a 10-minute gag reel and a short with fringe (but funny) character Artemis (Artemis Pebdani) taking viewers on a drunken 7-minute tour of Philly.
Final Thoughts
It's Always Sunny in Philadelphia just started its eighth season, so you really don't have much time to catch up. It doesn't matter, though. Sunny isn't the type of show that requires a lot of backstory. It's just funny. Still, you won't want to miss It's Always Sunny in Philadelphia: Season 7 just because it's hilarious and still one of the most creative shows on TV. Jump on in and enjoy.
Product Details
Actors: Charlie Day, Glenn Howerton, Rob McElhenney, Kaitlin Olson, Danny DeVito
Director: Matt Shakman (with Randall Einhorn on "How Mac Got Fat")
Audio/Languages: DTS-HD Master Audio 5.1 (English)
Subtitles: French
Aspect Ratio: 1.78:1
Number of Discs: 2
Rating: NR
Studio: Fox
Blu-ray Disc Release Date: October 9, 2012
Run Time: 286 minutes
List Price: $49.99
Extras:

Commentary on "The Gang Goes to the Jersey Shore" with Charlie Day and Rob McElhenney
Commentary on "The Anti-Social Network" with Glenn Howerton, Charlie Day and Rob McElhenney
Commentary on "The Gang Gets Trapped" with Glenn Howerton, Charlie Day and Rob McElhenney
Commentary on "The High-School Reunion Part 2" with Glenn Howerton, Charlie Day and Rob McElhenney
Blooper Reel
Artemis Tours Philadelphia