The Site for Home Theater and Movie Reviews
Indiana Jones Raiders of the Lost Ark Now in IMAX and on Blu-ray Disc
By Chris Boylan
A long time ago, in a jungle far far away, Indiana Jones made his big screen debut in Raiders of the Lost Ark. Called, "the best adventure screenplay ever written" (by BPBS co-founder and film maven Joe Lozito), Raiders was the first collaboration between George Lucas, who wrote the story and Steven Spielberg who directed the film. But it was Lawrence Kasdan who actually penned the screenplay.
31 years after its theatrical debut, Raiders of the Lost Ark is still making waves, with a recent extensive restoration to the picture and sound. The remastered version came out so well that Paramount re-released the classic film this month in select IMAX theaters. Joe and I were lucky enough to see a screening of this in Manhattan earlier this month and were impressed by how well the movie held up.
Of course, the image and sound of the remastered film were impressive on the big screen, with a nice bright, detailed, colorful image and dynamic immersive surround sound.  There were a few visible artifacts such as noise, graininess and soft focus in parts, but overall, the image was very impressive for a 30+ year old movie. From the subtle sounds of the jungle to the gunfire and explosions of a wild chase scene, with the action and dramatic moments enhanced by John Williams' powerful score, Raiders certainly sounds better now than it ever has. But the story itself also has a timelessness that makes it as fresh today as it was in 1981.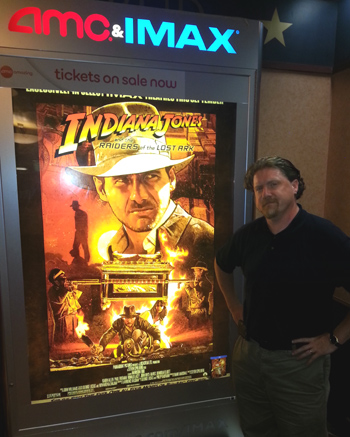 Perhaps more importantly for fans of the film, and the three sequels that followed it, the complete collection of Indiana Jones films will be available tomorrow on Blu-ray Disc in "
Indiana Jones: The Complete Adventures
." As with 
Raiders
, the second and third films (
Indiana Jones and the Temple of Doom
and 
Indiana Jones and the Last Crusade
) have undergone extensive restoration and remastering of the image and sound to take full advantage of the high definition video and lossless audio capabilities of Blu-ray. The remastering process was overseen by Spielberg himself and by sound designer Ben Burtt. The fourth film,
Indiana Jones and the Kingdom of the Crystal Skull
is also included in the new Blu-ray boxed set, being the only Indiana Jones film previously released on Blu-ray Disc.
The films are all being released in the ultra wide CinemaScope aspect ratio (2.35:1) with lossless 5.1-channel DTS-HD Master Audio surround sound. In addition to the remastered films, there is a dedicated additional Blu-ray Disc chock full of extra features including two new documentaries, and numerous old and new featurettes covering all four films.  All told, there are over seven hours of supplemental material in the set, sure to satisfy even die-hard Indy fans.  We expect to be reviewing this set shortly but everything points to this being one of the great Blu-ray boxed sets of 2012.
Indiana Jones: The Complete Adventures carries a suggested price tag of $99.98, but is available for less online on sites such as Amazon. Bring home Indiana Jones on Blu-ray Disc for a fan - even if that fan is you (I just ordered mine).
Where to Buy: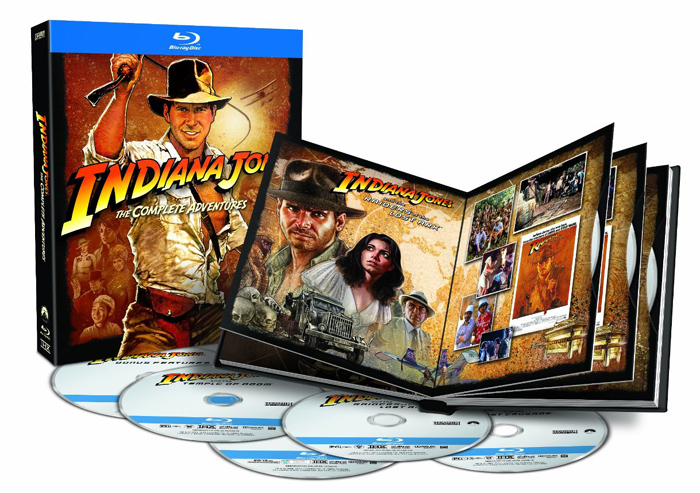 What do you think?
Explore Big Picture Big Sound
Sweepstakes

Enter now to win a pair of tickets to see the latest Hobbit movie in IMAX 3D on opening weekend!