In Transit Review
By David Kempler
Last Stop
There aren't that many documentary filmmakers who attain a lofty level of fame and recognition, but Albert Maysles and his brother David did just that. David died in 1987 and Albert passed away in 2015. Together, they gave us three films of great renown. They were "Salesman", "Gimme Shelter", and "Grey Gardens". If you haven't seen them, do so, especially "Salesman", which follows the lives of door-to-door Bible salesmen.

"In Transit" is Albert's final film, that I first got a chance to see at The Tribeca Film Festival. While it's not at the level of the other three Maysles film I have mentioned, it still carries the feel of those films. That feel is known as "Direct Cinema", which originated in the late 1950's in America and Canada. It's characterized by a desire to directly capture reality and represent it truthfully, and to question the relationship of reality with cinema.

Albert's "In Transit" takes place on a train called "The Empire Builder". The "Empire Builder" is a daily passenger train of Amtrak, that runs between Chicago and splits into two routes in Spokane. One heads to Seattle, the other to Portland. It's Amtrak's busiest long-distance route.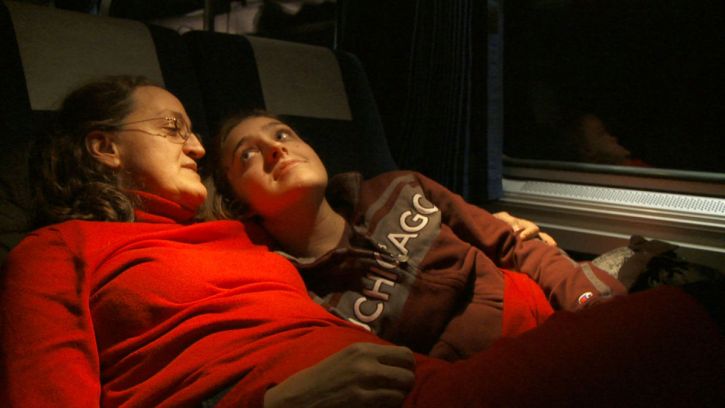 Maysles's film is like many of his others, in that it elicits the genuine feelings of his subjects, in the case, the passengers. The low-key interactions reveal the deepest thoughts of ordinary people and their ease while telling everything to the filmmakers makes it like a comfortable chat with someone you just met. It's a pleasant viewing experience. The beautiful views through the large train windows add to the serenity and peacefulness. The problem with a chat with someone you don't know very well is that after a while it can become very mundane and boring, and that happens here, sometimes.

The highlights are the open-ended questions we are left with at the end, because we do get involved in the personal arc of some of the passenger's stories. An older woman who has recently reunited with the children she once gave up for adoption ponders if this new connection will endure. A young man wonders whether he has made the right decision as he heads home to Portland to see an old girlfriend. A young, pregnant woman is going to Minneapolis after running away from her abusive partner. We really want to know how it turns out for them.

I am one of those people who enjoys long train rides, or at least I used to enjoy them and look forward to them. Like most, I prefer a short flight to a long train ride, but plane travel gets a little bit more annoying all the time. Maybe someday, I'll try the long train rides, again. Who knows?

Meanwhile, "In Transit" allows us to remember what it was like, or for those who never experienced it, gives a peek to what it's like. It's worth the ride, even if it's not filled with the thrills of a ride at an amusement park that makes your stomach rush up into your nasal cavity.