House, M.D.: Season Eight Blu-ray Review
By Rachel Cericola
The Film
The TV show House said goodbye to the airwaves earlier this year. After eight long seasons, it seemed like the insanely popular Fox drama would never end. Apparently, star Hugh Laurie thought the same thing, so he pulled the plug once his contract expired. The guy was ready to move on. Frankly, it was time.
That's not to say that the good doctor was going out with a whimper. Some of his oddest medical oddities can be found in the 22 episodes compiled in House, M.D.: Season Eight.
Nothing says "final season" like a stint in jail. That's where season eight starts off, after House had his little "breakdown" in season seven. Upon his return, Cuddy is long gone (and if you know what happened... um, can you blame her?), along with his office and his team. His sanity is up for debate. He ends up building anew, with Dr. Chi Park (Charlyne Yi) and Dr. Jessica Adams (Odette Annable). He needs all the help he can get, especially with Foreman (Omar Epps) breathing down his neck -- as his new boss.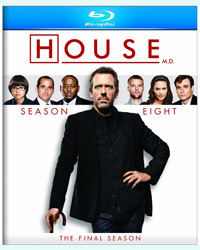 If you've never seen an episode of the show,
House, M.D.: Season Eight
is probably not the best place to start. It's one worth checking out though, if not just for Laurie's quick delivery. There's a reason why the show isn't called "Hospital" or "House and His Friends." The guy is the whole show and is a pleasure to watch. Also, you have to appreciate any show that has a swansong titled, "Everybody Dies."
The Picture
Season eight starts off inside prison, so unless you like blue shirts and white walls, there aren't too many colors popping. Even when a bouquet of yellow roses makes an appearance, the colors seem slightly subdued. From there, the show has a pretty sterile color palette, which is fitting for the surroundings and subject matter. If one color stands out, it's blood red -- which is pretty prominent throughout the set. The detail, on the other hand, comes off a little better. House's facial hair, in particular, is constant and detailed. Overall, it's a nice looking season and certainly an upgrade from Fox's TV broadcast.
The Sound
The DTS-HD Master Audio has its share of nice surprises. Every episode has music, which is boldly displayed in the surrounds. However, there's a lot of ambience going on. Most of that pops up in and around the hospital scenes, although the joyride with Wilson (Robert Sean Leonard) from the season opener stands out as a little something that I wasn't expecting. Dialogue is certainly the main focus though, and is stellar throughout. You'll never miss a word.
The Extras
So this is the big send-off? Universal seems pretty bent on having the door hit House in the ass. The actual packaging has discs sharing slots and stacked on top of one another. Also, the first four discs have zero special features -- bupkis. No commentary, no deleted scenes, no bloopers, no medical factoids; the discs have absolutely nothing. The fifth disc is where you'll find the goods, in the form of three featurettes.
While it seems like there should be more, what's featured here is very entertaining. My favorite of the lot if the "House, M.D. Swan Song." After all, it kicks off with the warning that "this program may contain boasting." It also contains a lot of anecdotes, interviews and behind-the-scenes tidbits. "The Doctor Directs" goes behind the scenes of this season's episode "The C-Word" -- the one that Hugh Laurie directed. This is no quickie puff-piece, either, at 47 minutes. It goes through the entire process, with cast and crew commenting throughout.
The last of the lot is a short on the finale. If you haven't watched that yet, save this one until you're all caught up.
Final Thoughts
We all have to go at some point. Eight seasons is a nice little chunk and House, M.D.: Season Eight is a fitting sendoff. It would have been nice to see a few more special features, but the ones here are really good.
Product Details
Actors: Hugh Laurie, Omar Epps, Robert Sean Leonard, Jesse Spencer, Peter Jacobson, Olivia Wilde, Odette Annable, Charlyne Yi
Directors: Various
Audio/Languages: DTS-HD Master Audio 5.1 (English)
Subtitles: English SDH, Spanish
Aspect Ratio: 1.78:1
Number of Discs: 5
Rating: NR
Studio: Universal
Blu-ray Disc Release Date: August 21, 2012
Run Time: 965 minutes
List Price: $74.98
Extras:

House, M.D. Swan Song
The Doctor Directs: Behind the Scenes with Hugh Laurie
Everybody Dies: A Postmortem