Hotel Transylvania Blu-ray 3D Review
By Rachel Cericola
The Film
Thanks to the magic of computers, Sony has created a nice little animation division. Of course, they've produced some questionable results. The studio's biggest effort to date was 2011's The Smurfs -- which should tell you a bit about the lineup. However, there's something sort of endearing about Hotel Translvania 3D.
And that's a weird thing to say, because this film is filled with all of the monsters and other creepy characters that had me looking under the bed as a kid. It's also weird because this film is a little like the animated equivalent of Grown Ups, rounding up Adam Sandler, Andy Samberg, Kevin James, Steve Buscemi, David Spade and Jon Lovitz to voice some of the film's main characters.
Sandler is Dracula, the owner and operator of Hotel Transylvania. He built the place as a sanctuary for his many creepy friends, which includes Frankenstein (James), Quasimodo (Lovitz), the Invisible Man (Spade), a werewolf (Buscemi), a mummy (Cee Lo Green), and more. However, he's also using the place to keep his daughter Mavis (voiced by Selena Gomez) out of harm's way and away from human hands and pitchforks. Unfortunately, his fortress is about to get an outside visitor (Samberg), who gets a rise out Dracula -- and not necessarily in a good way.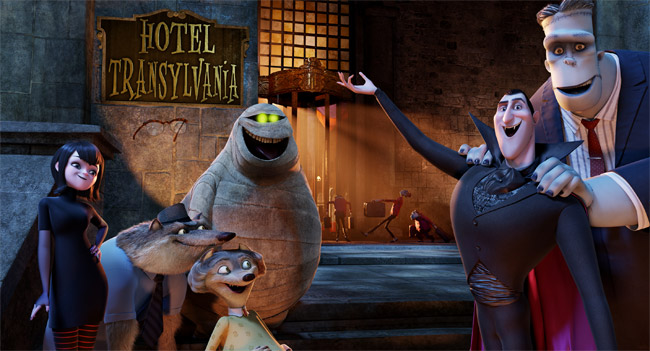 Hotel Transylvania puts a nice spin on some very scary characters, as well as the typical animated film. That said, adults shouldn't expect to be too entertained, even if you're a Sandler fan. Hotel Transylvania is filled with rapid-fire imagery and goofy jokes that are absolutely geared towards its target audience.
Thinking about checking in for an extended stay? Check out Tom Fugalli's theatrical review of Hotel Translyvania.
The Picture
Not everyone will be drawn to this Dracula, but the film's 1.85:1 image is downright mesmerizing. The 3D shows off wonderful depth and the occasional pop-out works really well here. They don't go for the cheap 3D, but what you get is very good. The image in 3D and 2D is quite stunning, with an excellent color palette and wonderful detail. Every creature, every piece of hair and every brick all display detailed textures. There's even a nice sheen on Dracula's cape. This one is far from scary and is a real winner for Sony.
The Sound
From the opening few seconds, Sony lets you that they plan to use this title's DTS-HD Master Audio 5.1 to its full advantage. The dialogue always remains clear, but the surrounds are what make this a really fun track. Bats swoop around the speakers, creatures fill the soundfield with growls and roars, and the Mark Mothersbaugh soundtrack is bold and crisp.
The Extras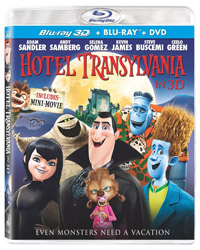 Don't get too excited about having extras listed on the included 3D disc. Everything here is presented in 2D, on both the 3D and 2D Blu-rays. Geared mostly towards the kids, this release offers up deleted scenes, a music video, and even a peek at the making of that music video. Viewers will be especially interested to check out "Goodnight Mr. Foot," the animated short that accompanied the film in theaters. Otherwise, there's a commentary track, "Progression Reels," a making-of short, and a piece on the film's many famous voices.
Final Thoughts
You don't have to be an Adam Sandler fan to get a few laughs out of Hotel Transylvania. In fact, that's probably preferred; the film is definitely geared towards an audience that probably isn't familiar with Billy Madison or the star's other theatrical efforts. Adults probably won't have much of an appreciation for the film, beyond the excellent image, immersive audio, and the opportunity to introduce the wee ones to the ultimate monster mash-up.
Product Details
Voice Actors: Adam Sandler, Andy Samberg, Selena Gomez, Kevin James, Fran Drescher, Steve Buscemi, Molly Shannon, David Spade, Cee Lo Green
Director: Genndy Tartakovsky
Audio/Languages: DTS-HD Master Audio 5.1 (English, French), Dolby Digital 5.1 (Spanish), DVS 2.0 (English)
Subtitles: English, English SDH, French, Spanish
Aspect Ratio: 1.85:1
Number of Discs: 3
Rating: PG
Studio: Sony
Blu-ray Disc Release Date: January 29, 2013
Run Time: 92 minutes
List Price: $55.99
Extras:

Commentary with Director Genndy Tartakovsky, Producer Michelle Murdocca, and Visual Effects Supervisor Daniel Kramer
Goodnight Mr. Foot
Deleted Scenes
Meet the Staff and Guests: Voicing Hotel Transylvania
Making the Hotel
Progression Reels
"Problem (Monster Remix)" Music Video by Becky G. featuring Will.I.Am
Behind the Scenes of "Problem (Monster Remix)"
Previews
Where to Buy: