The Site for Home Theater and Movie Reviews
Home Alone on Blu-ray Disc Review
By Rachel Cericola
The Film
If you haven't seen Home Alone, then you probably don't own a TV or a Blu-ray player, and you are reading this review by candlelight on stone tablets.

Even kids know the 1990 tale of eight-year-old Kevin MacAllister (Macaulay Culkin), who gets left behind while the rest of the MacAllister clan jets off to Paris. While it may seem like fun, games and hogging an entire cheese pizza to himself, young Kevin needs to step up and become the man of the house, after it's targeted by bumbling Harry (Joe Pesci) and Marv (Daniel Stern) -- also known as the Wet Bandits. That's where the wackiness ensues, as Kevin sets up a series of booby traps to protect his family's property.

It's corny, it's kooky, and it unleashed Culkin's career, as well as three sequels. However, this is still the best of the bunch, and well worth a yearly viewing, especially around the holidays.

The Picture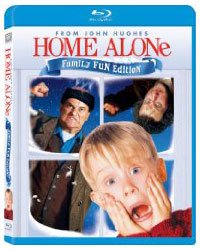 Whether you've seen this movie one or 100 times, there's one thing you probably haven't seen: Mac's super-cuteness in its high-def glory. This is the first time that the perennial favorite has been released in HD, and frankly, it's about time. The movie looks a little dated, but the 1.85:1 transfer is a nice update to the 10,000 times you've seen it on regular TV. The best shots are definitely in the house, thanks to the detailed wallpaper, the Christmas balls, and even pieces of broken glass, charred flesh or other surprises that pop up in the "attack" scene.
Inside the church, there are plenty of rich blacks, which also make the stained-glass windows pop. However, many of the scenes have a light fuzziness in some spots, showing the film's age. Some of the close-ups of Catherine O'Hara in particular seem like she is wearing heavy makeup or the cameraman has smeared Vaseline on the lens. Joe Pesci, on the other hand, is at his sweatiest -- almost as much as Goodfellas.

The Sound
The film isn't exactly The Matrix when it comes to sound effects, but the DTS-HD MA 5.1 lossless soundtrack does have its moments. Some portions are a bit too loud. However, if you dare touch that volume button, you might miss dialogue, which is considerably lower. Still, audio standouts include some of the amplified screams, the beauty of the church choir, and even John Williams' score.

The Extras
There have been a few Home Alone releases, including this "Family Fun Edition." The only thing that makes it new is the high-def -- not that there's anything wrong with that. However, there are no new extras. If you didn't snag that standard-def release, there's plenty of behind-the-scenes peeks in shorts such as "Mac Cam: Behind the Scenes with Macaulay Culkin" as well as a look at "Angels with Filthy Souls."

A few of the featurettes, although a bit deceiving, are still interesting. For instance, "Home Alone Around the World" isn't about fan reaction, but instead shows viewers how the movie is dubbed around the world. Apparently, Buzz can be a jerk in many languages. Speaking of which, the "Where is Buzz?" feature is pretty hilarious, although it does leave a few unanswered questions. We do get to see the Buzz-ster in his current state. I don't want to spoil too much, but it does involve a gas station attendant's shirt with flaming dice on it.

Final Thoughts
Sure, some network squeezes this into the schedule every year -- but you know you watch it. Somehow, it has achieved holiday classic status and still charms audiences of all ages. If you already own one of the incarnations, you may not want to make the leap. If not, this is one that is certainly worthy of your Blu-ray collection.
Where to Buy:
Product Details
Actors: Macaulay Culkin, Joe Pesci, Daniel Stern, John Heard, Catherine O'Hara
Director: Chris Columbus
Audio/Languages: English 5.1 DTS HD Master Audio, English Dolby Surround, French 5.1 DTS, Spanish 5.1 DTS, Porteguese 5.1 DTS
Subtitles: English, Spanish, Porteguese, Cantonese, Mandarin, Korean
Aspect Ratio: 1.85:1
Region: A
Number of Discs: 1
Rating: G
Studio: Fox/MGM
Blu-ray Disc Release Date: December 2, 2008
Run Time: 103 minutes
List Price: $34.99
Extras:

Feature Audio Commentary by Director Chris Columbus and Star Macaulay Culkin
1990 Press Featurette
The Making of Home Alone
Mac Cam: Behind the Scenes with Macaulay Culkin
How to Burglar-Proof Your Home: The Stunts of Home Alone
Home Alone Around the World
Where's the Buzz Now?
Angels with Filthy Souls
Deleted Scenes/Alternate Takes
Blooper Reel
What do you think?
| | |
| --- | --- |
| Overall | |
| Video | |
| Audio | |
| Movie | |
| Extras | |
Explore Big Picture Big Sound