High Performance Home Theater - Manhattan Style
By Chris Boylan
Big Picture, Big Sound in a Small Stylish Package
"Hey, Chris, I just moved into a new apartment and I think I need a bigger TV."  That's the start of many a conversation with friends and family.  This time it was a question from Big Picture Big Sound web maven and film critic Beth McCabe.  The 40-inch Samsung LCD that had served her well was starting to show its age, not in loss of performance, but in size and lack of features.  So we took a look at the space and at her preferences and came up with a new system that we thought would serve her well.
A Real Turn On, Even When It's Off
Beth likes to enjoy her movies, music and TV ("Game of Thrones, W00t!"), but when the system is off, she doesn't want it to dominate her living space.  So a big screen TV with drab styling or a large set of tower speakers simply wasn't going to cut it.  For the TV, we went with a slim sleek LED TV from Samsung, the UN55D8000 (which is now being replaced in the line with the UN55ES8000 for 2012).  It's a sleek and sexy 55-inch set with a slim bezel as well as a nice bright picture that can compete with the generous afternoon sunlight in Beth's high rise Manhattan apartment.
The D8000 LED HDTV also sports Samsung's active 3D technology for full high definition images in 3D mode, so we tacked on a few extra pairs of 3D glasses to the system, in addition to the two that came in the box.  At under $25/pair, the Samsung active 3D glasses aren't going to strain anyone's budget, but they're light and comfortable and last for upwards of 50 hours on a single button cell battery.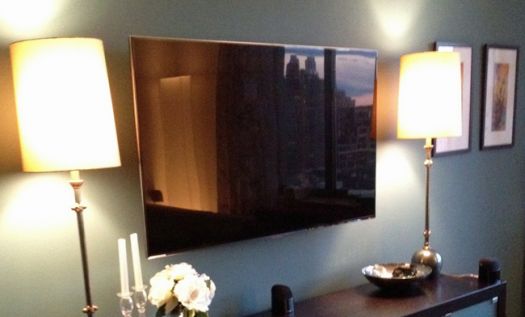 For audio and surround sound processing, we went with a slimline 5.1-channel home theater receiver from Marantz (the NR1402) The receiver has ample HDMI inputs (four), plenty of power for the space (50 Watts/channel) as well as analog video upconversion to HDMI.  The analog upconversion or "transcoding" helps in case Beth wants to hook up her old school PlayStation 2 to the system for some retro gaming.  She can connect it to the receiver using the old-fashioned analog audio video cables and the receiver will send the image to the TV over a single HDMI cable.
Size Matters
For speakers we went with the small and refined but powerful MX 5.1 system from Mirage.  The little speakers measure in at just about 4 by 3 by 3.5 inches and are equally at home on a shelf, a small stand or mounted to the wall.  Wall-mounting is a simple as screwing a screw into the wall and sliding the speaker onto it using the keyhole mount on the back.  The MX 5.1 speakers look particularly unique with their grilles off where the omnipolar tweeter driver is exposed for all to see.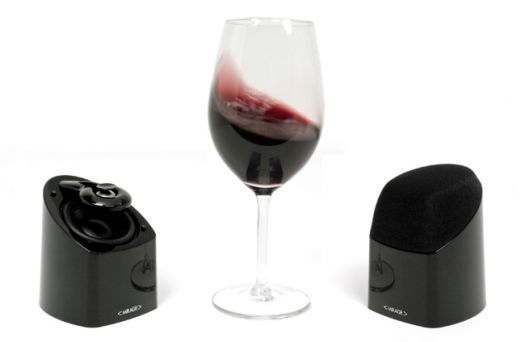 The MX 5.1's powered subwoofer is the real surprise, measuring in at a tiny 8 inches on all sides.  How could something this small sound any good?  But sound good it does (we'll get to that).
For sources, Beth decided to supplement her HD TiVo cable box with an Apple TV and a Panasonic DMP-BDT320 Blu-ray player.  The Apple TV is great for watching or listening to all things iTunes, and the Panasonic Blu-ray player is good for everything else: Blu-ray Discs and DVDs of course, but also Netflix, VUDU, Amazon Video on Demand, Pandora, and more.  The Panasonic player supports Blu-ray 3D Discs so it makes an excellent source for 3D movie nights.
"Control, Control, You Must Learn Control!"
Because Beth wanted the system to be as discreet as possible, we decided to install the source components and receiver into her existing cabinet.  This meant cutting a small hole in the back to route the power, HDMI and speaker cables.  It also meant that a standard infrared (IR) remote control would be useless.  We needed something that could get through the solid wood cabinet doors to control everything. Fortunately Beth had already picked up a Logitech Harmony 900 universal remote (an earlier recommendation).  The Logitech's RF (radio frequency) module made it ideal for operating through the cabinet, while simultaneously controlling the TV via Infrared.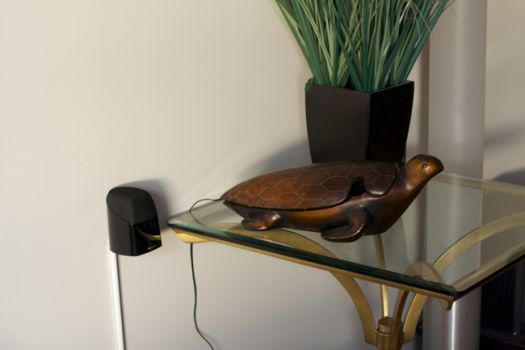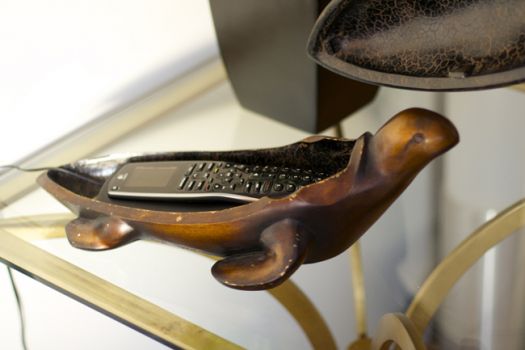 For a finishing touch, we added in an articulating wall mount for the TV.  This allows Beth to easily angle the TV toward the kitchen or toward the couch depending on her viewing needs.  We also threw in some cord covers by Wiremold which allowed us to hide away all the speaker wires and power cables discretely along the molding and up the wall to the rear speakers.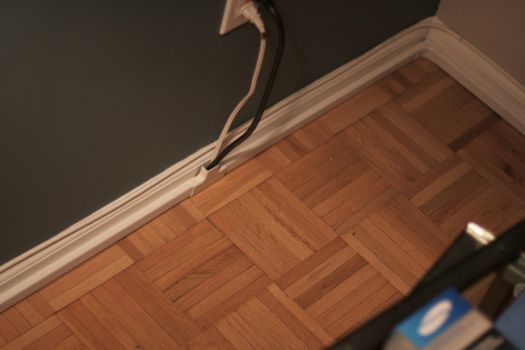 The Set-Up
With the TV already wall-mounted by her building's handyman, the rest of the set up was fairly painless.  We routed the HDMI cable behind the wall for a nicely finished look, cut and stripped speaker cables, routed power cables through the newly cut hole in the back of her cabinet, and connected the HDMI cables and speaker cables into the receiver.  Because the receiver handles all the audio and video switching we just needed a single HDMI cable between the receiver and TV to get all the devices connected to it.  We then tweaked the activities on her Harmony remote to accommodate the new receiver and source components, I did a spot check of the speaker levels and then we were ready to sit back and experience the system. ("we" being Beth, Big Picture Big Sound movies editor Joe Lozito, his wife Jen and me).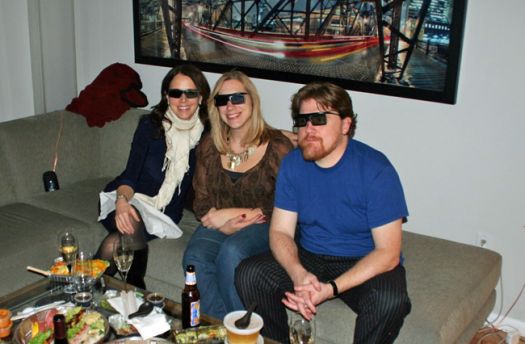 Hell Just Froze Over
One of the multi-channel recordings I like to use to test out a new system is the DTS 5.1 CD of the Eagles "Hell Freezes Over" tour.  It features nicely placed instruments and voices across the front three speakers and plenty of ambient crowd noises in the rear channels.  "Hotel California" and "Seven Bridges Road" sounded full and spacious on this system, with voices and instruments precisely positioned around the room.  As the audience makes itself known with enthusiastic applause, it's easy to feel as if you are right there with them.  This feeling of spaciousness and immersion carried over into movies when watching "Avatar" and "Blade Runner."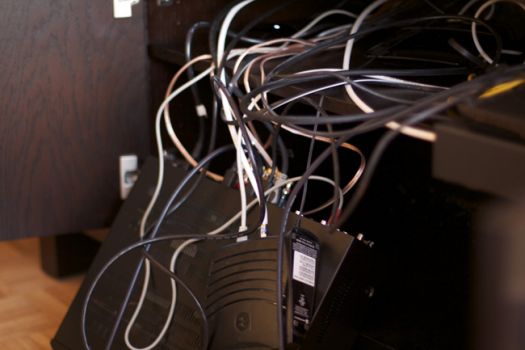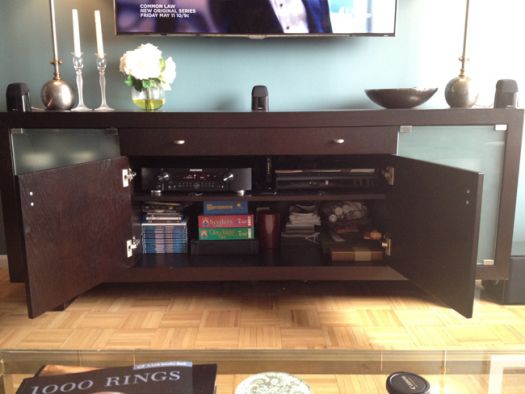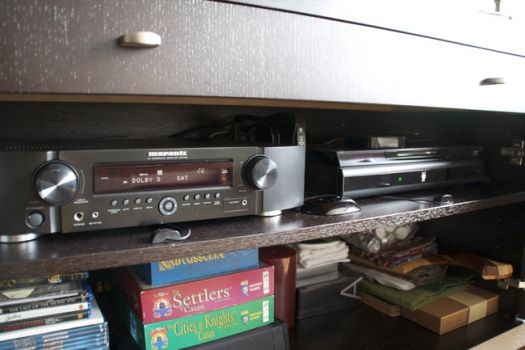 The  introductory sequence of "Blade Runner" showed us just how low this tiny little subwoofer could extend with deeply resonant sound effects accompanying the flaming industrial cityscape -- a nice complement to the ethereal soundtrack from Vangelis.  When "Kowalski, Leon" knocked on the office door for his interview, the knock came from the right side of the room, well outside the speakers.  This was one of the strengths of the Mirage speaker system: its ability to create a wide, deep and immersive soundfield, as well as excellent bass extension and dynamics.  And the fact that it could do so with tiny stylish boxes?  Bonus!
Picture Imperfect
Picture quality on the Samsung without tweaks was exceptionally detailed, but had some issues.  Watching the classic "Casablanca" on Blu-ray we noticed picture details we had never seen before in the film, but sometimes more than we wanted.  The picture's excessive brightness and hyper sharpness made flaws in the set stand out while imperfections in the make-up drew a bit too much attention to themselves.  The whites were a little too blue, giving the image an excessively stark and harsh look and motion looked unnaturally smooth and video-like.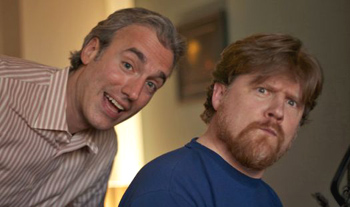 A trip into the picture menu, switching over from "Standard" to "Cinema" mode and reducing the sharpness and contrast controls a bit, dialed in the color temperature much closer to accurate, with a welcome warmth restored to the whites.  Black levels were also much deeper in Cinema mode without losing too much shadow detail.  And by turning off the Samsung's motion smoothing effect, natural film-like motion was restored to the moving image.  Lesson learned?  Brighter is not always better, and it's helpful to experiment with your picture settings (or better yet, get the set calibrated professionally).  A quick 3D sampling of "Avatar" on Blu-ray 3D highlighted the set's strengths - a nicely bright and detailed image with excellent color saturation and shadow details, even in 3D mode.
With the picture tweaked and the speakers warmed up, we stepped through the Marantz receiver's Audyssey auto-calibration wizard to optimize the audio.  This utility, built into the Marantz receiver, uses an included microphone to measure the speaker levels in your specific room, and dials in the various level and distance adjustments for the best performance.  After calibration, the dialog was noticeably clearer, surround effects were audible without being overpowering and the bass was well integrated with the rest of the channels.  In the end, Beth had herself a fine new home theater system, as well as a condition we like to call "permagrin."
By the Numbers...
For those interested in costs, the total retail price of all components (including cables and accessories) was just under $6500, but with online discounts and free shipping, we managed to keep the entire system price under $3,900 (you can find the entire system here on Amazon).
Epilogue
Beth has been enjoying her system for music and movies and has had friends over to experience her new system.  One friend's reaction was so emphatic, she felt compelled to share a few soundbytes.
"Oh my God. What is that? WHAT IS THAT?"
"This sound is ridiculous!"
"I'm never going to be able to watch movies anywhere else again."
And there you have it: a highly enjoyable compact and discrete home theater system that satisfies the discerning music and movie lover while also appealing to the style-conscious and staying within a reasonable budget.  You really can have it all.
Components of the System:
Samsung UN55D8000 3D LED TV (2012 equivalent is the UN55ES8000)
VideoSecu Articulating Flat Panel TV Wall Mount
Samsung SSG-3050GB 3D Glasses (x4)
Marantz NR1402 receiver
Mirage MX 5.1 speaker system
Panasonic DMP-BDT320 Blu-ray Player
Apple TV
Logitech Harmony 900 Universal Remote Control
Wiremold Cord Cover Kit
2-meter Amazon Basics HDMI Cable (x3)
3-meter Dayton Audio High-speed HDMI Cable (CL3 rated for in-wall use)
100-feet 16-gauge RCA Speaker Cable
Keep those cards and letters coming!
if you have a question for one of our home theater experts, shoot us an e-mail to "
Ask The Expert
." We'll select among these for future installments in this column. Due to the volume of requests we receive, we cannot reply to each question personally.