Home Theater Deals: Optoma Neo-i DV20 Speaker Dock and Projector for iPhone/iPod: $189.99
By Rachel Cericola
The projector is no longer this bulky item that needs the expertise of a professional installer. OK, it really depends on what type of projector you're putting in. That said, there are plenty of options out there for people that want to go a little cheaper or even have something that can be moved at a moment's notice -- even outdoors.
If you're in that latter camp, Amazon has a nice deal for you today through Woot. That third-party retailer has the Optoma Neo-i DV20 iPod/iPhone Speaker Dock and Video Projector listed as today's Gold Box Deal of the Day. That means that for today only (Tuesday, March 5, 2012), you can score this speaker dock/projector combo at the reduced price of $189.99. The Neo-i DV20 typically lists for $599, making this a very nice deal. You can save 68 percent off that original price! Find out more about today's deal on Amazon's Gold Box page: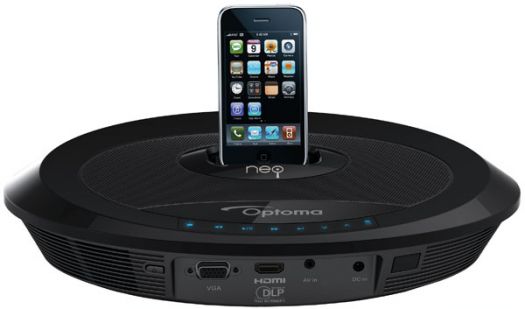 The Neo-i uses a little pico projector technology to deliver that image -- one up to 120 inches. It does have HDMI and VGA ports to hook in a variety of devices. However, the big hook is the 30-pin connector, which allows you to dock almost any iPod, iPhone or iPod touch. In other words, you can carry a wealth of big-screen entertainment right in your pocket, and go large with it almost anywhere.
Other features include a 16-watt, 2-speaker system and Class D amplifiers. Boasting 50 ANSI Lumens and a resolution of 854 x 480 pixels, it's not the best projector that money can buy. However, it can do better-than-DVD resolution both at home and on the go. It's also an incredible price for those of you thinking about a backyard theater this summer. Find out more on Amazon's Neo-i DV20 product page:
Just remember that to get this deal, you're going to need to order directly through Woot, which is one of Amazon's third-party merchants. Also, you'll need to do it soon! This is the Gold Box Deal of the Day, which means that the discount is only good for today (Tuesday, March 5, 2012). However, at this price, we wouldn't be surprised if Amazon sells out soon!
Also Check Out:
Please note: all deals posted on Big Picture Big Sound are current as of the posting date and time. These deals are frequently time- or stock-limited and generally do not last. Final pricing and stock are determined by the individual deal provider, not by Big Picture Big Sound so you will need to click through on the offer link to see if it is still available. Through our affiliate relationships with many online vendors, Big Picture Big Sound may earn a small commission on any referred sale.