Hisense Goes Big with 100-inch 4K Laser TV with Sound by Harman Kardon
By Chris Boylan
Are you in the market for a 100-inch 4K UHD TV? Good luck with that. While a few manufacturers have offered flat panel (or curved panel) displays in that size or near it, these sets have typically been stratospherically priced, limited in production and distribution, or both.
LG offered a 98-inch 4K TV back in 2015 and Panasonic had their showcase 103-inch plasma back in the day (but it was only HD, as it preceded the 4K revolution). The 100-inch Sony Z9 can be yours for just $85.999.99 (but hey, that includes free shipping). VIZIO even showed off a 120-inch Dolby Vision-enabled UHD behemoth in 2014 and again in 2015 for the low low price of $129,999.99 (available by special order). We're not convinced that they ever actually sold one, though.
And what's the explanation for these prices? It turns out that as the size of the panel increases, so does the complexity of manufacture and the cost of distribution. You need a really massive assembly line to build a 100-inch diagonal 87-inch wide LCD or OLED panel. Shipping, storage, showcasing at retail and delivering such a huge set to the consumer also gets expensive, all of which contributes to the overall costs.
For this reason, many consumers who want a really big picture at home go the projector route. And while projectors can create big beautiful images at affordable price points, projectors are not right for everyone. With a projector, you typically have to deal with a more complex (and costly) installation. Sure, you can just stick a projector on a coffee table or mount it on a ceiling and point it at the wall, but this will lead to less than optimal results. And if you're a gamer, be sure to pick a spot that isn't in the projection path otherwise have fun playing with your shadow in the way.  Also, projectors are typically much dimmer in light output than flat panel TVs. So you either need to control your room lighting or pony up for a brighter projector.
And this is where TV maker Hisense sees an opportunity. What if you could bring the advantages of front projection to a form factor that's more conducive to the typical living room? And what if you could make it bright enough to produce a nice detailed, colorful image even when the curtains are open and the sun is streaming into your living room? That's the goal Hisense had in mind with their new 100-inch Laser TV.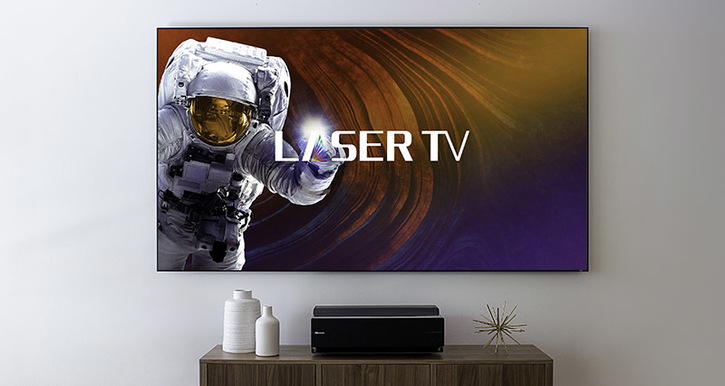 The Hisense Laser TV combines an ultra short throw Ultra HD-capable DLP projector with a 100-inch wall-mount screen that is built to reject ambient light. This means you can place the projection unit less than 10 inches from the front wall on a stand or credenza and still get a bright and colorful 100-inch image. The Laser TV even has a built in ATSC tuner as well as a smart streaming platform with most of the popular streaming apps built in (and the ability to add more). As far as sound quality, which is more of an afterthought for most projector makers if it is considered at all, Hisense partnered with audio specialist Harman Kardon to offer an integrated 2.1-channel sound system that actually sounds pretty good, even in a large room.
The projector is rated at 3,000 Lumens of peak brightness and even includes support for the HDR10 high dynamic range standard. It's using the latest DLP chip with a laser-based light source to support full UHD "4K" resolution (3840x2160 pixels).  The projector is so bright that is actually includes a motion sensor which puts a warning on screen not to look into the light. And it will dim the light if you get too close.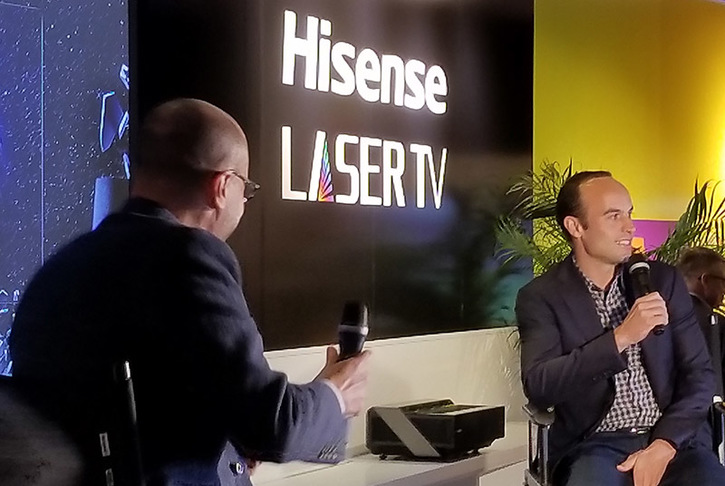 I got to see the Laser TV (actually several of them) at a press event at the Harman store on Madison Avenue in Manhattan last week. And the Laser TV was pretty impressive, creating a nice bright image even in a fairly well lit room. If you moved to the sides of the screen, the off-axis viewing was pretty good as well, certainly better than most LED/LCD TVs which get very dim and lose their color accuracy when you view them from the sides. Even more impressively, the company set up the Laser TV in a dedicated home theater in the store's lower floor, increasing the screen size to a whopping 137 inches diagonal. To get that size image, the projector only needed to be sid back an additional inch or two from the wall-mounted screen.
Watching Luc Besson's "Lucy" on the Laser TV, I was drawn right into the action with crisp detailed images and a soundstage that was far bigger and richer than you'd expect from an integrated soundbar and small wireless subwoofer.
The only thing that wasn't as impressive? The price tag. $10,000. Although this is far less expensive that comparably sized flat or curved panel TVs, it's still a bit steep for the average consumer. If you're willing to go a little smaller, you can pick up a 77-inch or 85-inch flat panel TV for much less and get a brighter image. And if you really want a huge screen, for $10K, you can put together a nice projection-based system and a pretty decent multi-channel surround sound system. But 4K UHD support will bring the price tag up and you'll need to allocate a bit extra if you want a clean finished-looking installation of these separate components.
With the Hisense Laser TV, you literally just plug it in, shine it on the wall so you can figure out where to put the screen. Hang that screen up on the wall with a few hooks or screws and you're ready to rock. So if you're looking for 4K resolution, support for High Dynamic Range, simple installation and a huge 100-inch screen, the Hisense Laser TV is certainly worth a look.
Related Articles: