Highlights of the 2012 New York High End Audio and AV Show
By Chris Boylan
Last month, several dozen high-end audio manufacturers and dealers got together to display their wares at the 2012 High-end Audio and AV Show at the Waldorf=Astoria Hotel in New York. In terms of number of exhibits (and attendees), it was a far cry from comparable shows held in New York in the boom years of the late 90s and early 2000s, but the excitement level of both exhibitors and attendees left me feeling optimistic about the state of the high end audio industry.
First of all, there was a lot more "A" then "V" for an AV show. Most of the rooms featured classic two-channel stereo systems, rather than multi-channel surround sound and there was nary a home theater projection screen or large flat panel TV in sight. System and component prices were mostly in the stratosphere but there were some bargains to be seen (and heard) as well. What follows is not a comprehensive treatment of the show but a few rooms that caught my eyes and ears, and one that just made me go, "hmmmmm?"
MBL
German Manufacturer, mbl had lines of eager audiophiles waiting patiently to get into their room pretty much the entire first day of the show. The reference line system they had on display rang in at a total price of $259,700 for everything from CD transport to DAC, to preamp, power amp and ultimately the speakers. And those speakers, the mbl 101 E MK II Radialstrahler accounted for $70,500 of that cost. How did the system sound? Wonderful. The mbl speakers have always impressed me with their pure dynamic punch and airy open sound field. Plus they're now available in white, to match your iPod.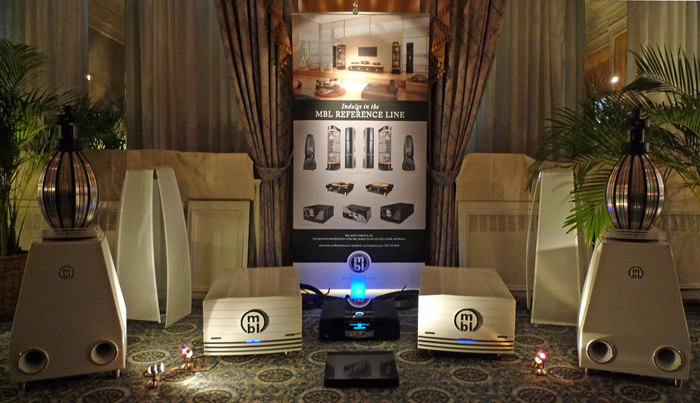 Wes Bender Studio NYC
Wes Bender has graduated from PR and marketing lackey to owner of his very own high-end HiFi dealership, Wes Bender Studio NYC. In his suite you could find Hansen Audio's The Prince E loudspeakers ($39,000) in their New York debut. Electronics consisted of Viola Audio Laboratories Crescendo preamp with integrated DAC ($19,000 with a FREE iPod touch) and Forte Monoblock power amps ($19,000/pair). Digital sources included an Apple MacBook Pro running iTunes (on its own isolation feet, natch) and a Lindemann Audio model 825 High Definition Disc player ($12,500 with XMOS USB DAC). The analog rig was comprised of a Redpoint Audio Designs Model MG / special edition ($65,000) mated with a Zesto Audio Andros PS 1 phono stage ($3900), Tri-Planar Ultimate Mk. VII-UII ($5,000) and Graham Phantom II Supreme B-44/12 ($5999) tonearms, and Transfiguration Phoenix ($4250) and Dynavector DRT XV-1s ($4250) cartridges.  They even had a USB cable from Audioquest that sells for $695 for a 1.5 meter length (you heard me!).  Total system price, came in at at a little over $189,000.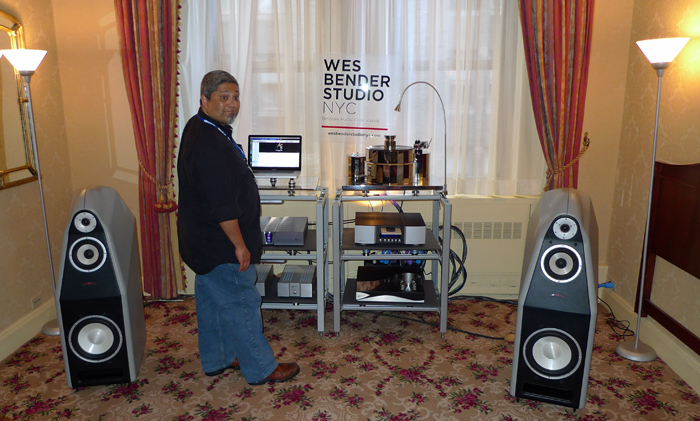 Listening to a few high res digital tracks, such as the 24-bit/96 Khz version of Pink Floyd's "Money," the system produced a nicely balanced sound with extended bass, excellent dynamics and detail. When we tried to switch over to the Redpoint turntable for some analog goodness, the table was having some pitch issues (playing too fast) so unfortunately we didn't get a good audition of the system with vinyl, but those in the New York area can probably schedule their own private audition with Wes.
GT Audio Works
Changing gears to the more affordable side of the spectrum, Greg Takesh, founder and designer of GT Audio Works, had a room to show off his new planar speakers. Combining planar magnetic tweeter and midrange drivers mated with a powered acoustic suspension woofers, and finished in zebra wood, these impressive looking speakers were pumping out a variety of tunes with fairly impressive sonics as well. Similar in some respects to electrostatic and ribbon speakers, GT Audio Works' planar magnetic design produces an open transparent sound that is difficult to capture with traditional acoustic drivers. The speakers were listed at the show for $2750/pair but due to the rising cost of neodymium (used in the driver magnets), the price has gone up 10% to $2995/pair; still a relative bargain compared to the other options on display at the show. These speakers are currently only available direct from the company's web site: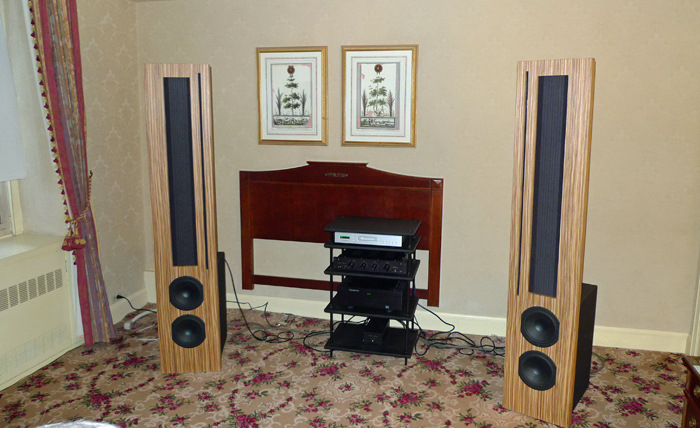 Audio Doctor
Audio Doctor, a high-end audio/video dealer based in Jersey City, NJ, had a couple of suites at the show but the one we spent the most time in featured a few sets of KEF loudspeakers including the flagship KEF Blades ($29,999/pair). I'd heard these before a couple of times, once at CEDIA Expo 2011 again in the home of the British consulate in New York, and they never fail to impress; deep resonant bass, and a wonderfully coherent and integrated soundstage. The speakers were a little too large for their hotel room, at the show, which detracted from the low bass definition (adding a bit of boom), but these gorgeous monoliths still produced some overall impressive sounds.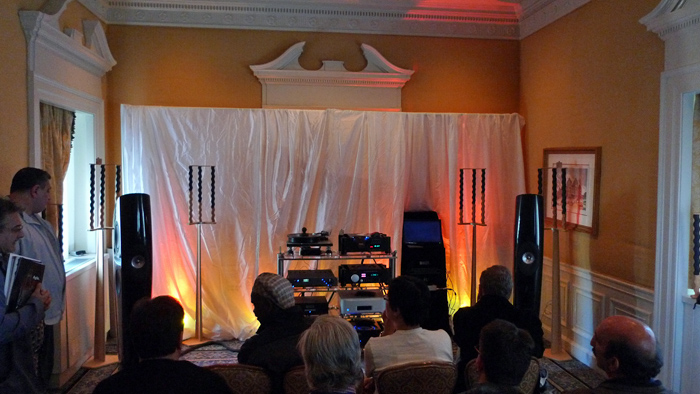 LessLoss Audio
This was the suite that made me go, "Hmmmmm?" At every show you get some strange accessory or gadget that is promised to deliver your system from evil and wring new levels of detail and enjoyment from your components. At this year's show, that honor went to LessLoss Audio. This company, based in Lithuania, but with an office in San Francisco, makes a variety of tweaky high-priced accessories for high end audio/video systems including the Firewall Power Conditioner ($4,686) and Anchorwave nanoparticle-enhanced speaker cables ( $1,588 for 1.8 meter pair, unterminated). But what they were proudly showing off (and demonstrating) at the show was their Blackbody Ambient Field Conditioner ($1,323).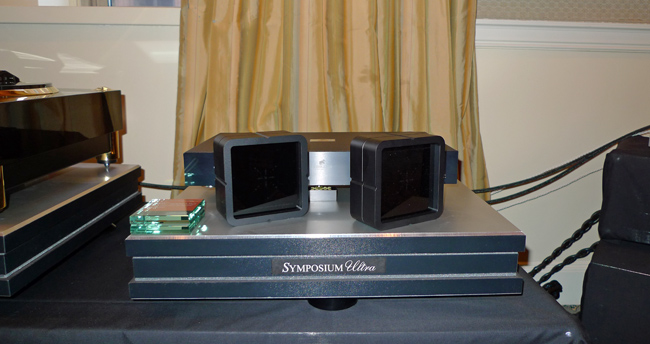 What is a Blackbody Ambient Field conditioner, you may ask? Good question! According to the manufacturer, "The Blackbody ambient field conditioner enhances audio playback quality by modifying the interaction of your gear's circuitry with the ambient electromagnetic field. The Blackbody eliminates sonic smearing of high frequencies and lowers the noise floor, thus clarifying the stereo image." In other words, it "shields" your equipment from interference from the ambient electromagnetic fields that invisibly permeate our world, improving the sound quality by optimizing the system's performance in an EMF-free zone. Yeah, OK. Whatever you say.
I stayed for the demo, a few minute long classical piece which they played on a fine-sounding set of speakers, Kaiser Akustik's Vivace ($53,000/pair with custom Lamborghini Orange paint job). They played it once with the Blackbody boxes placed next to the electronics and once without. I don't know if they were expecting oohs and aahs or enthusiastically nodding heads, but they didn't get that in the demo session I was in. I admit, subtle differences are difficult to appreciate or detect in the chaotic environment of a trade show (even a well-controlled trade show), but I walked away unconvinced.
High Water Sound
I'm a sucker for unusual-looking speakers (my main system is comprised of MartinLogan electrostatic towers), but the appeal fades quickly if the sound isn't there to back it up. Fortunately the unique design was more than equaled by dynamic yet delicate and harmonically balanced sound in the Cessaro Horn Acoustics speakers in the High Water Sound suite. This New York City dealer and distributor crafted a fine-looking and sounding system comprised of the German-made Affascinate 1 SE loudspeaker ($62,000/pair) from Cessaro Horn Acoustics, driven by TRON Electric's Seven GT line-level preamp ($18,000) and phono preamp ($18,000) feeding a Telstar 211 single-ended triode tube amp ($40,000). The front end rig was TW-Acustic's Raven Black Night turntable ($40,000) and Raven 10.5 tonearm ($5500). Of course, you might think anyone can get amazing sound with a system that costs $183,500 (not including cables), but you'd be wrong.  I've heard some real screecher systems made entirely of "high end" components.  A good system is greater than the sum of its parts, and the system in the High Water Sound room was a very nice-sounding system.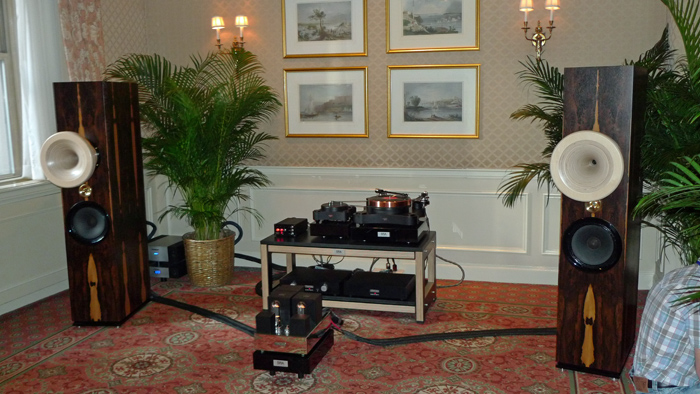 These were but a few of the systems on display at this year's show, which also featured lively panel discussions and live musical performances. The show organizers, Chester Group, have similar shows coming up in the U.K. and Australia later this year, and they promise to be back in New York next year.
More Information: