TV Deals: Here's How to Get LG's 65-inch OLEDC67P OLED TV for $2427.29
By Chris Boylan
In case you've been living under a rock this year, LG's latest batch of UltraHD 4K OLED TVs are getting high praise from critics and consumers alike. OLED's self-emissive pixels allow the sets to attain excellent contrast and black levels as well as rich saturated colors. Dificult scenes like star fields and white text scrolling on a black background are reproduced with ease by the current crop of LG OLED TVs.
We've had a 65-inch C7 OLED in for review for the past few weeks and have been impressed with the set's ability to create gorgeous almost three dimensional images, particulary on Dolby Vision-encoded Ultra HD Blu-ray Discs. The drawback with OLED? The sets tend to be a bit expensive.
But eventually even the best stuff goes on sale, and OLED TVs are no exception. Amazon is offering the full line of LG's 2017 OLED TVs at discounted prices, but some of the discounts are not immediately obvious. Because of LG's uniform pricing policies, LG dealers can't advertise the TVs below a certain price. Otherwise they risk being dropped as a dealer. For the 65-inch C7 series (model OLED65C7P) that price is about $2699. Amazon's published price is $2696.99. For a TV that was originally priced at almost $4,500, that's still a pretty good deal, but you can get an even better deal if you're an Amazon Prime member.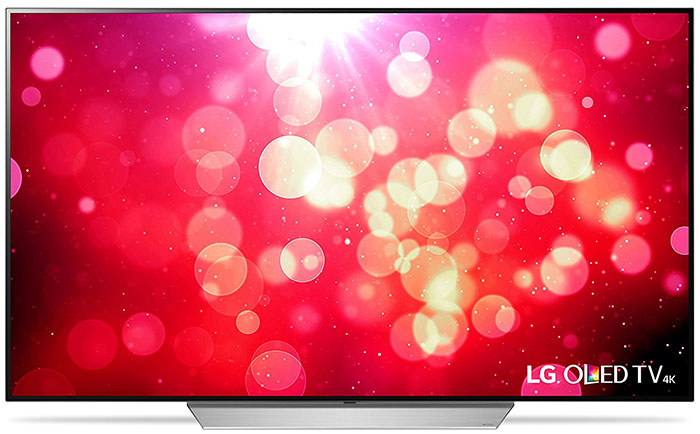 To get around the pricing restrictions, Amazon is offering 10% back on the purchase of the 55-inch or 65-inch C7 OLED TV. The discount comes in the form of a cash back reward on the Amazon Prime Store Card or Amazon Prime Visa card. If you don't have one of those yet, you can apply for instant approval. If you're a habitual Amazon customer, it's a great card to have. Normally these cards get you 5% back on all Amazon purchases, but there's a holiday promotion that can get you an additional 5% reward credit on select items (including LG's C7 OLED TVs) if you know where to look. And that's here:
So with this promotion, you'll get the discounted price of $2696.99 in your cart, and then you'll get a cash back rewards credit on your account for 10% of that, saving an additional $269.70. This brings the net price paid for this gorgeous 65-inch set to $2,427.29. If you already have the Amazon store card, make sure to select this as the payment method and then click the option under "Special Offers" available in the payment methods screen, and select "Get 5% back, and additional rewards on select items charged to this card." Here's a screen shot: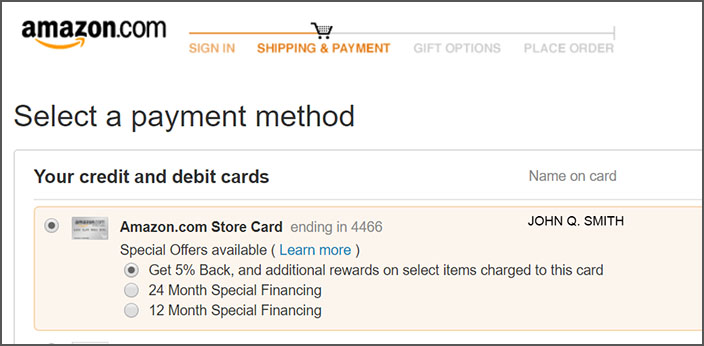 If you're content with a smaller screen, the 55-inch C7 series OLED (OLED55C7P) is also available with this offer and will set you back $1527.29 after the 10% reward credit.
For me, the C7 is the sweet spot of the 2017 OLED line-up. All of the 2017 OLED sets use the same OLED panels and video processing so if you decide to upgrade to the E7, G7 or W7 series, your main benefits there will be sound quality, features and styling. The picture performance should be identical and the WebOS smart TV platform is also the same through the lineup. You can pay a bit less for the B7 series, but then the sound quality won't be quite as good as the C7 and the B7 doesn't offer on-board Dolby Atmos decoding (the C7 does).
TVs included in this promotion:
Related Articles:
More Deals:
Please note: all deals posted on Big Picture Big Sound are current as of the posting date and time. These deals are frequently time- or stock-limited and generally do not last. Final pricing and stock are determined by the individual deal provider, not by Big Picture Big Sound so you will need to click through on the offer link to see if it is still available. Through our affiliate relationships with many online vendors, Big Picture Big Sound may earn a small commission on any referred sale.