Harmony Smart Control Universal Remote: $64.99 Shipped
By Chris Boylan
The holiday shopping season deals on electronics gear are still rolling in. Today you can pick up the Harmony Smart Control and Hub on Amazon for just $64.99 with free shipping.
Here's the link:
Not sure if it's worth picking up? Well, if you're like me and have accumulated a fairly complex home theater system (or two) over the years, you really don't have much choice but to add a good universal remote to the mix. You might be able to figure out how to turn everything on and switch everything to the right inputs for audio/video nirvana, but what about your poor family and friends? What about the children??
There aren't many remotes that are better at controlling complex home theater systems than Logitech Harmony. In addition to physical remotes, Harmony also offers a WiFi-based hub which allows you to control all of your A/V components with the robust Harmony app on your smart phone or tablet. With it you can turn an old phone or tablet into a customized touch screen remote with control of not just your A/V gear, but other smart home automation products as well such as Philips Hue lights, Wemo Switches and the Nest thermostat.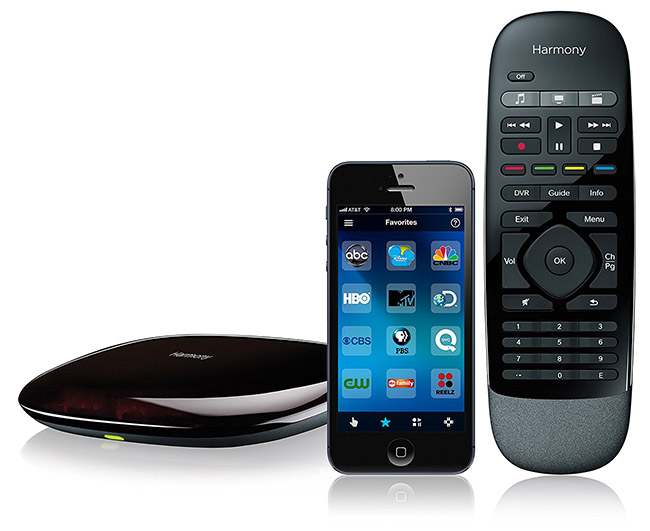 Harmony's best remotes offer color touch screens and sell for upwards of $250, but they offer this basic version called the "Harmony Smart Control" which eliminates the touch screen, offers a simple set of controls, and lowers the retail price down to about $130. At $130, it's still a bit pricey, but with the inclusion of the Harmony Hub and support for the Harmony mobile app, it's still represents a good overall value.
Today, it's an even better value at $64.99 including free shipping.
With Harmony remotes, you don't have to worry about complicated programming. The Harmony app walks you through the whole process, asking you what gear you have, what inputs need to be set, which device controls the volume, etc. Press one "activity button" on the remote or in the app and it will power up your TV or projector, your receiver and cable or satellite box, set everything to the correct inputs and set the volume buttons to control your receiver (or soundbar) while the "DVR" button and channel up/down buttons operate your cable or satellite box.
Because it supports WiFi, RF and Infrared communication, you can operate gear that's in a closet or inside a closed cabinet - it doesn't need to have line of sight between the remote and the equipment. This allows you to have a nice clean system where all the magic happens behind closed doors.
This offer will likely end once they run through remaining inventory so grab it now while you can. Amazon's price is subject to change without notice so check the site for the current price.
Here's the link (in case you missed it the first time):
More Deals:
Please note: all deals posted on Big Picture Big Sound are current as of the posting date and time. These deals are frequently time- or stock-limited and generally do not last. Final pricing and stock are determined by the individual deal provider, not by Big Picture Big Sound so you will need to click through on the offer link to see if it is still available. Through our affiliate relationships with many online vendors, Big Picture Big Sound may earn a small commission on any referred sale.