Hard-Boiled Blu-ray Review
By Chris Chiarella
The Movie
In the popular Hong Kong crime drama genre, perhaps no director is more revered than John Woo, no star more appreciated that Chow Yun-Fat, and no film more celebrated than Hard-Boiled. It's a police thriller that's mostly about action, mood and attitude, so I won't bore you with a lot of unnecessary plot details. It's enough to know that it revolves around the war between two rival crime families, both of which are eventually infiltrated by a deep-undercover cop (Toney Leung). Meanwhile, a tough, dedicated rogue detective (Yun-Fat) who tends to step out of bounds is unknowingly on the trail of one of his brothers in arms, guns blazing.
Stylistically, 1992's Hard-Boiled is self-conscious, brimming with over-the-top gunplay and more, shot and edited in such a way as to very deliberately wow a post-Lethal Weapon/Die Hard global audience. And despite some moments that don't translate well from East to West, it largely succeeds.
The Picture
The 1.85:1 video here is AVC format, typically hovering in the high 20's (megabits/second), often flirting with the mid-30s, which yields a generally fine presentation if nowhere near reference quality. There is some noise and grain, especially in scenes like a dark, smoky nightclub. The colors of Hong Kong at night are credibly wild, but too-green grass and pinkish blood can be off-putting.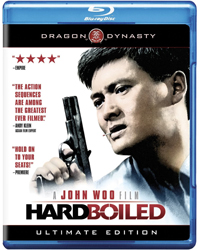 The Sound
The remixed Cantonese track gets most of the love here, in 5.1 channels of DTS-HD Master Audio. The quality of the music and the overall atmosphere in the jazz club is strong, and the score in general is both well-spread across the soundstage and natural-sounding. The chirping of the caged birds before the first shootout is now less shrill, and some bold choices for the rethought scene transitions make aggressive use of the rears. The dialogue, even for the original actors in Cantonese, is often poorly dubbed. Much of the audio for the action setpieces is a non-specific sound-and-fury, but for the occasional multichannel surprise accompanying a particular explosion.
The Extras
All of the extras here have been recycled from the 2007 "Ultimate Edition" DVD, beginning with an audio commentary with Hong Kong Cinema expert Bey Logan. There are also four featurettes, in standard definition. "A Baptism of Fire" takes us up-close with director John Woo (38 minutes), then there's "Art Imitates Life: An Interview with Co-Star Philip Chan" (15 minutes), "Mad Dog Bites Again: An Interview with Leading Villain Kwok Choi" (24 minutes), and the "Hard-Boiled Location Guide" (eight-and-a-half minutes), a walking tour with lots of neat trivia, too.
These are all the extras present on the disc. Others which are noted on the back cover, including an interview with producer Terence Chang, are nowhere to be found on this Blu-ray.
Final Thoughts
Hard-Boiled was a distinctly Chinese take on the violent Hollywood crime dramas of the era, and so we should not expect it to have the same slickness as its bigger-budget ilk. But it's great to have this modern classic in higher definition regardless, although fans who own the Ultimate Edition DVD, with the full complement of extras, might want to hang onto that too.
Product Details
Actors: Chow Yun-Fat, Tony Leung, Teresa Mo, Philip Chan, Philip Kwok, Anthony Wong Chau-Sang, Kwan Hoi-Shan, Tung Wai, Bowie Lam
Director: John Woo
Audio Format/Languages: DTS-HD Master Audio 5.1 (Cantonese), Dolby Digital 5.1 (English), Dolby Digital 2.0 (Original Cantonese Dual-Mono)
Subtitles: English, English SDH, Spanish
Aspect Ratio: 1.85:1
Number of discs: 1
Rating: R
Studio: Vivendi Entertainment
Release Date: December 14, 2010
Run Time: 128 minutes
List Price: $19.97
Extras:

Audio Commentary by Bey Logan
"A Baptism of Fire"
"Art Imitates Life: An Interview with Co-Star Philip Chan"
"Mad Dog Bites Again: An Interview with Leading Villain Kwok Choi"
"Hard-Boiled Location Guide"