HDTV Giants Panasonic and Sony Announce Record Annual Losses
By Rachel Cericola
The consumer electronics industry is ending the week on a low note, with two of the industry's largest companies announcing record losses.
Reuters says that Panasonic is leading in the loss department, with $10.2 billion for the year to March. This news comes one day after the outlet reported Sony's $2.9 Billion losses for the same period.
"I feel the responsibility for the huge amount," said Panasonic President Fumio Ohtsubo in a press conference. Ohtsubo may be taking some of the blame, but has no plans to step down like Sony boss Howard Stringer.
The announcement that Stringer would step down and be replaced by Kazuo Hirai fueled Sony stock on Thursday. Hirai will assume the role of Sony CEO starting on April 1.
"If you look at the electronics companies reporting today there are big problems in Japan today within the electronics industry," Stringer said to the press on Thursday. "Have we had successes? Yes. Have we had failures? Yes. But I don't think we're lonely in that field."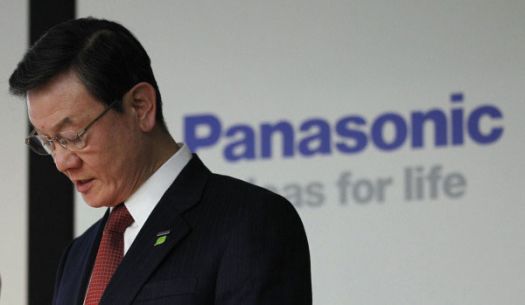 Stringer is absolutely right. According to the Reuters report, Panasonic, Sony and Sharp expect to lose a total of $17 billion this year. The outcome has been blamed on everything from a weak economy to the weak demand for TVs, as well as a strong yen and the flooding in Thailand. Panasonic was also dealing with a failing Sanyo Electronics, which the company purchased back in 2009.  And let's not forget the triple threat of major disasters that hit Japan last March: the earthquake, Tsunami and nuclear plantdown meltdown. 2011 was not a good year for Japan.
"The primary causes of this are the global economic slowdown and instability in the financial markets due to the European debt crisis, as well as the extensive supply chain disruption caused by the flooding in Thailand that occurred in October 2011," Panasonic said in a statement.
Hirai said that Sony will focus on some of its stronger areas, such as videogames and digital cameras, as well as mobile products. Panasonic, on the other hand, will take a different approach. The company plans to cut a total of 17,000 jobs by the end of March. Panasonic has also adjusted its forecast for the total number of flat-screen TV that the company will sell, to 18 million sets.
Not to kick Panasonic while it's down, but research firm DisplaySearch says that the plasma TV market will shrink 38 percent to $7 billion by 2015.
For More Information: