HDTV Deals: Free Samsung Soundbar, 29" TV or Blu-ray Player/3D Glasses with Purchase of LED or Plasma TV
By Rachel Cericola
It's the summertime, which means we're shelling out a lot of money. Beach snacks cost money, rides cost money, and even a visit to the ice cream man costs money. Wouldn't it be nice to get something for free for a change? Today could be your lucky day.
Amazon wants to give you something for free. It's a good freebie, too. For a limited time, when you buy a Samsung HDTV, Amazon will send you a free Samsung HW-F450 Soundbar, a free Samsung 29-inch UN29F4000 HDTV, or a free Samsung BD-F5900 Blu-ray 3D player bundled with eight pairs of 3D glasses.
Of course, you can't just pick any Samsung HDTV. That said, they do have a nice selection of 11 different LED and plasma models that qualify for this promotion. Take a peek at the entire lineup on Amazon's main promotion page: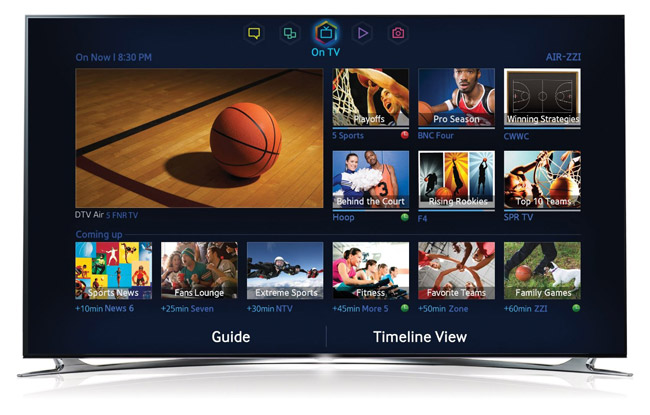 Each one of the eligible selections has Samsung's web-based Smart TV platform, as well as 3D features. The 11 models range in size from 46 to 75 inches. The smallest of the lot is the 46-inch UN46F7500 1080p 3D LED HDTV. New for 2013, this model has a full 1080p HD image, Micro Dimming Pro technology, a quad-core processor, a 240Hz refresh rate, and a super-thin design.
Of course, this TV also includes Samsung's Smart TV platform for on-sceen access to a slew of web-based streaming services. Even more interesting is that the UN46F7500 has a built-in camera and gesture controls. This allows you to easily navigate through the TV's Smart Hub interface, play games, and much more. This TV is also compatible with Samsung's Smart Evolution Kit, the optional package that allows you to upgrade the TV when new features arrive later on down the line.
Other notable features on this set include built-in WiFi, the Ultra Clear Panel, four HDMI inputs and three USB ports. For more information on this HDTV, check out Amazon's product page:
If you're looking for something larger, the 75-inch UN75F8000 1080p 3D LED HDTV is also an option. This model is very similar to the one listed above. However, it does have Ultimate + Precision Black Micro Dimming and the (much) larger size. Find out more about this model on Amazon's product page for the UN75F8000:
When placing an order, add one of the eligible HDTVs into your shopping cart, as well as your chosen freebie. Yes, you'll need to put that soundbar, the 29-inch HDTV, or the free Blu-ray player and glasses bundle into your shopping cart. The discount will be reflected before your final check out. Also, you'll need to order all of the items directly from Amazon to get the discount. This offer is not eligible through any of Amazon's third-party merchants.
At last peek, Amazon had not put a deadline on this promotion. In other words, they can pull it at any time. Get an HDTV and the freebie before the retailer runs out of stock!
Please note: all deals posted on Big Picture Big Sound are current as of the posting date and time. These deals are frequently time- or stock-limited and generally do not last. Final pricing and stock are determined by the individual deal provider, not by Big Picture Big Sound so you will need to click through on the offer link to see if it is still available. Through our affiliate relationships with many online vendors, Big Picture Big Sound may earn a small commission on any referred sale.