HDTV Deal: Panasonic 42-inch TC-L42ET5 1080p 3D LED with 4 Pairs of 3D Glasses: $599 Shipped
By Rachel Cericola
It's Sunday and you're probably grasping at those last precious moments of the weekend or maybe even a vacation. What better way to relax than to watch some TV? The Olympics alone should keep you glued for a few hours.
Of course, it would probably be more exciting to watch those events on a new TV -- and maybe even in 3D. If that's not a possibility for today, you may want to snag Amazon's Gold Box Deal of the Day.
For today only (Sunday, August 5, 2012), the retailer has the Panasonic 42-inch VIERA TC-L42ET5 1080p 3D LED bundled with four pairs of 3D glasses, all for just $599. This price is 46 percent off the TV's $1099.99 list price, and even includes free shipping. Find out more about this deal on Amazon's Gold Box Deal page: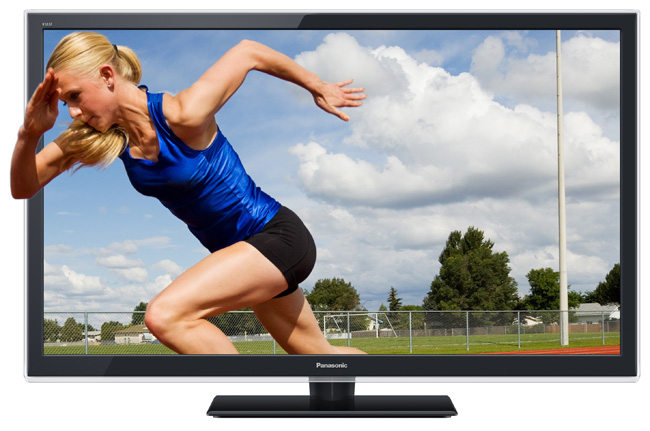 The TC-L42ET5 is one of Panasonic's 2012 models, making this a very nice deal. It's also the company's debut in the polarized arena, making it one of Panasonic's first TVs to use passive 3D technology and glasses to match. Passive 3D promises a nice bright image and a comfortable viewing experience. That's because passive 3D glasses (like the ones bundled with this HDTV) don't use any batteries. That makes them lighter, thinner, and a lot easier on your face. Ever go to a 3D movie at your local Cineplex? Then you know just how these 3D glasses will feel. Add your couch into the mix, and it sounds like a good way to spend a Sunday or any other day!
Even if you aren't interested in 3D, this 42-incher makes for a very nice 2D TV. It includes a full 1080p HD image in 2D, new advanced LED IPS (In Plane Switching) panels for better black levels and off-axis viewing, and 360 backlight scanning for a smoother image.
This set also has built-in WiFi, which makes tapping into the TV's VIERA Connect platform much easier. This on-screen service provides instant access to services such as Netflix, Hulu Plus, YouTube, Skype, Amazon Instant Video, Facebook, and much more. It even has a built-in web browser. For more info on the TC-L42ET5, check out this set's product page on Amazon:
Just remember to order through Amazon and not one of the retailer's third-party merchants. They are the ones offering this bundle deal, as well as free Super Saver Shipping right to your front door. This purchase also qualifies for free 30-day returns and is protected by Amazon's TV Low Price Guarante. The latter means that if you can find this exact set (model and size) for less within 14 days of the ship date, Amazon will refund you on the price difference.
Better snag one soon, though; since this is Amazon's Gold Box Deal, the offer is only good through today (Sunday, August 5, 2012) -- or whenever the retailer runs out of stock.
Please note: all deals posted on Big Picture Big Sound are current as of the posting date and time. These deals are frequently time- or stock-limited and generally do not last. Final pricing and stock are determined by the individual deal provider, not by Big Picture Big Sound so you will need to click through on the offer link to see if it is still available. Through our affiliate relationships with many online vendors, Big Picture Big Sound may earn a small commission on any referred sale.