HDTV Deal: Low Prices/Free Shipping on Select Panasonic Plasma and LED TVs
By Rachel Cericola
Sometime over the next week or so, all of the kids will be back in school. That means you'll finally have the house to yourself. More importantly, you'll have the TV to yourself. If you're still staring at that old, out-of-date TV, now may be a great time for an upgrade.
Whether you're catching up on movies or gearing up for the fall TV season, there's always a reason to upgrade. Amazon is making the move a lot easier, with its latest sale on select Panasonic HDTVs.
For a limited time, the retailer is discounting 15 different Panasonic HDTVs. These aren't a bunch of teeny TVs, either. We found sizes ranging from 42 to 65 inches. There are plasmas and LED TVs, with 3D support and without. Some also add in web-based services for added entertainment. Take a peek at the entire selection on Amazon's main deal page: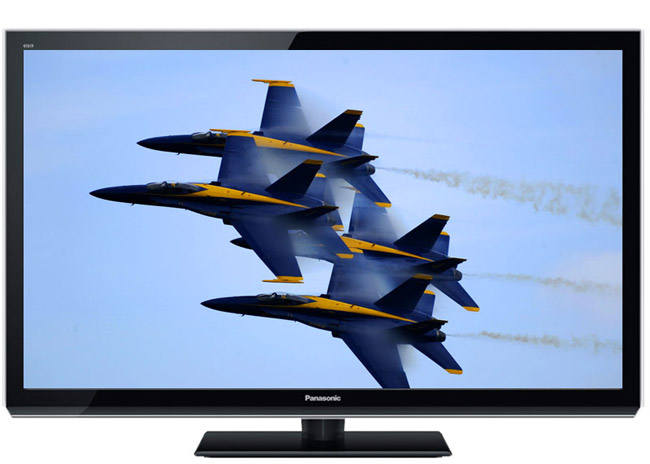 At last peek, the 42-inch TC-L42ET5 1080p 3D LED was the top-selling Panasonic HDTV on Amazon. The ET5 Series is Panasonic's big debut in the polarized 3D arena, which basically means that this model is a passive 3D TV. It even comes with four pairs of super-light 3D glasses so you can experience that technology out of the box. Other features include the IPS LED panel, 360 backlight scanning for a smooth image, four HDMI inputs, and two USB ports. It also has built-in WiFi, so viewers can easily access VIERA Connect. That is Panasonic's web-based platform, which includes popular apps such as Netflix, Amazon Instant Video, Facebook, Hulu Plus, and much more. For more info about the TC-L42ET5 and the current discount, check out Amazon's product page:
For something slightly larger, check out the Panasonic 55-inch TC-P55UT50 1080p 3D Plasma HDTV. This is an active 3D TV, which means you can enjoy a full 1080p HD image in both 3D and 2D. This one doesn't have built-in WiFi, but you can add that via an optional adapter. Out of the box, however, it does have a 2D-to-3D conversion feature, fast-switching phosphors, and the Neo Plasma Black 2500 FDD (Focused Field Drive) for super-sharp images. It also includes VIERA Connect access. For more information about this HDTV, check out the TC-P55UT50's product page on Amazon:
If you aren't quite ready to make the leap to 3D just yet, know that all of the 3D TVs also make nice 2D TVs. Of course, you could also opt for something like the Panasonic 50-inch VIERA TC-P50U50 1080p Plasma HDTV. This is the lone model in the company's U50 Series. It doesn't have any web-based services or WiFi. However, you can add in some of that action via something like a Roku set-top box. This set is just a nice 50-incher, with a full 1080p HD image, fast-switching phosphors, two HDMI inputs, and one USB port. Find out more about the TC-P50U50 on Amazon's product page:
All of the sale prices are good through September 1, 2012, or while supplies last. Just remember that when ordering one of the 15 HDTVs on sale, you need to place that order with Amazon -- and not one of the retailer's third-party merchants. Amazon is offering these discounts, as well as the option for free Super Saver shipping. Amazon also throws in free 30-day returns and has all of the TVs covered under its TV Low Price Guarantee. That basically means if you can find your purchase (exact model and size) for less within 14 days of the ship date, Amazon will refund you on the difference in price. Enjoy!
Please note: all deals posted on Big Picture Big Sound are current as of the posting date and time. These deals are frequently time- or stock-limited and generally do not last. Final pricing and stock are determined by the individual deal provider, not by Big Picture Big Sound so you will need to click through on the offer link to see if it is still available. Through our affiliate relationships with many online vendors, Big Picture Big Sound may earn a small commission on any referred sale.