HDTV Deal: Free Blu-ray Player with Purchase of Panasonic GT50 3D Plasma TV
By Rachel Cericola
Building a home theater isn't a cheap endeavor. Doing your homework certainly helps, but we love a good freebie. Of course, we're not talking about handing out wishlists to friends and family. Instead, you can often find a bundle deal that will package one of those AV essentials in with your purchase.
Amazon has a nice bundle going on right now. When you buy one of Panasonic's GT50 3D plasma HDTVs, the retailer will throw in a free Panasonic DMP-BDT220 Blu-ray player. Yes, it's absolutely free -- and it's also a $149.99 value. That's not too shabby, especially if you were already planning to purchase a 3D- capable HDTV.
To snag this deal, you'll need to choose between one of the four available screen sizes. There are 50-, 55-, 60- and 65-inch models available. Add that into your shopping cart along with the Blu-ray player (that's a must!). From there, you'll see that discount in your shopping cart. To find out more about this bundle and its restrictions, check out Amazon's offer page: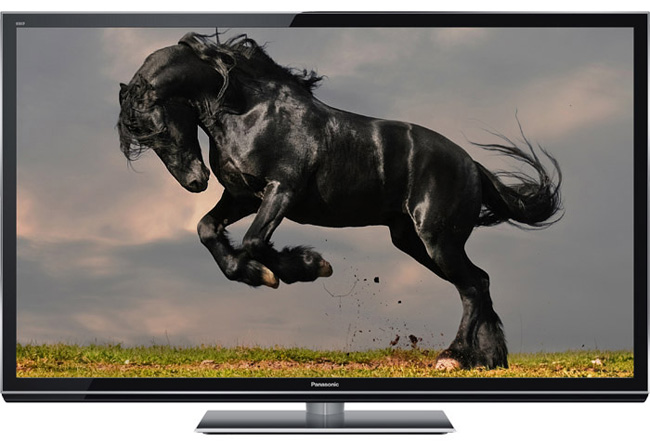 All four of the GT50 models are very similar to the VT50 Series -- which took the top honors at this year's Value Electronics HDTV Shootout. (Check out "LED TV vs. Plasma TV: New Winner Crowned at 2012 Value Electronics HDTV Shootout" for more information.) The big difference between the two lines is that the GT50 Series doesn't have the new Touch Pad controller and the screen filter isn't as fancy. What it does have, however, is the Infinite Black Pro filter, which promises bold black levels, all while reducing unwanted ambient light.
It also has a full 1080p HD picture (in 2D and 3D), THX 3D certification, 3D Real Sound with 8 trainer speakers, and support for the VIERA remote app. Another nice perk is that the set has built-in WiFi, which makes tapping into the included web browser and all of the VIERA Connect features so simple.
Of course, the GT50 Series is also a lot cheaper than the VT50 models. The 50-inch TC-P50GT50 has an MSRP of $1799.99, with the 55-inch TC-P55GT50, the TC-P60GT50 and the TC-P65GT50 priced at $2099.99, $2599.99 and $3299.99, respectively. (Of course, Amazon is also discounting each model for this offer.)
And don't forget the Panasonic DMP-BDT220 Blu-ray player! This unit can support 3D and 2D Blu-rays, upconvert DVDs and even play CDs. It also has a 2D-to-3D conversion feature, built-in WiFi, and supports app control.
Just remember to buy both the TV and the Blu-ray player directly from Amazon -- not one of the retailer's third-party merchants. Amazon is offering this bundle deal, as well as free Super Saver shipping and free 30-day returns. Each set is also covered by Amazon's TV Low Price Guarantee, which means if you can find your exact set (model and screen size) for less within 14 days of the ship date, Amazon will refund you on the difference in price.
Pick that size and start shopping; this bundle offer is only available through 11:59 p.m. PST on July 28, 2012, or while supplies last.

Where to Buy:
Please note: all deals posted on Big Picture Big Sound are current as of the posting date and time. These deals are frequently time- or stock-limited and generally do not last. Final pricing and stock are determined by the individual deal provider, not by Big Picture Big Sound so you will need to click through on the offer link to see if it is still available. Through our affiliate relationships with many online vendors, Big Picture Big Sound may earn a small commission on any referred sale.