Guns, Girls and Gambling Blu-ray Review
By Rachel Cericola
The Film
At some point, someone drugged Gary Oldman and convinced him to that he wanted to play an Elvis impersonator. That's the only explanation for his inclusion in the new film, Guns, Girls and Gambling.
Maybe he was lured by star Christian Slater and thought this would be True Romance II or something. It certainly wouldn't be the girls, the guns or the gambling, because this movie doesn't have much of all three.
That's not to say that it doesn't have a little. However, it's mainly about an Elvis impersonator contest -- or at least the contestants, which include Slater, Oldman, Tony Cox, Anthony Brandon Wong and Chris Kattan. However, don't expect to see "Blue Suede Shoes" or other numbers performed. I'm guessing that this film spent its budget on getting Oldman. It doesn't matter though. It's not really about the music as much as which one of the Elvises stole some ancient Native American artifact.
Guns, Girls and Gambling doesn't have a whole lot of guns, girls or gambling, but it does have a lot of people you'll recognize. Besides the aforementioned Elvises, the film also has Dane Cook, Megan Park, Powers Boothe and Jeff Fahey. Unfortunately, that doesn't help the movie much. It's not a Razzie contender, but it's certainly not anything special. It's like the filmmakers pieced together a movie from the scraps inside Quentin Tarantino's trashcan or something.
It's sort of nice to see Slater helm a film again. The guy can't seem to catch a break lately. That said, Guns, Girls and Gambling certainly isn't going to help matters. You've been warned.
The Picture
This 1.85:1 image seems to handle the guns, the girls and the gambling equally well. It's certainly not the greatest Blu-ray ever produced, but it's pleasing and a pretty clean print overall. Those sunkissed skintones are the real standout, as is the film's overall color palette. It also produces some nice contrast and a decent amount of detail, in the film's darker scenes as well as when the action travels out to the middle of the desert.
The Sound
This release has a lone DTS-HD Master Audio 5.1 track, which it uses to spray bullets across the soundfield quite nicely. Even during the mayhem, the dialogue always sounds perfect. Overall, it's a nice little track.
The Extras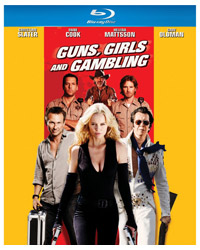 Guns, Girls and Gambling
jumps right into the film, so you're going to need to launch the menu from your remote. Of course, it's only necessary if you need to add in subtitles, because there's absolutely no extras included with this release. Frankly, I was hoping for a "how the hell did we get Gary Oldman?" featurette. Sadly, there's nothing; not even a trailer.
Final Thoughts
Guns, Girls and Gambling isn't worthy of the King's music (there's like three notes) or Gary Oldman -- even with the lure of having him in an Elvis suit. I could probably say the same about almost anyone in the cast. The AV presentation is decent, but it certainly won't make this film more enjoyable. When it comes to the extras, Universal couldn't be bothered. You should follow suit and find a better movie than this one.
Product Details
Actors: Christian Slater, Powers Boothe, Dane Cook, Jeff Fahey, Chris Kattan, Helena Mattsson, Gary Oldman, Megan Park, Sam Trammel
Director: Michael Winnick
Audio/Languages: DTS-HD Master Audio 5.1 (English)
Subtitles: English SDH, Spanish
Aspect Ratio: 1.85:1
Number of Discs: 1
Rating: NR
Studio: Universal
Blu-ray Disc Release Date: January 8, 2013
Run Time: 90 minutes
List Price: $26.98