Goon Blu-ray Review
By Rachel Cericola
The Film
Hollywood isn't exactly a stranger when it comes to the sport of hockey. We've seen the history (Miracle), the raunch (Slapshot), and the kids-who-are-underdogs (The Mighty Ducks). So what's left to do? Throw off the gloves, of course -- and that's exactly what writing duo Jay Baruchel (who also stars) and Superbad scribe Evan Goldberg do with the new comedy Goon.
Goon is a semi-true tale based on the life of Doug Smith and the book Goon: The True Story of an Unlikely Journey into Minor League Hockey, which he cowrote with Adam Frattasio. Unlike Slapshot or most of the other hockey movies out there, Goon really focuses on one guy.
That guy is Doug Glatt (Seann William Scott), who is dumb as a rock and doesn't try to pass himself off as anything else. That's one of his endearing qualities. The other revolves around the fact that he's extremely good at giving (and receiving) a punch. Doug's "talent" allows him to quickly move up the hockey ranks to a semi-pro team, where he becomes an enforcer, as well as the team's biggest cheerleader.
Blood splatters, swears fly, and comedy pokes its head here and there. Goon is funny, but not as funny as it should be. That said, it's really entertaining, thanks to Scott, whose loveable lunk is a refreshing departure from seeing him as Stifler in every movie. Also look for Liev Schreiber, who is awesome as a killer (literally) opponent.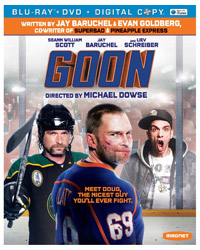 The Picture
That opening shot of the falling tooth should clue you into the quality of this 1.78:1 transfer. Goon has some decent detail and the colors are very realistic. It doesn't exactly pop as much as some newer releases, but it's a quality presentation and viewers should be pleased.
The Sound
Goon perks up (a lot!) with its lone DTS-HD Master Audio track. Dialogue is centered and clear, but this comedy has an exceptional amount of ambience. The roar of the crowd and metal-heavy hockey soundtrack fills the surrounds nicely throughout most of the film. Game play is the most impressive, however, with the subwoofer getting a very nice little workout. Shots, skate spray, and especially those fists of fury all sound awesome. Goon has a fun little track.
The Extras
Considering the limited theatrical release, Goon comes packing a nice punch of extras. There are interviews, outtakes and a commentary. However, the best of the bunch is something called Power Play Mode. Enable this option and you'll be treated to a variety of behind-the-scenes peeks, interviews and other goodies, all throughout the film. If you don't like to be distracted, these snippets can be played individually in the special features section.
Also note that Magnolia has released two versions of Goon. There's a single-disc version and a 2-disc set, which includes the standard-def DVD and a Digital Copy of the movie.
Final Thoughts
You don't have to be a hockey fan to like Goon. It would probably help not to be squeamish, though. Goon is pretty bloody, fairly raunchy, and a good time overall. It also has an exceptional audio track, which makes adding this one into your collection worth taking a punch or two.
Product Details
Actors: Seann William Scott, Jay Baruchel, Alison Pill, Marc-André Grondin, Kim Coates, Eugene Levy, Liev Schreiber
Director: Michael Dowse
Audio/Languages: DTS-HD Master Audio 5.1 (English)
Subtitles: English SDH, Spanish
Aspect Ratio: 1.78:1
Number of Discs:2
Rating: R
Studio: Magnolia Home Entertainment
Blu-ray Disc Release Date: May 29, 2012
Run Time: 91 minutes
List Price: $34.98
Extras:

Commentary with Director Michael Dowse and Co-Writer/Actor Jay Baruchel
Deleted Scenes
Outtakes/Blooper Reel
Interview with Seann William Scott and Jay Baruchel
HDNet: A Look at Goon
Goalie Audition
Fighting 101
Goon Hockey Cards
Theatrical Greenband Trailer
Theatrical Redband Trailer
Also from Magnolia Home Entertainment
BD-Live
Standard-Def DVD
Digital Copy