Google TV Version 3 Alive and Well at CES 2013 - New Offerings From LG, VIZIO, Hisense, Asus, and Others
By Greg Robinson
Remember Google TV? Logitech surely does. Despite an impressive design and the power of Google behind it, Logitech's Revue featuring Google TV was a half-baked product that, in retrospect, seems like it tried to fly before its wings were fully developed.  Not surprisingly, it crashed and burned. However, the failure of that one device doesn't mean the Google TV platform didn't have promise; it most certain did - and it still does.  Evidence of this was apparent in numerous booths at CES last week where products such as VIZIO's Co-Star, the Qube from Asus, as well as integrated displays from both LG and Hisense were on display to show off the latest iteration of Google TV, known by some as version 3.0. Electronics juggernaut LG had a particularly strong showing, with no fewer than seven new displays featuring Google TV in their 2013 model lineup. 

Like the myriad "similar but different" Netflix apps embedded in countless consumer devices, the Google TV platform - rooted in Google's Android operating system - has a slightly different look depending on whose gear you're playing with. These different themes or skins allow manufacturers to distinguish themselves from one another while often too improving upon the platform's basic functionality. Aesthetic differences aside though, one thing is clear:  Google TV has matured since last we saw it and it has remarkable potential to simplify the often arduous task of navigating the many layers of our TV and movie viewing ecosystem.

During my time in Vegas last week, the piece of Google TV tech I was able to spend the most time with was VIZIO's Co-Star streaming player.  Roughly the size of a Roku box, the Co-Star was an impressive toy, seamlessly blending live TV with access to applications such as Netflix. During the demo I saw, an Android tablet was used to control things, thanks to the "Google TV Remote" app - a free download from the Google Play app store.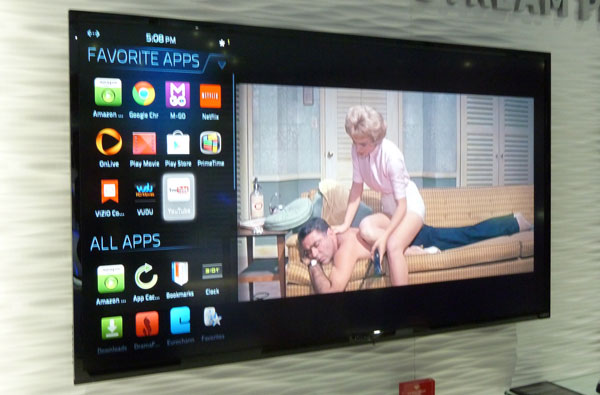 To demonstrate Google TV's capabilities, a VIZIO representative tapped Search, and then spoke into his tablet: "Bryan Cranston."  In no time at all, lovely artwork showcasing Cranston's film and TV work appeared as choices. This was essentially like an IMDb search, showing me everything Cranston has done.  Clicking on "Breaking Bad" (a wickedly addictive bit of entertainment), Google TV next combed through my options for watching the show. Because your cable box connects to your TV by way of the Co-Star, Google TV was able to tell me when "Breaking Bad" was on next, and on which channels. However, for more instant gratification, I was able to click right into Netflix from the search results page to watch it now. And it didn't just launch the app; it brought us right to the Breaking Bad page within the app, ready for episode selection.  Very cool. (Watch for a review of the Co-Star in the weeks ahead; I already have a request in. For $99, it's one slick piece of tech for the money.)

Although it's unlikely we'll see a Logitech Revue 2 any time soon, it's clear that lessons have been learned, and the Google TV platform is far from dead. Here's the thing: smart TV's are great, and the wealth of content they provide is dizzying - but for the average consumer, that's both a blessing and a curse.  As much as it may pain app developers to hear it, most folks probably don't care HOW they watch the show they're looking for, they just want to watch it - however they can and/or whichever way is easiest or cheapest.  

When it comes to entertainment, whether it's Amazon Instant, Netflix, M-Go, or some satellite/cable channel we subscribe to, the vessel isn't nearly as important as its cargo - the cargo being a specific film or television series. And at least from a hardware perspective, with streaming, web-based content becoming so ubiquitous, live television seems poised to become just another app. Google TV seems to grasp both of these concepts, with seamless blending of your live TV and app-based options. In short, based on what we saw at CES this year, it would be unwise to underestimate the Google TV platform or its potential.
For More Information:
More News from CES: