GoldenEar Technology Shows Off New Center Channel Speakers and Sound Bar at CEDIA
By Rachel Cericola
At last week's CEDIA Expo, GoldenEar Technology was cranking out some serious sound, as well as serious product offerings. The company debuted a crop of new in-ceiling/in-wall speakers, two center channels and one mighty soundbar.
First up is that soundbar. Remember when such speakers were the laughing stock of the audio world? Neither do we. Companies like GoldenEar are making that crazy perception -- well, crazy. The newly announced SuperCinema 3D Array XL Soundbar is a larger version of the previously released 3D Array. It actually earned that XL label, since it's designed for TVs 70 inches and up. Packing special 3D image optimization technology into a slim cabinet, the SuperCinema 3D Array XL boasts a wide soundfield and immersive playback, when used with or without rear/side surround speakers.
The speakerbar, which also goes by the name SC3DAXL, incorporates left-, center- and right-channel sound with a second set of drivers. That's the secret sauce of 3D Array Technology. It's also what promises to cancel out crosstalk distortion between the left and right channel. It has eight 4.5-inch bass/midrange drivers with Multi-Vaned Phase Plugs (MVPP), as well as three High-Velocity Folded Ribbon tweeters (HVFR).

Right in the middle of the soundbar lies the unique center-channel section. Like the SuperSat 60C, this area has four bass/midrange drivers right around the HVFR tweeter in a two-stage D'Appolito array. This is where the two drivers closest to the tweeter go all the way up to meet the tweeter, while the other two roll off at 800Hz.
Other features include a frequency response of 80Hz to 35kHz, an efficiency rating of 91dB, a glossy piano black finish, and keyhole mounts or threaded brass inserts for wall-mounting.

Measuring 62 inches wide and 2.7 inches thin, the SC3DAXL is designed to work alone or with a pair of rear surrounds (such as GoldenEar's SuperSat 3s) and a powered GoldenEar ForceField 3, 4 or 5 Subwoofer. GoldenEar plans to ship the SC3DAXL sometime in spring 2014, with an MSRP of $1499.
If you're looking for a little something to match your current setup, GoldenEar just introduced the SuperCenter X (SCX) and SuperCenter XL (SCXL) speakers. Perfect for installs where larger speakers are more desired, the SCX and SCXL are center channels specifically designed to complement and match the company's Triton Tower and Aon Bookshelf loudspeakers.
Each one has a D'Appolito Array of two newly developed long-throw 5.25-inch bass/midrange drivers surrounding one HVFR tweeter. The 5.25-inch drivers have spider-leg cast baskets and multi-vaned phase plugs, as well as top-mounted pressure-coupled quadratic planar low frequency radiators for a better bass response. The SCX adds in one 7-by-10-inch planar radiator, while the SCXL has two 6.75-by-8-inch units.
The SCX has a frequency response of 45Hz to 35kHz, an efficiency rating of 90dB, and a recommended amplification of 20 to 200 watts per channel. The SCXL bumps those numbers up to a frequency response of 36Hz to 35kHz, a 91dB efficiency, and amplification of 20 to 250 watts per channel.
GoldenEar plans to start selling both of the new center-channel speakers sometime next month. The SuperCenter X has an MSRP of $599 each, with the SuperCenter XL priced at $799.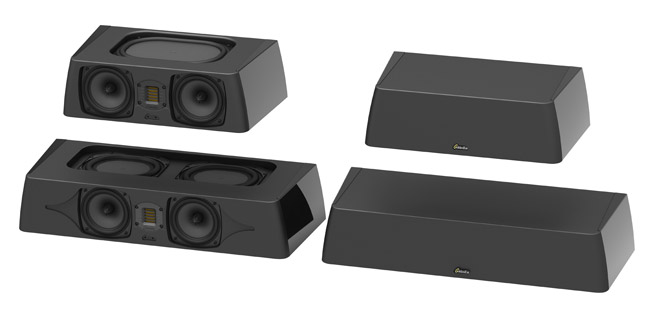 For More Information:
More News from CEDIA: