Gifted Review
By Lora Grady
Wild Prodigy
Mary Adler is a pretty typical seven year old. She loves the beach, dotes on her pet cat, and doesn't want to go to school. She adores her Uncle Frank, who's raising her. She has big questions about life. She's funny, sharp, and sweet.
But Mary (Mckenna Grace) is also very different, as we learn in the opening scenes of the new film "Gifted," from director Marc Webb ("(500) Days of Summer"). She's dragging her feet, putting up an argument, insisting to Uncle Frank (Chris Evans, "Captain America: Civil War") that she doesn't need to go to school. From most kids this would be quickly overruled, but Mary's got a point: she doesn't really need to be going to second grade, because she's a genius.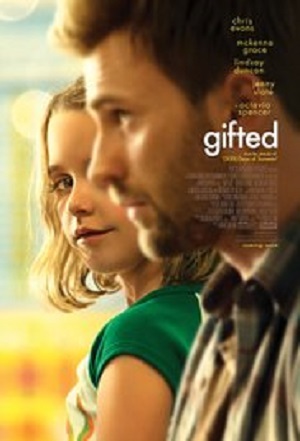 What we see at the beginning of "Gifted" is in fact Mary's first foray into public school. She's been homeschooled, but Frank wants her to be around other kids and make friends, to expand her horizons beyond the narrow world that so far has just consisted of Frank and well-meaning neighbor Roberta (Octavia Spencer, "Hidden Figures"). Mary isn't exactly a comfortable fit in the classroom; she's fidgety and bored and doesn't understand why the teacher is asking silly questions like, 'What is 2+2?"
Mary matter-of-factly works out an increasingly difficult series of number problems, and teacher Bonnie (Jenny Slate, "Obvious Child") quickly surmises that her new student is exceedingly gifted in math. But when she pursues Frank for answers he demurs, claiming that she's just adept at doing calculations in her head with the Trachtenberg system. It turns out that Frank has plenty of reasons for wanting to keep Mary out of the spotlight, and they have to do with his sister, their family history, and the secret behind why he's raising Mary alone in Florida, far away from their tony roots in Brahmin Boston.
"Gifted" is effective at doling out its back story slowly, to provide time to get to know its characters. So, even when Frank's mother Evelyn (Lindsay Duncan, "Birdman"), Mary's grandmother, appears seeking custody of her prodigy granddaughter, there's still a lot to learn about the Adler family's discord. Soon Frank is pondering his budding romance with Bonnie, defending himself against Evelyn's icy upper-crust criticisms (of Florida she remarks drily to Frank, "While I was waiting for you, a bug tried to steal my shoe,") and agonizing over what's best for Mary. Should she stay comfortably in Florida with Frank and go to school with other kids, growing up well-rounded and "normal"? Or should she live a rarefied life in Boston with grandmother Evelyn, ensconced at MIT or Harvard, being pushed to develop her phenomenal talent at the expense of all else?
Screenwriter Tom Flynn has just a few credits on his record, so "Gifted" is something of a surprise. He's created a funny, compelling story that's an effective hybrid of family drama and character-driven comedy, and when the film shifts gears into an intense debate about parental responsibilities and ambitions and the special burden that comes with being the guardian to an exceptional child, it feels like a natural part of the action.
Mr. Webb scales down from his last two big screen outings - "The Amazing Spider-Man" and its sequel - to provide effectively intimate direction that lets the actors carry the story. However, his many years behind the camera on the music video scene are still apparent in a few grandly backlit scenes, such as when Frank patiently answers Mary's questions about God against the backdrop of a blazing golden-orange Florida sunset.
Mr. Evans also stows his superhero trappings to play the conscientious and conflicted Frank. He's wonderfully natural as a would-be father to his young niece, and Ms. Grace is a pleasure to watch as Mary. She avoids the showy bravado that mars some child-actor performances, but there is a knowing edge to her portrayal that's a good fit for the character and meshes well with her adult co-stars. Ms. Slate is particularly well-cast as a grade-school teacher; the role calls for her to tone down her occasionally anarchic quirkiness, and as a result she's downright charming. And, pay attention to her voice work here: in classroom scenes, Ms. Slate's Belinda has the voice of every child's favorite teacher - melodic, encouraging, and memorable.
Be warned: "Gifted" will manipulate you. You'll see it coming...but don't fight it. Just give in and "awwww" at Fred the sweetly slouchy one-eyed pet cat, and cheer when Mary resolutely takes on a bully to defend a shy classmate, and let your heart soar when this brilliant child reaches up to a college classroom chalkboard and complex mathematical equations flow from her hand with an artistic, poetic simplicity. If only all of life's questions could be answered so clearly.