Get Your Black Friday Deals on Amazon Echo ($139.99), Echo Dot ($39.99) and Tap ($89.99)
By Chris Boylan
Why get off your couch to turn off the lights or play music when you can ask Alexa, your personal assistant to do it? That is a question for the ages. And one that got easier to answer today when Amazon lowered the prices of its popular Echo products for Thanksgiving/Black Friday weekend. The Echo (now $139.99) and Tap (now $89.99) are $40 cheaper than they were yesterday and the new improved Echo Dot is down to $39.99 ($10 off). Happy Thanksgiving indeed!
Here are the links:
These are the three main products in Amazon's Alexa voice controlled smart home control line. And over time, they've gotten a lot more powerful. Alexa, the voice-controlled automated assistant, can tell you the weather, play your favorite music playlists or internet radio stations, tell you the news or the latest sports scores, even tell you a joke or a riddle. But it can also work with loads of home automation products, including lighting, A/V control systems, switches and smart thermostats. It's compatible with WeMo, Philips Hue, Samsung SmartThings, Wink, Insteon, Next and ecobee smart home devices as well as Logitech Harmony A/V control systems. And more device compatiblity and "skills" are being added over time. Sonos even announced that you'll soon be able to control playback of their multi-room wireless speaker systems via Alexa voice control.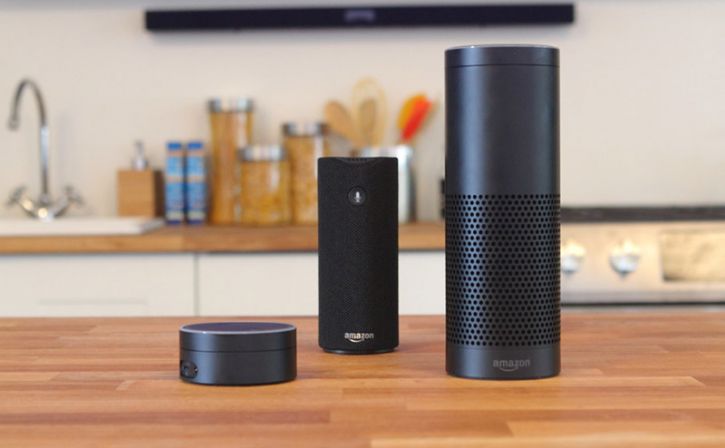 Which Echo Device Do I Need?
If you want a nice standalone speaker for your kitchen or bedroom, the Amazon Echo is probably the one you'll want. It can fill the room with 360 degree omni-directional sound but it can also hear your voice commands from across the room, even while the music is playing. We got one for our kitchen last year and not a day goes by when we don't use it. Listening to NPR in the kitchen, finding out the day's weather, or turning all the lights on when we come home from a trip, Alexa makes life easier.
For a smaller room or as an additional control point for your smart home system, or if you want to take your music on the road with you, the Tap is a fine choice. It's like a smaller version of the Echo, with a nice-sounding built-in speaker, and with a built-in battery that lasts up to nine hours. But you have to tap it in order to issue your voice controls (unlike the Echo and Echo Dot, which are always listening for commands). The Tap also doubles as a Bluetooth speaker so you can connect your phone or tablet to it wirelessly for playback of your favorite tunes. When it's not travelling, the Tapsits comfortably upright in a charging dock so you won't have to worry about wires dangling out the back.
If you already have your own powered speaker and just want to add voice control capability, or if you want the voice control in a really compact package where a larger speaker isn't necessary, then get the Echo Dot. It does have its own built-in speaker, but it's really not made for music playing. It's fine as an alarm clock or to tell you the weather or traffic, but if you want to actually listen to music on it, you'll need to plug it into a powered speaker or a pair of headphones via the built in 3.5mm headphone jack output.
You can get more than one so you can spread music and home control through your home. Maybe an Echo in the kitchen an a Dot for the bedroom so you can turn off (or on) your lights just before bed and wake up to your favorite playlist or internet radio station. Whichever device (or devices) you get, you'll also be able to get exclusive deals by ordering products just by asking Alexa. To find out what these deals are, you simple ask one of the devices, "Alexa, what are your deals?" or go to www.amazon.com/alexadeals.
The lower pricing should be available through Cyber Monday or while existing stock lasts.
Please note: all deals posted on Big Picture Big Sound are current as of the posting date and time. These deals are frequently time- or stock-limited and generally do not last. Final pricing and stock are determined by the individual deal provider, not by Big Picture Big Sound so you will need to click through on the offer link to see if it is still available. Through our affiliate relationships with many online vendors, Big Picture Big Sound may earn a small commission on any referred sale.