Fully Immersed: Best New Dolby Atmos and DTS:X Blu-ray Discs: Men in Black Trilogy, American Made, It, Blade Runner
By Greg Robinson
Fully Immersed, Volume 17
Happy new year! Here's hoping the holidays treated you well and you got a few shiny new discs to spin. Here in New England, between the cold and the snow and sick kids, it's been a bit of a challenge getting back into the swing of things. But despite what our Federal goverment would have you believe, there's work to be done, discs to be spun, and the show must go on.  And it's apt to be a busy year on the immersive audio front.  At the recent CES tech fest in Las Vegas, Dolby and Xperi/DTS were both touting new hardware partners and introducing new gear - including soundbars - featuring Dolby Atmos and DTS:X capabilities, respectively. And once all those new toys hit store shelves, we'll be needing a few new releases to test them out.  Here are a few imersive audio titles coming soon:
10 Cloverfield Lane 4K - Dolby Atmos, Paramount (Blu-ray, 4K UHD)
Groundhog Day 4K - Dolby Atmos, Sony (4K UHD only)
Jigsaw - Dolby Atmos, Lionsgate (Blu-ray, 4K UHD)
Hell or High Water 4K - Dolby Atmos, Lionsgate (4K UHD only)
Daddy's Home 4K - DTS:X, Paramount (Blu-ray, 4K UHD)
Daddy's Home 2 - Dolby Atmos, Paramount (Blu-ray, 4K UHD)
I plan to cover at least a few of the above titles soon. Until then, here's what I've listened to most recently...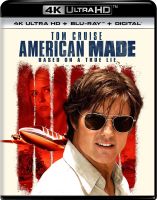 American Made
Universal | Buy Now | DTS:X available on Blu-ray and 4K UHD
Doug Liman (The Bourne Identity, Edge of Tomorrow) directs a relaxed and ruffled Tom Cruise in this fun time warp through the "War on Drugs" and the Iran-Contra scandal of the early 1980s. Cruise gets recruited by the CIA to fly a private plane south of the border, taking surveillance photos, running drugs, guns, you name it. Not surprisingly, he gets in way over his head. Speaking of which, this Universal DTS:X soundtrack is surprisingly excellent, with plenty of activity in the overhead channels - namely roaring airplanes and the more subtle hum of engine noise from inside various cockpits. Lively music is used throughout the film and sounds terrific, making great use of the extended sound stage.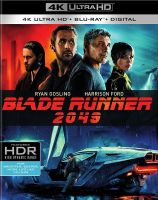 Blade Runner 2049
Warner | Buy Now | Dolby Atmos available on Blu-ray and 4K UHD
Director Denis Villeneuve faced an unenviable and incredibly difficult challenge. How do you craft a meaningful sequel to a groundbreaking, science-fiction cult classic 35 years later? Blade Runner 2049 is the answer. From a heady and thought-provoking story to Roger Deakins' gorgeous, Oscar-nominated cinematography, Blade Runner 2049 is every inch the film fans hoped for. At 164 minutes, the film is admittedly a bit too long - an opinion shared by Blade Runner Director Ridley Scott - but its methodical and meditative pace feels appropriate. Plus, it gives viewers that many more opportunities to soak in the sumptuous visuals as well as the killer score from Hans Zimmer and Benjamin Wallfisch. Regular readers may recall how smitten I was with Warner's 4K release of the original Blade Runner and the Atmos upgrade given to Vangelis' haunting score. 2049 is equally impressive, and perhaps even more so, thanks to a creative and dynamic sound design which takes full advantage of the height channels afforded by Dolby Atmos.  From diffuse city sounds to flying cars directly overhead, to more subtle details, like the slight reverberation and echo in large, open spaces like the golden-hued data library at Wallace Corporation, this is a reference Atmos track in every respect. Also, 2049 has a robust and seemingly-ever present low end, with gut-punching bass that gets downright teeth-rattling at times. Apartment dwellers, beware; neighbors not invited to the show will probably hate you. Everyone else is in for a rare sonic treat.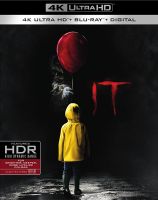 It
Warner | Buy Now | Dolby Atmos available on Blu-ray and 4K UHD
Stephen King's classic novel, IT, is a terrifying book. It's also difficult to describe without giving away the central idea at play. Suffice to say, It's about a murderous clown who is preying upon the children of Derry, Maine until a band of self-described "losers" decide to put up a fight. The film plays like a scarier version of Stand By Me, as much a coming-of-age film about the power of friendship and young love as it is a horror flick about a killer clown. Warner brings the film to disc sporting a fantastic and highly immersive Dolby Atmos soundtrack. The sewers sound particularly realistic, with dripping water and reverberating voices making great use of the overhead channels. Just as good is the confrontation inside the house on Neibolt Street. As the kids venture upstairs, creaking floorboards, shuffling feet, and distant laughter above the listener come together to create a thoroughly convincing - and altogether unsettling - sense of place.
Men in Black Trilogy
Sony | Buy Now | Dolby Atmos available on 4K UHD only
Thanks to creative creature effects work from monster maker Rick Baker, and winning chemistry between straight-laced Tommy Lee Jones and a brash, young Will Smith, Men in Black is a supremely entertaining sci-fi adventure. And twenty years later, the original MIB holds up fairly well. The second and third installments have always suffered from an unfortunate lack of Linda Fiorentino and Vincent D'Onofrio, but the sequels do offer a few charms, such as a singing Frank the dog in MIB II and Josh Brolin playing a young Agent K in MIB III. To celebrate the franchise's 20th anniversary, Sony has released a handsome boxed containing new 4K Ultra HD versions of all three films - and each film features a spectacular new Dolby Atmos soundtrack. Upon opening the set, I immediately jumped to my favorite scene in the first film, where Agent K is giving Agent J a tour of MIB headquarters and J accidentally releases a flying energy ball (or something) which proceeds to wreak havoc throughout the office, ricocheting off everything it touches, pinballing through a glass-fillled chemistry lab, and bouncing around a calmly-working Rip Torn before coming to rest. It's a fun scene and the new Dolby Atmos sound gives it a whole new dimension, with the energy ball zipping directly overhead at times, soaring through a sound field that just sounds bigger and more nuanced than ever before. And that's the key word with these new soundtracks: bigger. These new Atmos tracks give all three films a much bigger and more spacious sound with satisfyingly deep bass and aggressive, immersive use of the surround channels to round out the experience.
Recent Releases You May Have Missed...
More Information:
Reviewed Using: