Fully Immersed: Best New Dolby Atmos and DTS:X Blu-ray Discs: Atomic Blonde, The Dark Tower, War for the Planet of the Apes, Warrior
By Greg Robinson
Fully Immersed, Volume 14
The leaves are almost entirely down here in New England the temperature is dropping.  That's right: winter is coming. For my kids, that means flannel pajamas, hot chocolate, and snow day movie marathons. Frankly, it doesn't sound too bad; I'm not sure what Ned Stark is so worried about. If you too are gearing up for a few movie nights during the cold weeks ahead, here's a sampling of what's just been released or is coming soon to disc featuring a Dolby Atmos or DTS:X soundtrack:
Harry Potter and the Sorcerer's Stone - DTS:X, Warner
Harry Potter and the Chamber of Secrets - DTS:X, Warner
Harry Potter and the Prisoner of Azkaban - DTS:X, Warner
Harry Potter and the Goblet of Fire - DTS:X, Warner
Cars 3 4K - Dolby Atmos, Disney
A Few Good Men 4K - Dolby Atmos, Sony
Westworld: Season One 4K - Dolby Atmos, HBO
Valerian and the City of a Thousand Planets - Dolby Atmos, Lionsgate
I plan to cover at least a few of the above titles soon. Until then, here's what I've listened to most recently...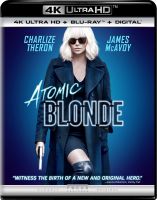 Atomic Blonde
Universal | Buy Now | DTS:X available on Blu-ray and 4K Ultra HD
Charlize Theron is Lorraine Broughton, niece of James Bond and second cousin to John Wick. No, not really - but it's clear that someone behind the scenes of Atomic Blonde is a fan. (My money is on Director David Leitch, who also helped direct...wait for it... John Wick.) Set in 1989 Berlin, against a rocking backdrop of fantastic 80's music, Theron plays an MI6 agent who takes great pleasure in breaking bones and killing bad guys in creative and original ways. More importantly, she gets to do so with the help of a stellar DTS:X soundtrack which Universal has thankfully made available on both the standard Blu-ray and the 4K Ultra HD releases. Early on in the film, when Lorraine first arrives in Berlin to meet Percival (James McAvoy), there's a great sequence in a car, where Lorraine slowly confirms that her two airport greeters are not who they claim to be. Close quarters fisticuffs and appropriately muffled gunfire ensues, followed by a car flip that careens directly over the listener thanks to clever use of the height channels within DTS:X. Throughout the film, the classic tunes often pump from every channel simultaneously and dialogue is clear and intelligible throughout. Highly recommended.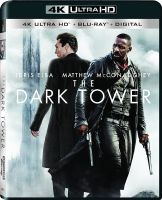 The Dark Tower 4K
Sony | Buy Now | Dolby Atmos available on 4K UHD only
Seemingly in pre-production forever, The Dark Tower has been "coming soon" for nearly a decade. The effort to bring one of Stephen King's most popular series to the big screen was fraught with starts and stops at different studios with assorted directors attached along the way - including J.J. Abrams and Ron Howard at different points. In the end, the reins were handed to Nikolaj Arcel, a Danish writer and filmmaker best known for his adapted screenplay of The Girl with the Dragon Tattoo. Unfortunately, even with Idris Elba stepping into the boots of King's fabled Gunslinger, and Matthew McConaughey as the mysterious Man in Black, The Dark Tower feels like it's had too many cooks in the kitchen. Once again, Sony has reserved the superior Dolby Atmos soundtrack for their 4K release, but fans of the film will be pleased. The height channels are used to good effect, rounding out the score and giving ambient city sounds an added layer of realism. Action sequences shine and the Gunslinger's gunshots sound appropriately robust. It's just a shame this highly capable Atmos soundtrack isn't in service of a better film.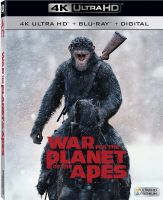 War for the Planet of the Apes 4K
Fox | Buy Now | Dolby Atmos available on 4K UHD only
When it was first announced that the Planet of the Apes franchise was being rebooted, I was less than thrilled. However, Rupert Wyatt's Rise of the PotA was surprisingly fantastic, thanks in large part to Andy Serkis's moving work as Caesar, the ape that started it all. The highly capable Matt Reeves took over directing duties on Dawn of the PotA and he returns to complete Caesar's trilogy in War for the PotA. And a fitting end it is. Fox's Dolby Atmos soundtrack - sadly available on the 4K disc only - is truly fantastic. The very first scene of the film features a slow pan up a wooded hillside amid light rain; the sound of raindrops pattering on leaves above and all around completely immerses you in the space. Later in the film, a similarly compelling effect is achieved in the drippy caves behind a waterfall. The sonic standout, however, is easily the avalanche during the film's climax; the Atmos soundtrack creates a concussive wave of sound that passes over and around the listener. Highly recommended.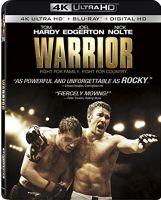 Warrior 4K
Lionsgate | Buy Now | Dolby Atmos available on 4K UHD only
Warrior has everything you need for an uplifting night at the movies. Alcoholism, domestic abuse, estranged family relationships, financial troubles - you name it, it's in there. In all seriousness, Gavin O'Connor's Warrior, which tells a Rocky-esque story set in the world of MMA (mixed martial alerts), is a first rate film filled with great performances led by Nick Nolte, Joel Edgerton, and Tom Hardy as a once-broken father and his two troubled boys. Given the weighty subject matter, it's no surprise that much of the film is dialogue-driven, punctuated by a few fights along the way that remind your subwoofer to stay on alert for the climactic tournament in the film's rousing final act. Once we get to Atlantic City, it becomes clear why Lionsgate decided to re-issue Warrior on 4K with a new Dolby Atmos soundtrack. Everything in the stadium sounds fantastic, with fan cheers, music, and announcer voices all making great use of the new height channels to round out the sound field and thoroughly immerse the listener.
More Information:
Reviewed Using: