Fully Immersed: Best New Dolby Atmos and DTS:X Blu-ray Discs: Dredd, John Wick: Chapter 2, The LEGO Batman Movie, LIFE
By Greg Robinson
Fully Immersed, Volume 9
I'm posting this installment of Fully Immersed from our vacation rental cabin on Lake Sebago in Maine. We've had some beautiful weather this week, but there's also been a fair amount of rain. The other day, while walking beneath a canopy of dripping trees during a passing shower, my son amusingly quipped, "It sounds like an Atmos soundtrack in here!"  (He loves Dolby's Atmos demo disc and its many nature-inspired vignettes.)  Son, I think you have that backwards - but it was still funny, and not at all an exaggeration.  Adding overheard channels to the sound field really does make a difference, creating a heightened and more realistic sense of immersion that standard surround soundtracks simply can't match. Don't believe me?  Give a listen to these new and upcoming Dolby Atmos and DTS:X immersive audio titles:
Ex Machina 4K - DTS:X, Lionsgate
Despicable Me 4K - DTS:X, Universal
Despicable Me 2 4K - DTS:X, Universal
Power Rangers - Dolby Atmos, Lionsgate
The Fate of the Furious - DTS:X, Universal
KONG: Skull Island - Dolby Atmos, Warner
I plan to cover at least a few of the above titles soon. Until then, here's what I've listened to most recently...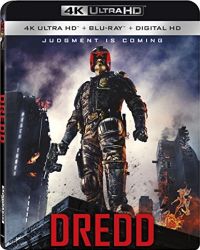 Dredd
Lionsgate | Buy Now | Dolby Atmos available on 4K UHD only
Dredd is the second and far superior film adaptation of Judge Dredd, a serialized comic character who first appeared in 1977 in Britain's weekly sci-fi magazine, 2000 AD. Unlike Superman's Metropolis, Dredd's home, Mega City One, is set in a dystopian future where crime is rampant and "Street Judges" like Dredd are empowered to arrest, sentence, and execute criminals as they see fit. Karl Urban dons the helmet this time and he does a fine job imparting Dredd with equal parts menace and cool. The story is simple but effective: Dredd is gunning for crime boss Ma-Ma (GoT's Lena Headey), but he needs to fight his way through a high-rise building crawling with Ma-Ma's minions to get to her. Violence and badassery ensue. Lionsgate's DTS-HD soundtrack on the standard Blu-ray was already fantastic, but the Dolby Atmos mix on this new 4K Ultra HD disc somehow manages to up the ante and improve things even further. When the shooting starts in Ma-Ma's tower, this Atmos mix becomes an all out sonic assault. Bullets zip past from every angle - including directly overhead - and completely immerse the listener in the on-screen mayhem.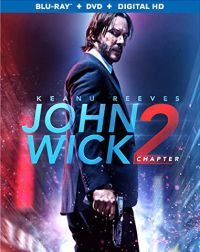 John Wick: Chapter 2
Lionsgate | Buy Now | Dolby Atmos available on Blu-ray, 4K UHD
Never kill a man's dog. In "Chapter 1" of the burgeoning John Wick saga, Keanu Reeves gave us Wick, a legendary assassin reeling from the death of his wife, attempting to put his old life behind him with the help of an adorable puppy - a gift from his late wife.  Inevitably, things go sideways, sending Wick on a rampage hacking his way through an organized crime family until he's the last man standing. Arguably the best thing about John Wick was the criminal underworld it gave us glimpses of, such as The Continental, a hotel owned and patronized by assassins like John, but where no "business" may be conducted. Chapter 2 gleefully expands that world, giving us new rules and new players, such as the Tailor and the Sommelier. And then of course we have the head shots. Lionsgate serves up another terrific Dolby Atmos soundtrack to support Mr. Wick and his many, man guns. The over-the-top mix sports exceptional dynamic range, excellent panning and directionality, plus effective (yet surprisingly restrained) use of the overhead channels when appropriate. Highly recommended.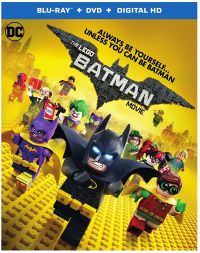 The LEGO Batman Movie
Warner | Buy Now | Dolby Atmos available on Blu-ray, 4K Ultra HD
On Arrested Development, Will Arnett played Gob Bluth, a self-obsessed rich man with daddy issues and poor social skills who constantly craved fame and the approval of others. Sound familiar? Unsurprisingly, Arnett is sublime as Bruce Wayne/Batman and he injects the Dark Knight with the perfect balance of snark and heart over the course of the film. That said, you can have too much of a good thing. And if there's one word to describe The LEGO Batman Movie, it's "excess" (with "exhausting" running a close second).  Against a candy-colored, eye-popping backdrop, the jokes and the action come non-stop - and while much of it works, it's telling that my favorite scene is the quiet (and hilarious) respite we're given while Bruce waits for his lobster to finish cooking in the microwave. Warner's highly capable Dolby Atmos soundtrack exhibits impressive dynamic range with intelligible dialogue throughout, but the surround and overhead channels are not used as aggressively as one might expect on a film like this.  In truth though, that's probably just as well. The film is so immersive on the visual front that if the audio demanded the same level of attention, it might just melt your brain.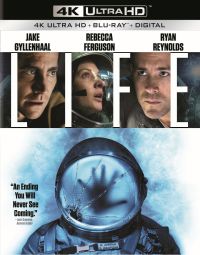 LIFE
Sony | Buy Now | Dolby Atmos available on 4K UHD only
When Daniel Espinosa's LIFE bowed in theaters in late March, it had to contend with box office juggernauts like Beauty & the Beast, Kong: Skull Island, and Logan, as well as Jordan Peele's unexpectedly successful Get Out. Consequently, it's not surprising that a lot of folks remain unaware of this tense, polished, and surprisingly strong space thriller. Although its writers and filmmakers essentially blended Alien with The Thing, sprinkling in a dash of Gravity's aesthetic and The Martian's timeliness, this sci-fi smoothie works in large part because of top shelf special effects and its highly capable cast which includes Ryan Reynolds, Rebecca Ferguson, and Jake Gyllenhaal. Once again, Sony reserves the superior Dolby Atmos soundtrack for its 4K offering, but if you have the proper gear, this is a fantastic and highly immersive mix. Set on board the International Space Station, there is an almost-constant string of hums, creaks, and subtle background and overhead sounds that work together to create a compelling sense of place. Overhead channels are used to great effect, particularly during an early scene when "Calvin"  is loose in the lab, scurrying through overhead cabinets, effectively placing the listener in the center of the action.
More Information:
Reviewed Using: