Fully Immersed: Best New Dolby Atmos and DTS:X Blu-ray Discs: Jack Reacher: Never Go Back, Hacksaw Ridge, Patriots Day, Assassin's Creed
By Greg Robinson
Fully Immersed, Volume 7
Spring has sprung here in New England and that means we're starting to see trailers for all the summer tentpole films guaranteed to melt our brains - Guardians of the Galaxy Vol.2, Alien: Covenant, and Spider-Man: Homecoming to name a few. And better yet, each of those titles (plus others too) will feature a Dolby Atmos presentation in select cinemas. (See the complete list at Dolby.com) Better still is the strong possibility that those same films will arrive on Blu-ray Disc sporting a Dolby Atmos soundtrack during the holiday shopping season. While we wait for those titles to arrive, there's plenty more good stuff to keep us busy.  Looking ahead at the Dolby Atmos and DTS:X titles coming soon, here's what will be hitting store shelves during the next few weeks:
Underworld: Blood Wars - Dolby Atmos, Sony
La La Land - Dolby Atmos, Lionsgate
Fifty Shades Darker - DTS:X, Universal
XXX: Return of Xander Cage - Dolby Atmos, Paramount
The Great Wall - Dolby Atmos, Universal
Resident Evil: The Final Chapter - Dolby Atmos, Sony
The Expendables, The Expendables 2 - Dolby Atmos, Lionsgate
I plan to cover at least a few of the above titles soon, as well as Warner's recent Fantastic Beasts Blu-ray and several of the Harry Potter films on Ultra HD Blu-ray. Until then, here's what I've listened to most recently...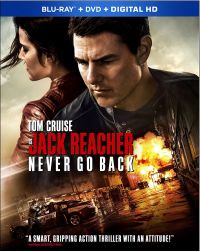 Jack Reacher: Never Go Back
Paramount | Buy Now | Dolby Atmos available on Blu-ray, 4K UHD
In the first Jack Reacher film, Tom Cruise battled a deadly military sniper and the always intimidating Werner Herzog. His bigger undertaking, however, was convincing a legion of "Reacher creatures" that his small feet could fill the massive shoes worn by their favorite ex-Army investigator-turned-drifter and unstoppable righter of wrongs. Speaking as a huge fan of author Lee Child's long-running series, I'm still baffled and disappointed by the casting of Cruise, but the first film was at least entertaining. As sophomore efforts go, Never Go Back is rather mediocre, especially given the number of superior Reacher books there were to choose from. There are a few well-executed action set pieces, which sound terrific thanks to Paramount's Dolby Atmos track, but the overhead channels don't get much of a workout. That said, there is a fun sequence on an airplane where the ambient cabin sounds create a convincing sense of place, and Reacher's New Orleans rooftop brawl during the film's climax features fireworks directly overhead which do add to the sense of immersion.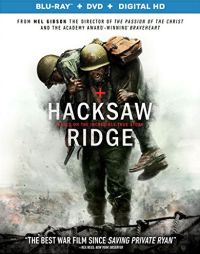 Hacksaw Ridge
Lionsgate | Buy Now | Dolby Atmos available on Blu-ray, 4K UHD
Regrettably, Desmond Doss is a man I knew very little about going into this film, but his is absolutely a name and a story worth knowing. Andrew Garfield plays Doss, a conscientious objector who voluntarily served as a medic during World War II's Battle of Okinawa, refusing to carry a gun while doing so. Garfield turns in a career best performance as Doss, but just as compelling is the supporting work from Vince Vaughn and Hugo Weaving as Doss' sergeant and father, respectively. If you've seen Braveheart, you know that Director Mel Gibson is a maestro of mayhem, and he proves that again here when we eventually get to Japan. It's a slow burn until this point, but once the bullets start flying during the titular battle, this reference caliber Dolby Atmos soundtrack makes it damned near impossible to loosen your grip on the armrest. Bullets streak across the sound field, seemingly coming from every angle. Mortar rounds arc directly overhead and land with ferocious, gut-wrenching intensity. This is first class demo material for immersive audio lovers and there will be no questioning the film's Oscar win for Best Sound Mixing.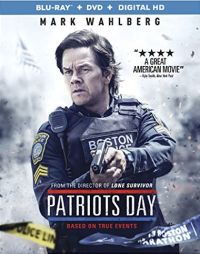 Patriots Day
Lionsgate | Buy Now | DTS:X available on Blu-ray, 4K UHD
Two days ago was the 121st running of the Boston Marathon. As is tradition, the race was held on the third Monday in April, also known as Patriots' Day in Massachusetts where it is a state holiday. By all accounts, the Marathon was a huge success and the people of Boston turned out in droves. It's hard to believe it's already been four years since the brutal bombing in 2013, when two cowardly terrorists turned the Marathon and the city of Boston into a war zone. Peter Berg's film does a remarkable job of recreating the events surrounding the bombing and while it's difficult to watch at times, it is ultimately an incredibly moving and uplifting film well worth your time. Lionsgate brings the film to Blu-ray featuring a stellar and highly effective DTS:X soundtrack. Most impressive is the sustained police shootout on the streets of Watertown, with automatic gunfire and explosives making excellent use of the surround and overhead channels.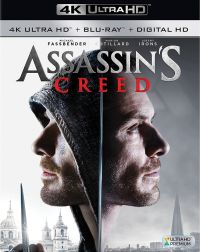 Assassin's Creed
Fox | Buy Now | Dolby Atmos available on 4K UHD only
I know there are many video game fans out there who swear by the Assassin's Creed action-adventure franchise, but watching this big budget film adaptation, I kept marveling at the film's very existence. As mass market actioners go, Assassin's Creed is considerably more dense and confusing than most. In this convoluted tale of an age old battle between two secret societies, Michael Fassbender stars as an Assassin who's asked to tap into his "genetic memory" and re-live past events to aid in the recovery of an important artifact. It's all rather trippy and certainly silly at times - but man does it sound fantastic. Unfortunately, Fox has again withheld the Dolby Atmos option from all but their Ultra HD Blu-ray offering, but if you're equipped to play the disc, you're in for a treat. Overheads and surrounds are used extensively throughout the film, creating a fully immersive experience from start to finish. The "Animus" scenes are particularly engaging, as Fassbender's elaborate movements through the laboratory are cleverly represented in the multi-dimensional sound field.
More Information:
Reviewed Using: