Friends with Kids Blu-ray Review
By Rachel Cericola
The Film
From the looks of the Blu-ray cover, Friends with Kids is a bit of a Bridemaids reunion. The film has Kristen Wiig, Maya Rudolph, Jon Hamm and Chris O'Dowd all above the film's title. That said, none of these well-known actors are main characters. And frankly, not one amongst them ever tries to poop in the sink.
Instead, the film focuses on Julie (Kissing Jessica Stein's Jennifer Westfeldt) and Jason (Parks and Recreation's Adam Scott), who after seeing just how miserable their married friends have become, decide to have a kid together with zero romantic involvement. As you'd imagine, things don't go too smooth, especially when the duo gets involved with other people (Edward Burns and Megan Fox, respectively).
Writer/director Westfeldt looks like she called in a few favors to fill out the cast -- or at least had real-life love Hamm do it for her. That's part of the fun here, though. It's nice to see the bigger names play supporting roles, without all of the chaos of a Valentine's Day or New Year's Eve type of film.
Friends with Kids sounds like a typical rom-com and even plays like one in a lot of moments. Is that so wrong? Not if you're a fan of rom-coms. This is a good one. For the rest of you, that last line just might win you over and the cast should keep you interested. It's particularly awesome that the underrated Scott was given the chance to take the lead.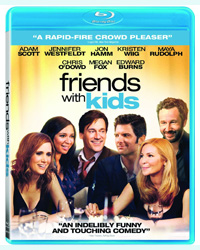 The Picture
This indie film is quite the love letter to New York, with a beautiful 1.78:1 transfer. Colors are gorgeous, especially when the action moves to the park and other outdoor areas. Since we spend a lot of time looking at the main characters, it's also nice that skintones are spot-on and that there is a nice level of detail in those same faces.
The Sound
Although the film is mostly about witty dialogue, this release's DTS-HD Master Audio does share some of the love to the surrounds. There's nice ambient noise, the occasional train to give you a jump, and a very eclectic soundtrack. It's not exactly immersive, but it's a nice track and certainly suitable for a mellow movie such as this one.
The Extras
Lionsgate has loaded up Friends with Kids with an impressive amount of extras. There's a little making-of promo piece, bloopers and deleted scenes. One standout is "MJ Rocks at Video Games," a peek at Adam Scott and Megan Fox playing an extended round of Gears of War. It's just short enough to make it worth a peek. The other standout is the audio commentary, with Jennifer Westfeldt and Jon Hamm sitting down with director of photography William Rexer to talk up the film's location and overall production.
Final Thoughts
We have to call out Lionsgate for a Blu-ray box that's extremely misleading. This isn't Bridesmaids II, people. Instead, it's a fun little rom-com -- and don't let that scare you away, either. There's nothing genre shattering here, but Friends with Kids is an entertaining take on the "we were friends first" love story. The audio, video and extras should also seal the deal, with a quirky little kiss.
Product Details
Actors: Adam Scott, Jennifer Westfeldt, Jon Hamm, Kristen Wiig, Maya Rudolph, Chris O'Dowd, Megan Fox, Edward Burns
Director: Jennifer Westfeldt
Audio/Languages: DTS-HD Master Audio 5.1 (English)
Subtitles: English SDH, Spanish
Aspect Ratio: 1.78:1
Number of Discs: 1
Rating: R
Studio: Lionsgate
Blu-ray Disc Release Date: July 17, 2012
Run Time: 107 minutes
List Price: $39.99
Extras:

Audio Commentary with Jennifer Westfeldt, Jon Hamm and William Rexer
Making Friends with Kids
Ad-Libs & Bloopers
Scene 42: Anatomy of a Gag
MJ Rocks at Video Games
Deleted Scenes
Also from Lionsgate