Friday Night Lights: The Complete Series Blu-ray Review
By Greg Robinson
I don't even like football.
That's not entirely true; I enjoy a good sporting event like anyone else. However, when it comes to football, I don't seek it out. During football season, my social calendar does not revolve around my team's schedule. It's possible that my apathy towards the game is rooted in the fact that I never played football in high school. If that's where the passion for pigskin is imprinted, I certainly missed my window. It's also possible that my east coast upbringing on Long Island, NY didn't give me a team to rally around - Jets? Giants? - so I was never surrounded with football fanatics devoted to one particular team. What's the point of sharing my personal feelings towards football? I suppose it's this: given my complete indifference towards football, one might wonder why I'd choose to write about Friday Night Lights, a television drama set in the world of west Texas high school football. The answer is quite simple. Friday Night Lights is one of the greatest television series to ever grace the small screen.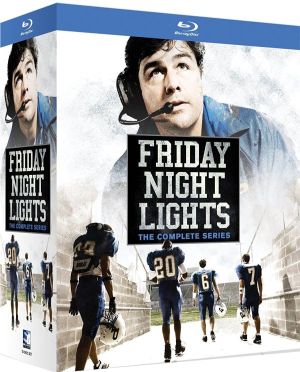 Set in the fictional town of Dillon, Texas,
FNL
revolves around head coach Eric Taylor (Kyle Chandler) and his two families. At home, there's his wife Tami (Connie Britton) and daughter Julie (Aimee Teegarden). On the field there's his Dillon Panthers, an eclectic group of young footballers - some of whom come and go over the course of the show's five seasons - anchored by mainstays Matt Saracen (Zach Gilford) and Tim Riggins (Taylor Kitsch).
If FNL was simply 90210 for the Texas zip codes, it's highly unlikely the series would have developed the rabid fan base it did. What sets FNL apart is its refusal to be any one thing for too long. By routinely and deftly moving between the locker room and the family room, FNL avoids being pigeonholed as just a "sports show" or a "family drama." It's both of those things and so much more. And in the Taylors, showrunner and head writer Jason Katims also gave us one of the best-written, honestly-drawn portraits of family life to ever grace the screen. At times thrilling, often funny, and surprisingly affecting, FNL will likely appeal to every member of your household for different reasons.
The Picture
Shot on 16mm film stock in Austin, TX, Friday Night Lights has always sported a gritty and grainy aesthetic. Now on Blu-ray Disc for the first time, I'm pleased to see that a healthy and pleasant layer of film grain persists. In truth, I can recall watching over-the-air HD broadcasts of the show when it first aired on NBC, and these Mill Creek Blu-ray transfers look damned near as good. Blues and reds in the football jerseys and elsewhere are appropriately saturated while skin tones and the green grass of the football field appear natural and lifelike. The image does appear soft on occasion but that's likely due to its 16mm source than anything else. Fine detail is very good and a definite improvement over the previously-released DVDs.
The Sound
Friday Night Lights is presented on Blu-ray with the original Dolby Digital 5.1 sound that accompanied its broadcast presentations.  Dialogue is clear and intelligible throughout and the surround channels are used to good effect, creating a convincing sense of place, particularly on Friday nights. One of the show's true highlights is its unique score, crafted by Explosions in the Sky, a Texas-based band of instrumental rockers. Their music tends to linger in the front half of the room, but overall the show sounds as good as ever.
The Extras
What extras?  Unfortunately, apart from subtitles, Mill Creek Entertainment has not included any bonus material of any kind with this box set. So if you own Universal's previously-released DVD editions, you'll probably want to hold onto those if only for the interviews, deleted scenes, and featurettes which you won't find here. On this new Blu-ray box set, each season has its own keepcase and discs are stacked two per spindle as needed. This no-frills packaging approach can be a tad frustrating when the disc you want is buried under another but it works well enough and the minimal footprint it requires on the shelf is certainly a plus.
Final Thoughts
Like Coach Taylor's team, Friday Night Lights often faced seemingly insurmountable hurdles and long odds: middling ratings, a writers' strike, seasonal turnover amongst its supporting cast members, and a juggled broadcast schedule after DirecTV stepped in to co-finance the show after Season Two. Despite all of that, FNL never faltered; from the stirring pilot to the emotional finale, Friday Night Lights maintained a level of quality rarely seen on television before or since. If you're already a fan, this Blu-ray box set is a no-brainer. If you haven't yet spent time with the Taylors and the Panthers, rest assured you'll be glad you did. Clear eyes. Full hearts. Can't lose.