Forever Marilyn Blu-ray Review
By Rachel Cericola
The Film
It's hard to believe that August 5th will mark 50 years since Marilyn Monroe last wiggled on this Earth. Even harder to believe is that most of the icon's work has yet to make it to Blu-ray. To mark the passing of the greatest blonde bombshell cinema has ever known, Fox has released Forever Marilyn.
The 7-disc box set features a total of seven movies -- five of which are making their Blu-ray debut. We reviewed both Some Like It Hot and The Misfits in May 2011, if you want a fuller peek at each. Let's break down the remaining five:
Kicking off "Book One" is 1953's Gentlemen Prefer Blondes, which pairs Marilyn up with the equally stunning Jane Russell. The two are (what else?) showgirls, looking for love and a good time aboard a luxury liner. The film is a perfect example of Marilyn being Marilyn, but it also includes one of her most well known musical numbers, "Diamonds Are A Girl's Best Friend."
The next film followed the same year -- and the same formula. How to Marry a Millionaire has Marilyn starring alongside Betty Grable and Lauren Bacall as three Manhattan models in search of a few sugar daddies. Despite single-handedly halting the feminist movement, it's fun to watch the three leads play off each other.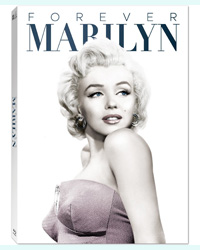 Don't expect a bevy of beauties for River of No Return -- unless you find Robert Mitchum to be particularly pretty. The two are left out in the wilderness with a very young Tommy Rettig, and forced to fend off mountain lions, creepy prospectors, and Indians. It's director Otto Preminger's only western, and a thrilling one at that.
My least favorite of the lot is Irving Berlin's There's No Business Like Show Business. Fox dangled The Seven Year Itch as the carrot to get Marilyn into this movie and boost box office sales. It didn't really work though. Despite being herald as a great musical, this one was considered a box office flop back in the day. Bus Stop would have been a better choice, but Ethel Merman, Donald O'Connor and Mitzi Gaynor dance their butts off to make this one entertaining.
"Book Two" includes the aforementioned Some Like It Hot and The Misfits, along with the Blu-ray debut of The Seven Year Itch. The first of Marilyn's two movies with director Billy Wilder is worth a peek just to witness one of the most famous scenes in film history, with Marilyn hanging out over a subway grate (that happens, right?). It's also a fun movie, with Marilyn's "The Girl" tempting Tom Ewell's wedding vows.

The Picture
The set kicks off with a 1.33:1 aspect ratio for Gentlemen Prefer Blondes and some pretty impressive colors, especially in the film's opening scenes. Jane Russell's "Anyone Here for Love?" number is a real standout, featuring close-ups that reveal some great detail on her face and in those earrings. "Diamonds Are a Girl's Best Friend" is another great moment, with that iconic pink dress showing off some great color and texture. Overall, it's a nice introduction to the set.
How to Marry a Millionaire bumps the image up to the original 2.55:1 aspect ratio. It has some gorgeous New York City shots, with better overall colors and details than the last film. Unfortunately, it also has a few problems with the color while transitioning between scenes. These moments are fleeting, but pop up throughout the entire movie. That said, it doesn't make the film any less enjoyable, but it's extremely noticeable.
By the time you hit River of No Return, you'll notice a little pattern. It seems like the image is getting better with each film, and this is a pretty perfect example. This is another Cinemascope film, with a 2.55:1 aspect ratio -- and it's pretty nice overall. It would have been even better if Marilyn's outfits stood out a little more, but they are as muted as the rest of this film's palette. Fleshtones are also a little flush at times and there is a strong blue throughout the film. Hey, it goes with the western theme. That said, the image has a real three-dimensional quality to it. It's wonderful overall.
The streak starts breaking with There's No Business Like Show Business. This 2.55:1 release has a nice layer of grain and some good colors. However, it's also a little on the dark side, and has a little flicker sprinkled throughout the film.
Since we already reviewed Some Like It Hot and The Misfits, we can jump to the last film in the set, The Seven Year Itch. Presented in the 2.55:1 format, this film is a little on the soft side. It's definitely not as sharp as I was hoping for, but has some nice colors and is still a nice step-up from the DVD.
The Sound
With the exception of The Misfits, all of the films feature a new DTS-HD Master Audio 5.1 track. Before you pooh-pooh Fox for messing with the originals, let's take a closer look (or listen) at how each film sounds.
Fox's DTS-HD Master Audio for Gentlemen Prefer Blondes offers a slightly bigger experience than the Dolby Digital mono track. The dialogue sounds great and so does the music, but most of it hovers near the front speakers. Occasionally a little background music leaks into the speakers. It's nothing worth mentioning, but it's a fun, clean track.
The dialogue sort of drops on How to Marry a Millionaire -- literally. Wow, it's low. After that opening musical number, you're definitely going to be reaching for that remote. Keep it close, because the music and sound effects are much louder, especially when it comes to the sounds of the train, boats, planes and motorcycles.
When River of No Return starts, the DTS-HD MA track seems to promise more of an immersive experience in its first few minutes. Like the others, though, the sound quickly retreats to the front speakers. That's not to say it isn't impressive, though. Marilyn's musical numbers and the sounds of the rapids all come across as wonderful.
The opening vocals in There's No Business Like Show Business come out a little tinny, but quickly open up into something pretty wonderful. There isn't much going on in the surrounds here either, but the music makes the absolute most of those front speakers and belts everything out consistently throughout the film.
Last, but not least, The Seven Year Itch has some ambient city noises peek in and Alfred Newman's score is prominent. Otherwise, it plays like your typical rom-com, with a clear, dialogue-heavy track.
The Extras
First, we need to talk about the actual packaging of Forever Marilyn. Despite Fox separating out the discs as "Book One" and "Book Two," there are no actual books, pictures, words or otherwise. This set is seven discs and nothing more. You'd think the studio would have at least included some liner notes, photos or other type of memorabilia.
If that's not enough disappointment for you, wait until you see the actual discs. Five of the seven discs don't really have much worth mentioning. That said, The Seven Year Itch and Some Like It Hot pack in plenty of goodies.
Some Like it Hot includes everything from the previous Blu-ray release -- which is actually everything from the DVD release. That said, there's a commentary and multiple featurettes to feast on.
The Seven Year Itch also has a decent collection of extras, including a commentary by Billy Wilder biographer Kevin Lally, an isolated film score, deleted scenes, trailers, and other extras. The "Marilyn Monroe Interactive Timeline" plays like Marilyn 101, with text and video highlighting the starlet's career. The other great piece is "Monroe and Wilder," a look at the relationship that Marilyn had with the director, with interviews from various experts, as well as Hugh Hefner.
Final Thoughts
If you have the two previously released Blu-rays, the other five movies are available as individual purchases. Either way, you won't get any additional extras -- which is what this set is sorely lacking. For such an iconic actress and such a momentous occasion, it seems like Forever Marilyn should have been so much better. Don't let the absence of extras and one or two favorites diminish this enjoyable collection, though. Like Marilyn herself, this set is hard to resist.
Product Details
Actors: Marilyn Monroe, Jane Russell, Charles Coburn, Elliot Reid, Betty Grable, Lauren Bacall, William Powell, Robert Mitchum, Tommy Rettig, Rory Calhoun, Ethel Merman, Dan Dailey, Donald O'Connor, Mitzi Gaynor, Tom Ewell, Evelyn Keyes, Tony Curtis, Jack Lemmon, Clark Gable, Eli Wallach, Montgomery Clift
Directors: Howard Hawks, Jean Negulesco, Otto Preminger, Walter Lang, Billy Wilder, John Huston
Audio/Languages:

Gentlemen Prefer Blondes: DTS-HD Master Audio 5.1 (English), DTS 5.1 (French, German, Russian), Dolby Digital 1.0 (Castilian, Czech, English, Italian, Spanish, Turkish)


How to Marry a Millionaire: DTS-HD Master Audio 5.1 (English), DTS 5.1 (French, German, Russian), Dolby Digital 4.0 (English), Dolby Digital 1.0 (Castilian, Czech, Italian, Turkish)

River of No Return: DTS-HD Master Audio 5.1 (English), DTS 5.1 (French, German, Russian), Dolby Digital 4.0 (English), Dolby Digital 2.0 (Italian), Dolby Digital 1.0 (Castilian, Spanish)

There's No Business Like Show Business: DTS-HD Master Audio 5.1 (English), DTS 5.1 (German), Dolby Digital 4.0 (English, Russian), Dolby Digital 2.0 (Turkish), Dolby Digital 1.0 (Castilian, Italian, Spanish)

The Seven Year Itch: DTS-HD Master Audio 5.1 (English), DTS 5.1 (French, Spanish), Dolby Digital 3.0 (English), Dolby Digital 2.0 (Thai)

Some Like it Hot: DTS-HD Master Audio 5.1 (English), DTS 5.1 (Castilian, French, German, Italian, Russian), Dolby Digital 2.0 (Thai), Dolby Digital 1.0 (Czech, Hungarian, Polish, Spanish, Portuguese)

The Misfits: DTS-HD Master Audio Mono (English), Mono (Castilian, French, German, Italian, Portuguese, Spanish)


Subtitles:

Gentlemen Prefer Blondes: English SDH, Cantonese, Castilian, Croatian, Czech, Danish, Dutch, Finnish, French, German, Greek, Hebrew, Icelandic, Indonesian, Italian, Korean, Mandarin, Norwegian, Polish, Portuguese, Russian, Spanish, Swedish, Thai, Turkish

How to Marry a Millionaire: English SDH, Cantonese, Castilian, Croatian, Czech, Danish, Dutch, Finnish, French, German, Greek, Hebrew, Icelandic, Indonesian, Italian, Korean, Mandarin, Norwegian, Polish, Portuguese, Russian, Spanish, Swedish, Turkish

River of No Return: English SDH, Castilian, Danish, Dutch, Finnish, French, German, Indonesian, Italian, Mandarin, Norwegian, Portuguese, Russian, Spanish, Swedish

There's No Business Like Show Business: English SDH, Cantonese, Castilian, Croatian, Danish, Dutch, Finnish, French, German, Greek, Hebrew, Hungarian, Icelandic, Indonesian, Italian, Korean, Mandarin, Norwegian, Portuguese, Russian, Spanish, Swedish,, Turkish

The Seven Year Itch: English SDH, Indonesian, Korean, Mandarin, Portuguese, Spanish, Tagalog, Thai

Some Like it Hot: English SDH, Cantonese, Castilian, Czech, Danish, Dutch, Finnish, French, German, Greek, Hebrew, Hungarian, Italian, Korean, Mandarin, Norwegian, Polish, Portuguese, Romanian, Russian, Spanish, Swedish, Thai, Turkish

The Misfits: English SDH, Castilian, Dutch, French, German, Italian, Portuguese, Spanish


Aspect Ratios: 1.33:1 (Gentlemen Prefer Blondes), 2.55:1 (How to Marry a Millionaire, River of No Return, There's No Business Like Show Business, The Seven Year Itch), 1.66:1 (Some Like It Hot, The Misfits)
Number of Discs: 7
Rating: NR
Studio: 20th Century Fox
Blu-ray Disc Release Date: July 31, 2012
Run Time: 91 minutes (Gentlemen Prefer Blondes), 96 minutes (How to Marry a Millionaire), 91 minutes (River of No Return), 117 minutes (There's No Business Like Show Business), 104 minutes (The Seven Year Itch), 121 minutes (Some Like It Hot), 125 minutes (The Misfits)
List Price: $99.98
Extras:

Gentlemen Prefer Blondes

Movietone News: "Marilyn and Jane in Cement"
Theatrical Trailer
More Monroe Movie Trailers


How to Marry a Millionaire

Movietone News: "How to Marry a Millionaire" Cinemascope
Trailers
More Monroe Movie Trailers


River of No Return

Theatrical Trailer
More Monroe Movie Trailers


There's No Business Like Show Business

Trailers
More Monroe Movie Trailers


The Seven Year Itch

Commentary by Author Kevin Lally (Billy Wilder Biographer)
Isolated Score Track
The Hays Code: Picture-in-Picture with Sexual Innuendo Meter
Marilyn Monroe Interactive Timeline
Monroe & Wilder: An Intersection of Genius
Fox Movie Channel Presents: Fox Legacy with Tom Rothman
Deleted Scenes
Hollywood Backstories: The Seven Year Itch
Publicity

Still Galleries


Some Like It Hot

Commentary Featuring an Interview with Tony Curtis, Archived Interview with Jack Lemmon and Commentary by Paul Diamond and Screenwriters Lowell Ganz & Babaloo Mandel
The Making of Some Like It Hot
The Legacy of Some Like It Hot
"Nostalgic Look Back" Documentary
"Memories from the Sweet Sues" Featurette
Virtual Hall of Memories
Original Theatrical Trailer


The Misfits