For a Good Time, Call... Blu-ray Review
By Rachel Cericola
The Film
When girls get together, things can get a little craaazy. We do each other's hair, we do each other's nails, and maybe we engage in a little phone sex. This isn't the plot of something out of the Penthouse Forum. Instead, it's the plot of the new comedy, For a Good Time, Call...
For a Good Time, Call... is a sweet little comedy that's filled with smutty dialogue. Yeah, it's not really something you want to watch with the kids in the next room or your grandparents anywhere within driving distance. However, it's sort of cute and extremely well cast.
Lauren (Lauren Anne Miller) and Katie (Ari Graynor) are the two girls bonding here, but they weren't always besties. In fact, Lauren has pretty good reason to hold a lifelong grudge against Katie. In college, a drunken Katie heaved a cup of urine (her own) in Lauren's face, all while she was playing designated driver. Um, yuck.
Flash-forward to the present and both girls are in desperate need of a roommate. Apparently, no one in New York wants to live with cute girls. However, when the two start to get comfortable, they get to scheming and soon after, a phone sex business is born.
If you can get over the fact that this is about a phone sex line in 2012 (hello, the Internet called!), For a Good Time, Call... isn't such a bad way to spend 85 minutes. It's goofy, girly and kind of dirty. It's also got an excellent cast, which includes Justin Long, Mark Webber, James Wolk and Nia Vardalos.
The Picture
Just like the lead actresses, this 2.35:1 image is very perky. It's filled with all sorts of girly purples and pinks, and even some nice blues. It's got a sweet little color palette that's pretty spot-on. There's also a lot of detail throughout the cityscapes and all of the apartment furnishings. That said, it's probably most noticable in Ari Graynor's super-cute freckles and Justin Long's facial hair (which looks awful, by the way).
The Sound
It shouldn't be too much of a surprise that the DTS-HD Master Audio 5.1 track is most focused on the dialogue. All of those squeaks, breathy groans and other human noises do come through quite nicely. That's not to say that the surrounds will be napping through this one, since there are a lot of New York City sounds, apartment echoes, and the film's soundtrack to elevate this one slightly about the usual indie comedy.
The Extras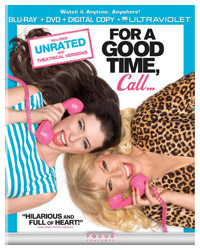 For a good time, you probably won't want to call upon this release's special features. There's a trio of extras, with the best of the bunch being the audio commentary. This has director Jamie Travis sitting down with producer/co-writer Katie Anne Naylon, Ari Graynor and Lauren Anne Miller. However, it would have been nice to have a little something about Travis' transition to features, the two leads, or even the film's the cameos -- which includes Kevin Smith and Seth Rogen as two of the girls' "clients."
Final Thoughts
If you can get past the fact that these two ladies open a phone sex hotline on a whim -- and make it insanely successful -- For a Good Time, Call... is a fun little movie. It's nice to see Ari Graynor get the spotlight for a change, even if it's not a big-time blockbuster. The film is worth a peek, too, with a perky AV presentation and the girly/sisterly vibe that rom-com fans love. Just prepared for a little (well, a lot) of raunchy moments.
Product Details
Actors: Ari Graynor, Lauren Anne Miller, Mark Webber, Justin Long
Director: Jamie Travis
Audio/Languages: DTS-HD Master Audio 5.1 (English)
Subtitles: English SDH, Spanish
Aspect Ratio: 2.35:1
Number of Discs: 2
Rating: R
Studio: Universal
Blu-ray Disc Release Date: January 22, 2013
Run Time: 85 minutes (theatrical), 88 minutes (unrated)
List Price: $34.98
Extras:

Unrated Version
Deleted Scenes
A Look Inside For a Good Time, Call...
Feature Commentary with Director Jamie Travis, Actress/Co-Writer/Producer Lauren Anne Miller, Actress/Executive Producer Ari Graynor and Co-Writer/Producer Katie Anne Naylon
BD-Live
Standard-Def DVD
Digital Copy
UltraViolet Digital Copy