Footloose Blu-ray Review
By Rachel Cericola
The Film
A year after Flashdance created a music and fashion movement, Paramount decided to see if lightning would strike twice. They released Footloose, sort of a male version of Flashdance. The film certainly makes less of a fashion statment, but features an equally insane plotline, with music being more important than the actual story.
That story features Ariel (Lori Singer), a slightly slutty, small-town girl with a dire need to leave Bomont, as well as the watchful eye of her father, Reverend Shaw Moore (John Lithgow). It's understandable, since the small Midwestern town has banned any type of popular music, and especially, the act of dancing. Somehow, small-town life gets much more bearable, thanks to Ren (Kevin Bacon), a fresh new arrival from the big city of Chicago.  He's a walking, talking spokesman for a generation that needs to dance.
Yes, the plot is absolutely ludicrous, even if it is "loosely based on true events."  In 1984, I remember leaving the movie theater thinking, "Yes, we can dance!" However, the movie doesn't seem to hold up as well to the test of time, which makes Paramount's remake plans (coming to theaters October 14) sort of puzzling.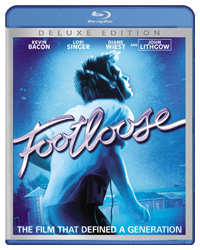 Footloose really did define a generation, just as the Blu-ray box claims. That said, it's more of an extended music video than any real statement on society or even the mid-80s. Hey, we liked our music videos back then. It was also a springboard for Bacon, and how can you hate a movie that did that?

The Picture
It's easy to go into Footloose expecting a grainy, '80s look. It certainly does have a bit of a dated look to it, which may be from the hair and clothing. However, Paramount has done a decent job cleaning up this film. From the opening credits, which focus on all of those dancing feet, you'll know that this isn't the same Footloose that you've seen a billion times before. Overall, this 1.85:1 transfer looks good for its age.
The colors are a bit on the darker side, especially in clothing and indoor shots. However, those same clothes have some texture to them. Blacks tend to crush in scenes that take place indoors or at night. This is most noticeable during the drive-in scene towards the beginning of the film, as well as when Ariel first confronts her father about playing music, the bar scene, and outside the film's climactic dance. Daytime, outdoor shots fare much better. Colors provide a little pop and there's more detail, especially in the action up front. The big dance looks OK, but where is all of that glitter coming from anyway?
The Sound
Footloose is all about the dancing -- and lack of dancing. Back in 1984, this was the soundtrack, giving Kenny Loggins yet another notch in his belt (he's also had hits with Caddyshack, Over the Top and Top Gun). Paramount gives Footloose a 6.1 DTS-HD Master Audio track. 6.1? Yes, this collection of hits gets a little something special, and it does use it. All of the songs (and there are a lot of them) have a nice full sound, complete with the occasional rumble of bass. Most of the other action, however, sticks close to the front speakers. There's one bar scene that goes wide with sounds of chatter in the surrounds. However, there are a lot of moments where a fuller more resontant sound would have been nice, especially during Reverend Moore's sermons.
The Extras
This release features a whole bevy of special features, including ones ported over from the 2004 DVD release. What's nice about this collection is that the Blu-ray actually labels older items under a "2004 DVD Archive" menu. While some of those items may be older, they are definitely worth a peek. "Footloose: A Modern Musical" is a two-part documentary that covers pretty much every aspect of the film, including the casting, the costumes, and the choreography. The music, however, gets its own featurette -- as well as it should.
There are also two commentaries. One features producer Craig Zadan and writer Dean Pitchford. However, why listen to that when there is a Kevin Bacon commentary available? Both are pickups from the DVD as well, even though they aren't listed in that 2004 area of the menu.
Of course, there's also plenty of new stuff. Kevin Bacon gets his own 12-minute featurette, as does the film's other major star, Sarah Jessica Parker (7.5 minutes). It's fun to watch both actors talk about their humble beginnings, and you have to love the fact that both are willing to sit down to record new material. There's also an homage to Chris Penn, who died in 2006. This sweet, 6-minute retrospective has clips from the film, behind-the-scene photos, new interviews with Bacon and Parker, and clips of Penn talking about the film from the aforementioned 2004 DVD documentary.
One other extremely interesting tidbit is "Kevin Bacon's Screen Test." Bits and pieces of this can be found in the "Let's Dance" featurette. However, it's a fun callout, not just because of Bacon, but because he's testing with Haviland Morris, who is best known for her work in another "voice of a generation" movie: Sixteen Candles.
Final Thoughts
Footloose is one of those guilty pleasures. Maybe it's Kevin Bacon or the music or the completely asinine plotline. Either way, you know you're going to want to pick this one up at some point. Admit it! It's sort of disappointing that the new version of Footloose will undoubtedly have a better image because it's a newer film. Paramount could have done a little better with this release, but it's certainly the best it's ever looked. It's "almost paradise" -- not quite, though. However, that music gets a nice showcase, and you'll definitely do a little jig when you see the amount of extras they've packed in.
Product Details
Actors: Kevin Bacon, Lori Singer, Dianne Wiest, John Lithgow
Director: Herbert Ross
Audio/Languages: DTS-HD Master Audio 6.1 (English), Dolby Surround 2.0 (French), Mono (Spanish, Portuguese)
Subtitles: English, English SDH, French, Spanish, Portuguese
Aspect Ratio: 1.78:1
Number of Discs: 1
Rating: PG
Studio: Paramount Pictures
Blu-ray Disc Release Date: September 27, 2011
Run Time: 107 minutes
List Price: $24.99
Extras:

Commentary by Craig Zadan and Dean Pitchford
Commentary by Kevin Bacon
Let's Dance! Kevin Bacon on Footloose
From Bomont to the Big Apple: An Interview with Sarah Jessica Parker
Remembering Willard
Kevin Bacon's Screen Test
Kevin Bacon Costume Montage
Footloose: A Modern Musical - Part 1
Footloose: A Modern Musical - Part 2
Footloose: Songs That Tell a Story
Theatrical Trailer