Fat Girl Blu-ray Review
By Ian White
The Film
Director Catherine Breillat (Romance) isn't known for her subtlety and she seems to enjoy thrusting (for the lack of a better word) rather intense subject matter into the gaping mouths of the audience.  Fat Girl has the potential to deeply disturb American parents, in particular, as the film deals with teenage sexuality in a way that Hollywood directors would never dare to touch. As I viewed Fat Girl, I was reminded of the film, Kids, which is about as hardcore (without crossing over into what is considered pornography) as American mainstream cinema gets in regard to teenage sexuality. Kids was a rather repugnant film (it was also the screen debut of a very young Rosario Dawson) that lacked any semblance of emotion or decency.
Fat Girl is all about the emotional and often confusing romantic side of teenage sexuality -- how boys lie to pretty teenage girls so that they can deflower them and how vulnerable teenage girls are seduced by promises of love. What makes Fat Girl so interesting is that director Breillat has sadistically placed twelve year-old Anais (in a mesmerizing performance by Anais Reboux) as a spectator/voyeur in same bedroom as her gorgeous, yet naive older sister, Elena (Roxane Mesquida), who falls for a smooth-talking Italian law student whose only goal is to violate her while the two teenaged girls are on vacation with their parents in the south of France.
Anais may be the fat little sister, but she is far more worldly than her flirtatious older sibling and it is she who must pick up the pieces when the romance goes south. The two sisters share a love/hate relationship that is both tender and cruel; Anais sleeps only a few feet from her older sister and openly weeps listening to the boyfriend penetrate her sister on two occasions. What is so striking about the two scenes is that the younger sister cries out of both jealously and genuine sorrow for her sibling who is too stupid to understand that boys will say anything to have sex before moving on to the next naive young victim.
The parents of the two girls are emotionally dead and basically oblivious to the behavior of their children until it smacks them in the face; which basically describes most parents who don't want to acknowledge that their children are sexually active at a very young age.
The camera may focus on Elena and her Italian lover because that's what the audience wants to see, but the real story is Anais who accepts and but also loathes her lot in life as a fat little girl who, at the tender age of 12, already believes that her first time will be with someone she doesn't love. It's a shocking perspective on life that many viewers may not like.
Fat Girl is also rife with nudity (versus graphic sexual content which is replaced with intense moaning and crying) and I suspect that the sight of an erect penis and teenage vagina will shock some American viewers; which is rather amazing considering that we spend more than any other nation on the planet on hardcore pornography.
The film goes off the deep end at the very last moment and I must confess that I still don't get it, but I'm not cruel enough to ruin it for you. Fat Girl could never be made in Hollywood and that's ultimately why it succeeds. It may be ugly to watch but it rings disarmingly true and this lends the film its undeniable power.
The Picture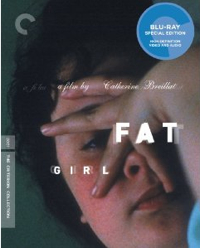 Fat Girl was wonderfully shot (some of the shots are quite long but amazingly effective), and the Blu-ray transfer presents it exceptionally well. The transfer is grainy looking, but not soft at all. If there is any softness in the image, it is intentional on the part of the director. Black levels are excellent with fantastic levels of shadow detail being present. The print has been cleaned up quite well with almost no noise or dirt present. The 1080p/24 transfer doesn't have a lot of punch; colors are muted, but director Breillat uses green and reds quite effectively and they look quite natural. Criterion has done a great job with Fat Girl.
The Sound
The DTS-HD Master Audio 5.1 mix is utterly fantastic. Dialogue is crystal clear with a lot of resolution, and the accompanying music has a great deal of power behind it; the David Bowie track is perfectly placed. This is one of those rare simple surround mixes (with a very limited amount of surround content) that put big budget Hollywood 5.1 mixes to shame. It sounds evenly balanced from beginning to end and I can't praise Criterion enough for the quality of the 24-bit transfer that was taken from the 6-track digital master. First rate stuff.
The Extras
Criterion has not included a lot of bonus material on the Blu-ray release, but what exists does provide a lot of insight into the film's message and its principal characters. Director Catherine Breillat is the focus of most of the bonus content and she comes across as being highly committed to the material, but also somewhat strange; it's almost as if she's trying to channel Renoir and Truffaut at the same time.
The interviews with Anais Reboux and Roxane Mesquida are worthwhile but far too short; I had a list of about ten questions for the two of them that I wished someone would have asked.
The accompanying booklet (a Criterion trademark) answered a lot of my questions, and also dispelled some of my thoughts about the voyeuristic nature of the film. It's a mandatory read.
Final Thoughts
Fat Girl is an incredibly difficult film to watch; calling it voyeurism would be an understatement, but it nonetheless packs a solid punch and I still can't believe the ending. Criterion's transfer looks and sounds fantastic; it is one of the best in 2011 so far. If one can stomach the ending and accept Breillat's views on the subject matter, it makes for an intriguing viewing.
Where to Buy:
Product Details:
Actors: Anais Reboux, Roxane Mesquida, Libero de Rienzo, Arsinee Khanjian, Romain Goupil
Director: Catherine Breillat
Format: DTS-HD Master Audio, NTSC, Subtitled, Widescreen
Language: French
Audio: DTS-HD Master Audio 2.0
Subtitles: English
Video: 1080p/24
Film Aspect Ratio: 1.85:1
Studio: Criterion
Rated: Unrated
DVD Release Date: May 3, 2011
Film Running Time: 86 Minutes
MSRP: $39.95
Extras

Behind-the-scenes footage from the making of Fat Girl
Two interviews with director Catherine Breillat
French and U.S. theatrical trailers
Booklet featuring an essay by film scholar Ginette Vincendeau and an interview from 2001 with Catherine Breillat