False Confessions Review
By David Kempler
I Confess to Hating This
Pierre Carlet de Chamblain de Marivaux is considered to be one of the most important French playwrights of the 18th century, writing numerous comedies for the Comedie-Francaise and the Comedie-Italienne of Paris.
Luc Bondy, in his final film, has brought one of Marivaux's most popular compositions to the screen, updated for modern times. It was originally written as farce. It remains a farce, but not for the right reasons. Presumably Marivaux's version was of high quality. The same cannot be said for Bondy's version. It's easily one of my least favorite films of 2017 and is in the running for least enjoyable film of the year.

From the first frame to the last, "False Confessions" is pretty much incomprehensible. I think there is a love story in here, somewhere, but I would not bet my life on it. There's a bunch of people who appear to be operating in their own interests, but their goals are often tough to decipher.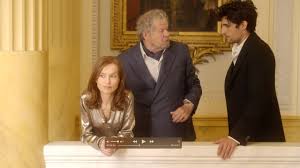 Araminte (Isabelle Huppert) is a very wealthy woman who lives in quite the impressive mansion. Dorante (Louis Garrel) is a handsome young fellow hired as Araminte's secretary at the urging of his uncle Monsieur Remy (Bernard Verley). Dubois (Yves Jacques) is Araminte's personal driver. Here is where it gets really confusing. Dubois and Dorante are involved in a plot to help Dorante become a couple with Arimante. Why? Who knows? As part of the plan, Dorante is sweet-talking Marton (Manon Combes), Araminte's cute young employee. Again, I'm not sure how or why this fits into the grand scheme.

The romance between Araminte and Dorante could not possibly have less chemistry. Both seem barely interested in the other, making their scenes together feel like two untalented people in an acting class. Since we know that Ms. Huppert is immensely talented, other factors are preventing it from being even passable. Whether that be the writing, directing, or some other factor does not matter. What matters is that it doesn't work on any level.

It's a waste of both time and space to wander further into any of the details of "False Confessions". The only thing you need know is that I have seen it so you do not need to waste your time and money. You're welcome.