Faces Places Review
By David Kempler
Magic Faces and Places
How often do you see a film and smile through the entire thing, almost non-stop? In "Faces Places", in the few moments I wasn't smiling, I was loving stars and filmmakers Agnès Varda and JR.

Varda is a Belgian-born director whose work in film, photography, and art installations concentrates on documentary realism, feminist issues, and social commentary, and she is viewed as having a distinct experimental style. She is regarded as a precursor to the development of the French New Wave film movement. Her work has historically been viewed as feminist because she often featured female protagonists, with most of them being marginalized or rejected members of society.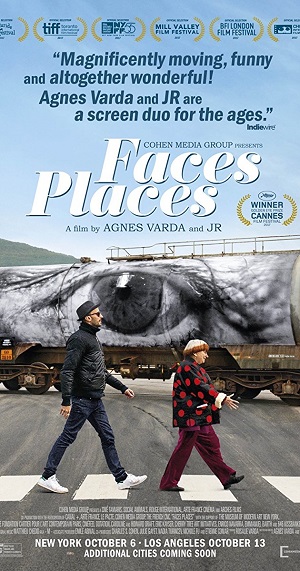 JR is a French photographer and artist who drives around in a truck that looks like a camera. People can climb into the truck, which contains a little room, like a booth where people can enter to have a strip of photos taken of themselves. The difference is that the truck's equipment produces photos of gargantuan size. These photos can then be affixed to the sides of buildings and other structures.

Varda and JR have united in a joint adventure to wander around France together in JR's truck. Their various destinations include lots of small countryside towns and a heavily used seaport. Wherever they stop, they walk around the area and invite everyone to come into the truck to have their photos taken. Afterwards, the photos come out of the truck like old Polaroids used to.

The reactions of all of the participants to the giant-sized photos of themselves is tremendous. Everyone loves the whole thing and then everyone works on pasting the giant photos to the town buildings. It's fun when a resident opens the window of their house or apartment and you look up at them in the middle of a photo. It looks even better than it sounds.

Amongst all of the smiling faces, no one is happier than Varda and JR. Despite a considerable age gap, they could not possibly be more compatible. Each is interested in exploring and being joyful, and bringing joy, and everyone gets caught up in their upbeat attitudes.

We all need to feel good every chance we get, and these faces and places will lift your spirits. Every time I think about it, I feel good, again. Pretty cool, eh? Bring your face to a place where you can see this, and just try to leave unhappy. You won't be able to.