Ex Machina Blu-ray Will Be First with DTS:X Immersive Audio Soundtrack
By Chris Boylan
When DTS officially announced its immersive audio technology, DTS:X last month, the logical question was, "What about content?" It's great that some of the top consumer electronics brands have pledged their support for the newest object-based, height-enabled surround sound format, but without software, there isn't a whole lot to talk about (or to listen to). Now Lionsgate Home Entertainment, already a supporter of rival Dolby Atmos on select Blu-ray releases, has announced the first Blu-ray that will include a DTS:X soundtrack: "Ex Machina."
The film "Ex Machina" has garnered significant buzz and a number of enthusiastic reviews, including one from our own Matt Passantino. The moody SciFi thriller handles the concept of artificial intelligence more adeptly than most films in the genre and the performances of its three lead actors (Domhnall Gleeson, Alicia Vikander and Oscar Isaac) are likely to lead to awards consideration. The film's director Alex Garland, who wrote the screenplays for "28 Days Later...", "Sunshine" and "Never Let Me Go" has shown his penchant for writing non-standard sci-fi stories and this, his first turn as director, shows that Garland can bring his off-beat visions to reality.
In addition to being the first film released on Blu-ray with DTS:X sound, it is also the first film that will debut on Blu-ray with immersive surround without having been released theatrically with an immersive soundtrack.
Update (5/29): Dolby's PR team helpfully pointed out that "Step Up: All In" was actually the first title that was released on Blu-ray with an immersive soundtrack (Dolby Atmos) that had no immersive soundtrack in theaters. Also, "John Wick," which was released theatrically in AURO-3D immersive sound, was remixed for Blu-ray in Dolby Atmos. And now back to our regularly scheduled news story...
We imagine that the critical acclaim and relative box office success of the film allowed the film-makers to get a bit more creative and ambitious when re-mastering the low-budget indie film for the home video market. The Blu-ray Disc will also include a DTS Headphone:X soundtrack for those who want to enjoy immersive surround sound through a standard pair of headphones.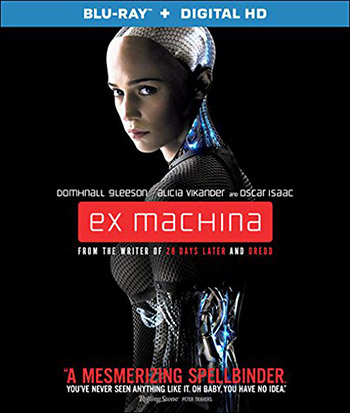 The Blu-ray set comes loaded with additional extras including a Digital HD copy and an in-depth behind-the-scenes featurette that examines the story development, the cast and characters, the production design, cinematography and location shooting in Norway, costumes, makeup and visual effects. There's also a Q&A with cast and crew from SXSW (South by SouthWest), where the film debuted, as well as eight vignettes.
The film will be released on Blu-ray with HD Digital Copy on July 14th at a list price of $24.98.
Related Articles:
Pre-order "Ex Machina" on Blu-ray from Amazon: