Everest Blu-ray 3D Review
By Rachel Cericola
The Film
Some people live for death-defying challenges. I am not one of those people. I'm sort of lazy and definitely afraid of heights. Even the GoPro Channel makes me queasy.
That's why I find movies like Everest to be really riveting. The idea that people have this burning desire to scale forces of nature like Mount Everest truly fascinates me. Of course, this movie isn't exactly changing my mind about indulging in hazardous hobbies. That's because it's based on the actual events of the 1996 Mount Everest disaster.
The film follows two separate groups. Rob Hall (Jason Clarke) leads adventure-seekers Beck Weathers (Josh Brolin), Doug Hansen (John Hawkes), and Yasuko Namba (Naoko Mori), as well as journalist Jon Krakauer (Michael Kelly). Competing guide Scott Fischer (Jake Gyllenhaal) has his own group and there are others back at the base camp. Even that "safe" place seems scary to me, but I'm guessing it's the climbing equivalent of the kiddie pool. As if getting to the summit of this beast of a mountain doesn't sound difficult enough, a brutal snowstorm rolls in to threaten everyone's safe return.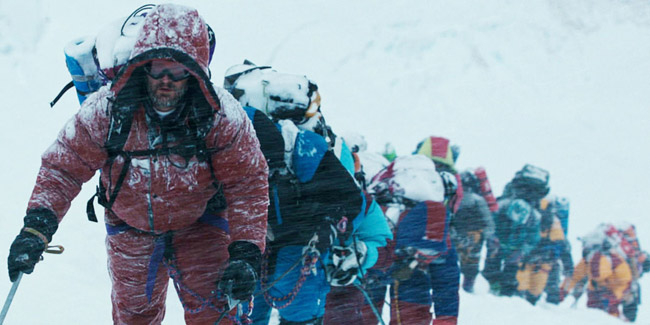 Like an actual climb up Mount Everest, Everest moves sort of slow in some parts. A good portion of the beginning is spent getting to know the film's many characters. However, this is a good thing. After all, don't you want to actually care about who lives and who dies? Of course, I'm not sure how many Hollywood liberties were taken in those depictions. That said, once the climb gets going, Everest is filled with plenty of moments that will jolt you and nauseate you, but also keep you engaged.
Feeling adventurous? Check out Matthew Passantino's theatrical review of Everest.
The Picture
Everest was converted to 3D, but you'd never know that from this 2.40:1 transfer. The 3D gives the movie excellent depth, which could make you borderline sick in some spots. (In a good way, of course!) Some shots make you feel like you're actually there, even when you don't want to be. As you can imagine, the actual climb has some of the Blu-ray's best 3D imagery, but there's just as much to ogle throughout the rest of the film. Even more impressive is the detail presented here. When Mother Nature is at her worst, Everest is still downright gorgeous. The facial lines, the many beards, and the snowy scenery are all razor sharp. Colors are bold, contrast is perfect, and black levels are inky. This is one you're going to want to keep close for demos.
The Sound
A movie about outdoor adventure and survival is exactly the type of movie you want getting the Dolby Atmos treatment -- and Everest doesn't waste the opportunity. There are plenty of overhead sounds, most notably helicopters, falling snow, and other random debris. The storm sequence is when you'll be ducking for cover, though. The wind, thunder, and snowfall seem terrifyingly close and extremely immersive. Even during the film's most harried moments though, the dialogue is always crystal clear. Of course, it's the Dolby Atmos that makes this Blu-ray one that you'll want to pick up the first day it's released. And if you don't have a Dolby Atmos-capable system, this is exactly the type of film that makes it worth having.
The Extras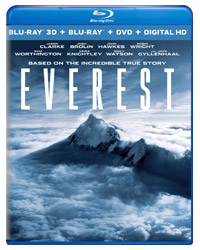 All of the
Everest
extras are featured on both the 2D and 3D Blu-ray discs. Despite the fact that my player stated that each featurette on the 3D disc was being presented in 3D, there were no actual effects. That said, this is a crop worth watching. Director Baltasar Kormákur sits down for a feature-length commentary track, but there are plenty of juicy tidbits about the production in the four included featurettes. There are shorts about training and temperatures, locations and sets, and the cast. The best of the bunch is definitely " Aspiring to Authenticity," which features Jan Arnold (Rob Hall's widow), Helen Wilton (the base camp manager), and survivor Beck Weathers, as they discuss the filmmakers' attempt to make the movie as authentic as possible.
Final Thoughts
If you're looking for a film adaptation of survivor/journalist Jon Krakauer's Into Thin Air, you're going to be massively disappointed. Everest may take some liberties, but is actually an engaging, exciting, and ultimately sad portrayal of the event. It's also an incredible Blu-ray, with demo-worthy audio and stunning visuals, in both 2D and 3D. If you have the means, go for the latter; you won't be disappointed one bit.
Product Details
Actors: Jason Clarke, Josh Brolin, John Hawkes, Robin Wright, Michael Kelly, Sam Worthington, Keira Knightley, Emily Watson, Jake Gyllenhaal
Director: Baltasar Kormákur
Audio/Languages: Dolby Atmos/Dolby TrueHD 7.1 (English), Dolby Digital 5.1 (French, Spanish), DVS 2.0 (English)
Subtitles: English SDH, French, Spanish
Aspect Ratio: 2.40:1
Number of Discs: 3
Rating: PG-13
Studio: Universal Pictures
Blu-ray Disc Release Date: January 19, 2016
Run Time: 122 minutes
List Price: $49.98
Extras:

2D Blu-ray
Feature Commentary with Director Baltasar Kormákur
Race to the Summit: The Making of Everest
Learning to Climb
A Mountain of Work
Aspiring to Authenticity: The Real Story
Standard-Def DVD
Digital Copy
UltraViolet Digital Copy
Where to Buy: