Etymotic Research Inc. HF3 Noise-Isolating Headset + Earphones (with optional Custom-Fit Eartips) Review
By Chris Chiarella
Edited by Chris Boylan
For Your Ears Only
Nebulous criteria such as "style" aside, I suppose that when you come right down to it, the two most pertinent factors in the world of in-ear headphones are fit and performance. Both continue to evolve, hence the seemingly daily influx of new makes and models, but Etymotic Research Inc. claims to have met both challenges with their line of earphones and headsets. (Heck, Etymotic apparently invented "insert earphones" way back in 1984.) They are calling their HF3 Noise-Isolating Headset + Earphones the "best-in-class" for sound and value, so we gave them a try.
Out of the box the, the compact--tiny, really--HF3s arrive with three different pairs of soft, interchangeable eartips: round silicone nubs, cylindrical sponge rubber plugs, and three-layer flange-style. I tried them all but tend to be partial to the flanges, for both their flexibility and ability to block out noise. They're pretty comfortable, lightweight certainly, ably reducing much of the background din during tough tests like a typical New-Jersey-to-New-York commute, and sound quality is respectable too. They play loud, loud enough to hurt in fact, although at high volumes they distort the trebles with an unwelcome overbrightness. Bass however improved as the overall volume increased. Right now, Big Picture Big Sound Editor Chris Boylan is tamping out his cigar and exclaiming, "That isn't much of a review!" and he's correct, but neither is that the whole story.
"When They Made You..."
The HF3s, like most of the Etymotic models, are compatible with the company's Custom-Fit Custom Earmold Program, enabling the serious earbud user to "upgrade to rock star status." The custom earmold program creates and delivers a pair of unique eartips that conform exactly to our individual ear canals. Apart from a new level of comfort, they also purport to fit more securely and block out more noise than some over-the-counter passive noise isolating headphones.

After we register our HF3s online, we receive an email confirmation and a Custom-Fit voucher. Next we make an appointment with a local audiologist, who performs the actual casting. For our review, we met with Etymotic at a press event in New York City, and they performed the molding process on the spot.
Following a quick, painless examination, a tiny bit of protective wadding was placed in my ear canal first, creating a seal in front of my eardrum, followed by the application of a special silicone goo squirted all up in there. It took about ten minutes to harden, during which time I enjoyed a near-silent respite from the tumult of the event, almost like a vacation in my chair, although I was convinced that the guys from Etymotic were talking about me [actually, we all were - ed.].
From there, the ear impressions are removed and sent to ACS, Etymotic's partner earmold laboratory. ACS contacts customers to confirm the order and request payment before shipping: The cost is $100, plus shipping/handling and applicable taxes. The Custom-Fit eartips are sent directly in four to eight weeks, and are about as easy to swap out as the standard tips, the right ear marked with a small red logo and the left with blue.
We will notice right away that these new medical-grade silicone tips are not as soft and flexible as the standard-issue, included tips, because they don't need to be: They are theoretically a perfect fit, and don't really need to adapt. The small measure of "give" can be provided by the ear itself.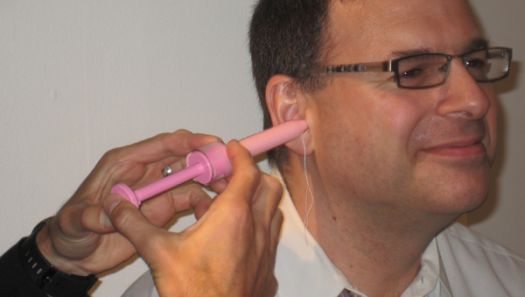 There are instructions on how to properly insert them. I started with just a dot of the included "Comfort Cream," a clear, lightly-scented gel with aloe vera, helpful since there is so much skin-on-silicone contact. Then I typically grab onto an earlobe with one hand while firmly but gently pushing up with a twisting, wiggling action. They do seem to wedge in there rather solidly, although there was no magical hand-in-glove, "made in heaven" moment when I knew I'd achieved an absolutely ideal fit. They stay put after the same reasonable tugging on the Kevlar-reinforced cable that caused the standard tips to pop out.
But First, a Moment of Silence
Immediately, I did notice a significant drop-off in perceived background noise versus the standard tips, owing to the size, the shape, and the seal. On another commute, all but gone was the whine of a passing train, and the whoosh as we entered a tunnel. At my desk, the omnipresent whirring of my computer's fan faded to near-nothingness.
We must also note that these precision tips are designed to sit in a very specific position inside the ear, and the hole in the center places the matched, balanced-armature "Accu-Driver" at the optimal distance and angle relative to the eardrum. The Accu-Drivers are capped with user-replaceable Accu-Filters that protect the miniature electronics inside from the scourge of earwax.
As we would expect from such an elaborate upgrade, the Custom-Fit eartips bring with them an improved immediacy to the music versus any of the standard tips, enhancing the presence of the music and the video content I demo'd with them. Subtle details such as the sustain and resonance of instruments were impressive, and the crash of cymbals and smaller drum hits at times felt like something was physically going on inside my ears. I could also plainly hear the difference between run-of-the-mill MP3s and Apple Lossless tracks.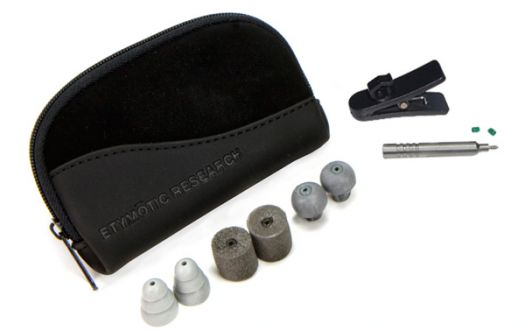 Big, busy soundtracks like Star Trek or 300 mixed down to two channels and fired directly into my skull manage to maintain their wonderful detail, their essential character and complexity. My one sonic disappointment with the HF3s was in the area of bass impact, which I found to be lacking in music and even more noticeably on movie soundtracks.
The HF3 headset is "Made for iPod/iPhone/iPad," with the now-familiar three-button combo on the right-ear cable: volume up/down, and in the center the multifunction play/pause/track skip. This little bar also contains a close-proximity, high-sensitivity microphone, near enough to the mouth to improve its performance, although we'll need to operate the buttons without being able to see them.  In terms of compatibility, the remote and mic are supported by iPod nano 4G/5G iPod classic 120GB/160GB, iPod touch 2G/3G, iPhone 3GS, iPhone 4 and iPad. The remote is supported by iPod shuffle 3G.  The volume control will not work with non-Apple products (it uses a proprietary Apple chip), but the cener button can be used on certain smart phones, including some Droid phones as well as the Palm Pre to take a call or to pause/restart a song.  We performed out testing with Apple iPod models only.
Turn-Ons
Well-featured iPhone-friendly earbuds
Optional custom eartips make them a unique, "perfect" fit
Decent performance for the cost
Turn-Offs
Strained trebles at high volume, insufficient bass at any level
Custom-fit tips enhance performance but add $100 to the cost
Final Thoughts
That "rock star status" is hard to resist, as the notion of a pair of quality headphones made for you and you alone should likely justify the significant bump in cost. There's a definite bump up in performance too, but whether or not these sound like quasi-$300 headphones, after all is said and done, remains debatable.  Those who constantly yearn for "mo bass" will likely be disappointed, while those who appreciate sonic transparency will find a lot to like, at least at reasonable volumes.
Where to Buy
Manufacturer's Specifications
Weight: 0.47 ounces (13.4 grams)
Connector: 1/8" (3.5mm) stereo mini-plug
Cable Length: 4 feet
Made for Apple iPod/iPhone/iPad
85%+ response accuracy from 20 Hz - 15 kHz
105 dB SPL sensitivity at 1 kHz at 0.1 mV
Available Colors: Black, Cobalt Blue, Ruby
Warranty: Two-Year Replacement Warranty
MSRP: $179
What's in the Box?
1 pair HF3 Headphones
Zippered Carrying Case
1 pair Glider Earrtips
1 pair Three-Flange Eartips
1 pair Foam Eartips
Shirt Clip
Replacement Accu-Filters with Filter Removal Tool
Custom-Fit information insert
User Manual
Manufacturer's Contact Information:
Etymotic Research, Inc.
61 Martin Lane
Elk Grove Village, IL 60007
1-888-ETYMOTIC
Website: www.etymotic.com