Ears-On with Andrew Jones Signature Speaker Bar (SP-SB23W) at CEDIA Expo
By Chris Boylan
Legendary speaker designer Andrew Jones, of Pioneer Electronics is branching into a new category: sound bars (or speaker bars, as some call them). At CEDIA Expo in Denver this week, Andrew was on-hand talking about and showing off his new speaker bar, the model SP-SB23W.
As far as speaker bars go, it's not that unusual-looking: a narrow black bar with some tweeters and midrange/bass drivers behind a removable grill, and some basic controls in the middle that allow you to make the necessary adjustments. But unlike many low cost soundbars which are made out of plastic, the Pioneer unit is made of a wood composite, to minimize resonances and enhance the sound. And still they've managed to offer the SP-SB23W for a list price of only $399, including a wireless powered subwoofer. That's a far cry from Mr. Jones' TAD Reference One loudspeakers ($78,000/pair), but more in line with Pioneer's recent Andrew Jones-designed offerings in bookshelf speakers.
But what makes the Pioneer speaker bar stand out is not it's construction, nor its low price: it's the sound. At the Pioneer booth, Andrew told me sound quality was the number one priority in designing the unit.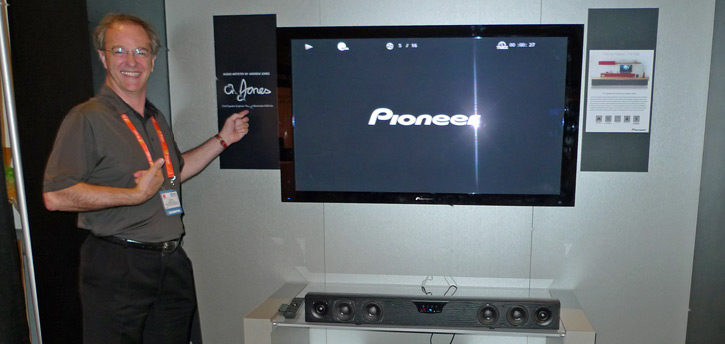 "I listened to the virtualization and enhanced surround options on the chip we're using for about five seconds and said, 'right, we're turning that off.'" Rather than opting for gimmicky virtual surround, Andrew went for a clean, detailed stereo image with articulate and extended bass. When I asked him what the "movie" and "dialog enhancement" buttons on the remote do he told me that movie mode just boosts the bass a bit to improve the dynamic impact, and the dialog mode simply turns off the subwoofer. "We didn't need to boost the midrange for dialog mode, because the dialog is already really clear. But you'd be surprised how much bass information is in TV shows, even talk shows, which can muddy up the sound. By turning off the subwoofer, voices stand out more prominently."

The SP-SB23W features four custom 3-inch woofers, and two 1-inch soft dome tweeters spaced as widely as possible, given the cabinet's dimensions, to maximize stereo separation without resorting to electronic trickery. Each of the six speakers is driven by its own 28-watt digital amp, using active crossovers for enhanced sound quality. To supplement the bass, the speaker bar comes with a wireless subwoofer which Andrew tells us is crossed over at 110 Hz, lower than most competitive products. This lower crossover allows the subwoofer to stay fairly nondirectional, which makes its placement more flexible.
The subwoofer's compact cabinet houses a 6.5 inch bass driver which is said to be capable of reaching all the way down to 42 Hz (albeit down 10 dB at that frequency).  This proves a nice foundation to the sound. For those who like to tweak the bass, the subwoofer level can be adjusted on the included remote.
In order to keep things simple, the speaker bar can learn the controls of your existing TV or set top box remote (for volume, mute and input selection) so that you can tuck the dedicated remote safely away in a drawer. The speaker bar includes both fiberoptic digital and analog inputs as well as uncompressed aptX Bluetooth support for streaming music from a Bluetooth-capable smartphone or tablet.

Listening to the unit at the Pioneer room at CEDIA Expo, I can say that the sound is definitely promising. The details in individual instruments are evident and the bass response is taut and reasonably extended without being boomy or muddy. Closing one's eyes, you can actually get the illusion of a real sound stage, albeit one that is not as wide as you'd get with a pair of well-placed mini-monitors. But the speaker bar can be mounted discretely on the wall below a flat panel TV or set upon a TV stand, so there is zero floor space required.
If you're in the market for a good-sounding, affordable and simple TV sound solution for yourself or a loved one, the Pioneer SP-SB23W is definitely worth a listen. We hope to get one in soon for a full review.
Available at Amazon: