Downton Abbey: Season 3 Blu-ray Review
By Ian White
You bet it all on a Canadian railroad stock????
The Show
One would have to be living under a rock to have missed this show. Then again, many folks considered Jersey Shore and Teen Mom to be must-see TV, so anything is possible. PBS struck platinum with Downton Abbey and it rarely takes more than one or two episodes for newbies to be hooked. The critically-acclaimed British period drama took home the SAG award this month for Best Ensemble in a Drama and the only peculiar item is that it didn't sweep the Emmy Awards (despite a record number of nominations) as well.
Creator Julian Fellowes must have known that he had something special when the first season on ITV in Great Britain hit number one, but he never could have predicted that his little show about the Crawley family would become the most popular TV show on the planet. PBS, best known for Sesame Street, NewsHour, and its committment to Masterpiece Theater, still can't believe its good fortune, as the program is decimating all others in its time slot on Sunday nights. Mad Men and Breaking Bad have never had an audience this large and I'm sure the creators of The Walking Dead wish they had inserted a few zombies with British accents to capitalize.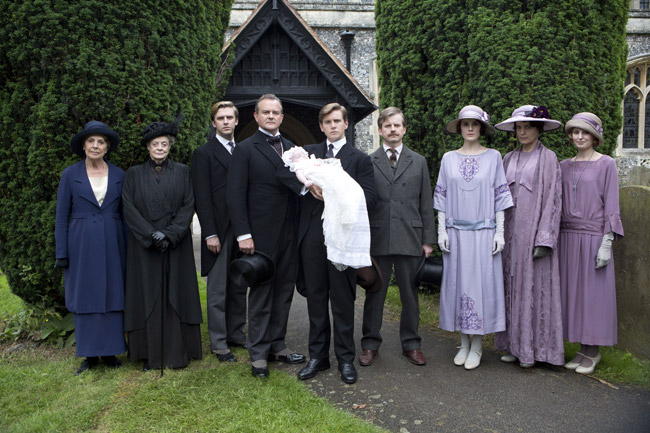 Downton Abbey: Season 3 pulls no punches and Fellowes has tightened up the story, as all is not well at Downton in 1920. Having lost most of the family's fortune through a horrible investment decision, Lord Grantham (Hugh Bonneville) must tell his spoiled children the bad news that their future is unlikley to include living like royalty for the rest of their lives. The always charming and sarcastic Lady Violet (Maggie Smith, in one of her greatest performances) takes the news better than most, but conjures up a scheme to sponge off the American side of the family to save their position.
Lady Mary (Michelle Dockery) and Matthew (Dan Stevens, whose departure from the show after Season 3 appears to be confirmed) finally tie the knot, but a future without Downton leaves rather cold and bitchy Mary in an uproar when her new husband inherits enough money to save them all -- but has a moral dilemma about keeping it.
Season 3's strongest moments involve the help, who keep the enormous estate humming along 24/7. It's easy to understand why Mr. Carson (Jim Carte), Anna (Joanne Froggatt), Mrs. Hughes (Phyllis Logan), Mr. Bates (Brendan Coyle), and Ms. O'Brien (Siobhan Finneran) have all become fan favorites. Their lives are far more interesting and it's hard not to get caught up in the subplots, which are given more time to fester in Season 3.
The two characters who show the most growth in Season 3 are Lady Edith (Laura Carmichael) and Thomas (Rob James-Collier) and I must confess that I've developed a certain crush on the middle Crawley child, who has been jilted at the altar and put down by her father whenever she shines. Edith really comes into her own as the season moves along and becomes a character to cheer for.
Thomas is still the bad guy, who turns O'Brien (his only ally) against him finally when he attempts to sabotage her nephew who is now working in the house. That said, he is shockingly humane during the pivotal episode where Lady Sybil experiences a very difficult delivery. His good looks, however, can only take him so far and his newfound attraction for the new footman spells trouble in a home like Downton.
Toss in Ethel (the former maid who has a child out of wedlock and turns to prostitution), a cancer scare for a key member of the staff, and political turmoil in Ireland, and you have one emotionally-draining Season 3. Having to wait another nine months for Season 4 (which begins filming in England in two weeks) is more than one can handle.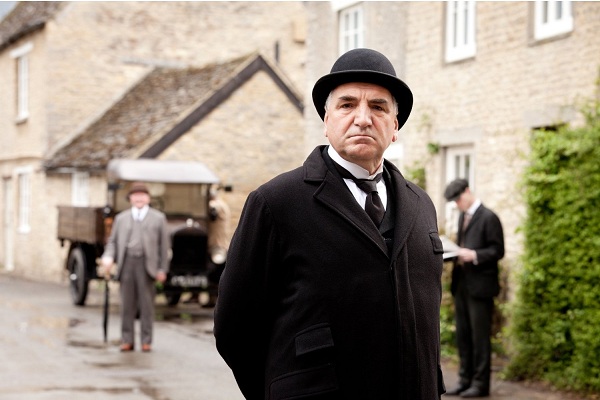 The Picture
Having watched every single episode of the show on both PBS, Hulu, and on Blu-ray, I have noticed that the production has some issues on home video that once again detract from the show. Season 3 looks too dark; blacks are deep, but they suffer from crush and it is often difficult to make out details on clothing (try finding a lapel on one of Lord Grantham's gorgeous dinner jackets). The dark hue makes the image look slightly murky and it's almost impossible to make out little details like hair texture (which should be easily visible on a show like this shot in HD) in some scenes.
The overall image is quite crisp and the color certainly pops, but the inability to make out the details on the wonderful furniture that adorns the house is rather disappointing. When Fellowes goes for the close-up on his characters (especially Mr. Carson, Ms. Hughes, or Lady Violet), you can see the lines and creases giving away their ages, but the rest of the image isn't quite as HD as one would hope.
Just to be sure, I watched episode five on both PBS and on Blu-ray and found them to be quite close in quality. The PBS version via Comcast (sucks) had even less detail visible due to the dark image quality, so I would stick with the Blu-ray.
The Sound
Unlike the image quality, which I found disappointing, the DTS-HD Master Audio 2.0 track delivers because it doesn't try to do too much. Yes, it's odd that a show shot in 2011/2012 would not make use of a more immersive surround track, especially considering the set (both inside and out). However, Downton Abbey is all about the dialogue and you won't miss a single word. Fellowes likes to insert music at critical moments and there is most certainly some added punch when that occurs. If you were expecting fireworks, just remember that this show does deliver them -- the verbal kind.
The Extras
Season 3 has a number of pivotal moments; Lady Mary's wedding, Lady Edith's (SPOILER ALERT) aborted wedding, and Lady Sybil's traumatic delivery. Fans will be delighted to know that PBS has included two featurettes (both offered in HD) about the weddings and how the dresses were designed. There is no featurette about Lady Sybil's horrible night because who would want to relive that? Really.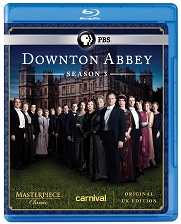 PBS has also included a 48-minute featurette about the first two seasons of the show and its meteoric rise all around the globe. Creator/writer Julian Fellowes and some of the cast members take us on a journey through the house, the production, and the relationships that make the show so intriguing.
The remaining bonus content focuses on the addition of Shirley MacLaine to the cast (she only briefly appears in the show), the men of Downton, and the details behind some of the last episodes of the season; which is somewhat disappointing, as fans are likely to crave more.
Final Thoughts
There is a weird bit of irony that a soap opera about class warfare in Britain would become so popular on our side of the pond, when we just suffered through an election about "fairness." I'm sure that there are some in the Obama administration who must be watching and taking copious notes. In a country where Breaking Bad and Homeland are all the rage, it is encouraging to see that a tightly written British period drama with rich characters and the best set on TV can not only compete, but win with huge audience numbers. Downton Abbey is sweeping the world and Season 3 will have you weeping in your seat. It's one of the most entertaining shows in recent memory and unlikely to jump the shark anytime soon. Highly recommended.
Product Details:
Actors: Hugh Bonneville, Maggie Smith, Jim Carter, Dan Stevens, Elizabeth McGovern, Michelle Dockery, Laura Carmichael, Brenda Coyle, Joanne Froggatt, Phyllis Logan
Director/Creator: Julian Fellowes, Brian Percival, Brian Kelly, Andy Goddard, James Strong
Video Codec: MPEG-4 AVC
Video Resolution: 1080p/24
Audio Codec: DTS-HD Master Audio 2.0
Subtitltes: English
Aspect Ratio: 1.78:1
Rating: Not Rated
Number of Discs: 3
Studio: PBS/ITV
Region: A
Running Time: 542 minutes
DVD Release Date: January 29, 2013
MSRP: $54.99
Extras:

"Behind the Drama" featurette
"Downton in 1920" featurette
The Wedding of Lady Mary
The Wedding of Lady Edith
The Men of Downton Abbey
Shirley MacClaine at Downton Abbey
Behind the Scenes: Cricket Match
Behind the Scenes: Journey to the Highlands