Diary of a Wimpy Kid: Dog Days Blu-ray Review
By Rachel Cericola
The Film
Diary of a Wimpy Kid has carved out a neat little niche for itself. Three years after author Jeff Kinney released his first book in the series, we got Diary of a Wimpy Kid, the movie. Now, Hollywood seems bent on putting out these films as fast as Kinney can crank out the books.
However, they probably aren't trying to keep up with Kinney as much as keep up star Zachary Gordon's growth spurts. Yes, our wimpy kid is becoming a man, but he's still pretty wimpy -- at least in Diary of a Wimpy Kid: Dog Days. Also to save some time, this third film packs in the antics of the third and fourth books in the series, The Last Straw and Dog Days.
Gordon returns as Greg Heffley, who is determined to spend his entire summer working on a good case of rickets and his video game skills. However, his Dad (Steve Zahn) has other ideas -- a lot of them actually. And it looks like if one of those ideas doesn't pan out, Greg could land himself in military school by the end of the season.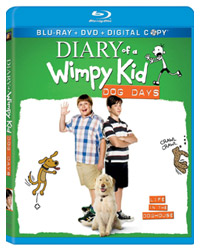 If you've spent any part of the last three years watching
Diary of a Wimpy Kid
and
Diary of a Wimpy Kid: Rodrick Rules
, why jump off the freight train right now?
Diary of a Wimpy Kid: Dog Days
certainly isn't the best film of the lot. The kid isn't as cute as he used to be (think late-
Wonder Years
Fred Savage). However, it's filled with goofy scenarios that will definitely entertain its target audience.
The Picture
Dog Days is set in the summer, so you can expect lots of outdoor scenes and bright colors. That varied palette is really this 2.35:1 image's strongest point. That's not to say that the detail is bad. It's actually really good, with lush greens, rippling pool waters, and a ton of crisp Civil War and Wilderness Explorer uniforms. That said, the rollercoaster scene looks like it was shot with a handheld camera, making the one scene look, well... sort of wimpy.
The Sound
This release's DTS-HD Master Audio 5.1 track is clear throughout, but just isn't all that immersive or impressive. There are splashing sounds, a bugle, and even gunfire -- yeah, in a Wimpy Kid movie. That said, everything except for the peppy soundtrack hovers close to the front speakers. For a 94-minute movie that includes a diving board mishap, an amusement park ride and Löded Diper rocking some Justin Bieber, this audio experience should be a little bigger. Thankfully, the film's target audience will probably be giggling over any of the track's shortcomings.
The Extras
Deleted scenes, a gag reel, a trailer, an audio commentary and a little something on the Wimpy Kid empire are all standard fare. The real gem of the lot is a 3-minute cartoon titled, "Class Clown." It's short, but it has author/cartoonist Jeff Kinney's Wimpy-esque trademark style. It's also probably the only thing in this set that will appeal to the film's target demographic.
Final Thoughts
Zachary Gordon is no longer as cute as he used to be, and neither is this film series. That said, Diary of a Wimpy Kid: Dog Days is a little harmless family fun with a a nice AV presenation. Enjoy!
Product Details
Actors: Zachary Gordon, Robert Capron, Devon Bostick, Rachael Harris, Steve Zahn
Director: David Bowers
Audio/Languages: DTS-HD Master Audio 5.1 (English), DVS 5.1 (English), DTS 5.1 (Italian), Dolby Digital 5.1 (French, Portuguese, Spanish)
Subtitles: English SDH, Italian, Portuguese, Spanish
Aspect Ratio: 2.35:1
Number of Discs: 2
Rating: PG
Studio: Fox
Blu-ray Disc Release Date: December 18, 2012
Run Time: 94 minutes
List Price: $39.99
Extras:

Commentary by Director David Bowers
Deleted Scenes
Class Clown
FX Movie Channel Presents: Wimpy Empire
Gag Reel
Theatrical Trailer
Sneak Peek
BD-Live
Standard-Def DVD
Digital Copy
UltraViolet Digital Copy