Denon AVR-3312CI Receiver Review
By Ian White
Edited by Chris Boylan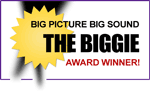 Wide Receiver
This mall's got everything - Joliet Jake Blues
It is distinctly possible that Denon's AVR-3312CI A/V receiver is one of the most perfect home theater products ever released. It offers almost every bell and whistle imaginable; including Apple's AirPlay (awkward pause before pumping the air with one's clenched fist while facing Cupertino) and a remarkable array of connection options considering its price tag. The AVR-3312CI is the flagship model in Denon's IN-Command series and a lethal threat to AVRs from the competition in the sub-$2,000 category. Don't let its understated looks fool you; this AVR not only took the prom queen to the dance, it slept with her better looking older sister as well. Fans of The Rock understand where I am going with this.
A/V receivers have to be jack-of-all-trades in 2012; multi-channel amplifiers, wireless connectivity, multi-zone distribution centers, video processors, and even social media darlings. I can understand why custom installers would love/hate this new breed of products because while they offer so much to the customer, there are more things that can screw up and something has to give on the audio side. When it comes to audio performance, less is often significantly more. Does the AVR-3312CI deliver the sonic goods or is it weighed down by more features than I can adequately describe in a review?
Make no mistake about it, the AVR-3312CI is a superb A/V receiver; for its low asking price of $1099.99, it may be the best deal around. As I watched movie after movie through it, however, I heard this little voice in my head (something that happens often anyway, so it may not be the faut of the receiver) keep repeating, "imagine how awesome this would sound if it had a lot fewer features." Listening to music via AirPlay, one really gets a taste of the beast lurking within, but something is clearly amiss in the land of A/V receivers because I can't imagine that consumers would use even 50% of the features that this product offers.
Ground control to Major Tom...there sure are a lot of buttons here!
Denon USA was kind enough to invite BPBS Head Honcho Chris Boylan and me to a private preview of their new equipment and my first impression of the AVR-3312CI was that it sounded great, looked great, but that it had a staggering array of connection options and features. Perhaps too many for the average Joe.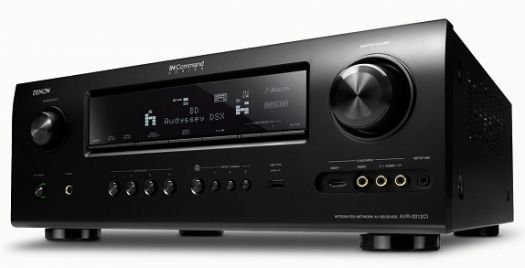 With seven HDMI v1.4a inputs, the AVR-3312CI should be future-proof for at least a year or so. 4K and 8K HDTVs may have made a splash at CES 2012, but there won't be any content to watch for the foreseeable future. Blu-ray 3D is still struggling to impress (consumers and press alike) but the Denon is ready to play.  It even has ARC (Audio Return Channel).  This is handy if you like to hook components directly up to your TV or use your set's built-in ATSC TV tuner.  IT allows you to send the audio from those devices back to the receiver over that same little HDMI cable that you use to display an image on your TV from the receiver.  No need for extra wires or additional set-up.  There are 2 HDMI v1.4a outputs as well for those who want to run the video signal to both a projector and HDTV in the same room, or even in different ones.
Where the AVR-3312CI really shines is in the power department. It offers 7 channels at 125 watts per channel; all discrete circuits so that each channel is really getting 125 watts. The receiver stays cool even when driven quite hard, but I would suggest a few inches of ventilation on the top and sides just to be safe if you are going to leave it powered up 24-7.
The receiver has enough coaxial and optical digital inputs for the proverbial Russian army and unless you are running a really high-end external digital processor, you will be more than impressed with Denon's proprietary Dynamic Discrete Surround Circuit-HD and AL24 Plus processing technology. Whether you are streaming from your network via AirPlay or through something like Wadia Digital's 171i iTransport/iTouch, you are pretty much covered.
Ethernet and USB inputs are also offered on the AVR-3312CI, but the USB is not a digital input that can be driven from your computer; something I found disappointing. If you want to connect to your home network (and from there THE WORLD), you must connect your router to the Ethernet input via a hard-wired connection. There is no wireless adapter available as of yet.  In a wireless age, some may find this perplexing, but I must confess that I prefer the hard connection; as do most installers.  Also, anyone who is reasonably technical can add on a third party wireless gaming adapter or wireless bridge and voila! Instant WiFi!
Internet radio is offered via the AVR-3312CI; Pandora, Napster, Rhapsody, and Flickr are part of the interface and setting them up was incredibly easy. The reality is that other services such as MOG and Spotify are available as apps on devices such as the Roku boxes or via your phone or tablet, so the Denon can pretty much do it all assuming it's paired with the right source components.
From a surround perspective, the AVR-3312CI can drive a 7.2 channel set-up (2 subwoofer outputs should be mandatory on all receivers) and offers numerous set-up options. Not only can it handle all of the usual surround options; including DTS-HD Master Audio and Dolby TrueHD, but also Audyssey DSX and Dolby Pro Logic IIz. Pro Logic IIz is a height channel (you place two identical speakers on the wall above your front left/right speakers) and Audyssey DSX offers front wide channels (two identical speakers placed to the side of your front left/right speakers) or height channels, depending on your preference.  Or you can opt for the more traditional 7-channel surround with speakers in front, side and rear.  The choice is yours!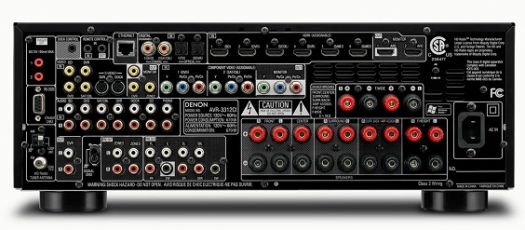 I have to applaud Denon for including two subwoofer outputs. There are still manufacturers in 2012 who don't provide this option even on models that are more expensive than the AVR-3312CI and I don't understand that at all.  Don't assume that one subwoofer with a really large driver (12" or larger) is going to work in your room and be the end of the issue. Room nulls and standing waves can make a single sub system sound too fat and boomy in one part of the room, while anemic and thin just a few feet away.  I would almost always prefer to have 2 matching subwoofers in a two-channel or multi-channel set-up. Your system will sound more balanced and have far superior soundstage depth and width. The "angry wife" effect will also be minimized as the bass will not over-pressurize the room and cause walls to flex or china to topple over.  Lower overall bass level, but more even and solid bass reproduction: what's not to like? [editor's note: check out our subwoofer set-up tutorial for details on setting up multi-subwoofer systems].
The AVR-3312CI also offers multi-source/multi-zone playback. You can play the same source in three different rooms which is fantastic if you are having a party. You can also listen to three different sources if that rocks your boat. The new Denon remote app allows you to control the multi-zone playback from your smart phone or tablet and it worked pretty well (as opposed to the earlier version which was not as stable).
From a calibration perspective, the AVR-3312CI does give you the flexibility to adjust the image quality from the receiver for each source and while the Denon did nothing horribly wrong, I would calibrate my HDTV or projector via a pattern generator (which 99% of the buying public does not own) and calibration software first.
You traded the blues mobile for a microphone? I can see that.
Surround sound receivers are not plug and play devices (I shudder to think how many millions of consumers bypassed the set-up mode...or worse, had Best Buy do it for them) and the AVR-3312CI is no exception. The original GUI that Denon provided with its receivers; including my older AVR-4810CI, was rather horrible. It was difficult to navigate and somewhat confusing to use. Whoever designed the new GUI and set-up procedure for the IN-Command series deserves a medal; perhaps even an Oscar. Or at least a case of sliders from White Castle.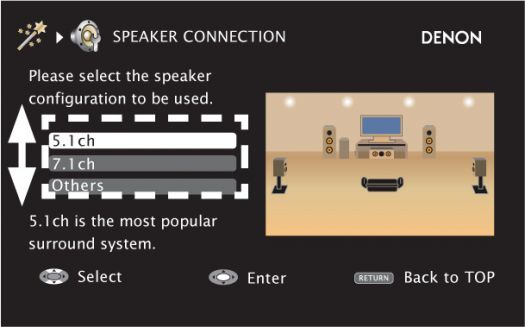 Not only is the interface beautiful to look at, but it works. Silly thing. Using the supplied calibration microphone and Audyssey MultiEQ XT software, I had a 7.2 system up and running in less than an hour. Not only did the system sound properly balanced across all channels, but I was able to eliminate a really annoying bass node issue.
One set-up tip with the supplied microphone: Attach it to a tripod as running around the room with it or taping it to furniture or to a loved one, or a cat, is not really practical or effective.  Unless you have a very patient cat.
On the video front, the AVR-3312CI passed every test I could throw it and then some. My older (and recently sold) AVR-4810CI was actually slightly inferior than its less expensive sibling with the HQV DVD and some of my calibration Blu-ray discs from the ISF. Jaggies? No issues on the 3312. The "Super Speedway" cadence test locked in so quickly, I had to rerun it a few times to make sure I wasn't having vision issues. DVDs run at 480i looked better than usual and without excessive edge enhancement or digital noise.
When I ran 3D content through the AVR-3312CI, I saw no difference with Blu-ray films such as Avatar and Despicable Me; in comparison to running my Panasonic DMP-BDT210 Blu-ray 3D player directly into 3D HDTVs from Panasonic, Mitsubishi, and LG. The Denon added nothing through its video processing that would have me question its abilities to be the hub of a very high-end home theatre. Rather impressive for the price to be quite frank.
My only knock against the AVR-3312CI in the video department is that it added some edge enhancement and noise when I was watching television via Comcast. HD channels fared better, but FoxNews and DiscoveryHD were not as clean looking in comparison to my direct feed to a 40" Samsung LCD in our bedroom. These SD channels look rather crappy even when using a $8,000 JVC projector, so the Denon isn't entirely to blame here (garbage in, garbage out).
Denon has also moved away from the practice of including two remotes with its AVRs; at least with the IN-Command series from what we can tell, and I think that was a wise move for a number of reasons. Universal remotes have become the norm (versus the cliff) for a lot of people; especially now that manufacturers offer remote apps for the iPad, iPhone, and Android-based devices. Denon's first crack at a remote app was less than spectacular, but the latest version worked quite well with the AVR-3312CI with an iPad 2 as the controller.
The supplied remote lets you access every last little feature and the layout was easy to master. That being said, it looks pretty much like every other remote and I barely used it once I had the Denon remote app running on my tablet. Manufactuers have packed so many features and adjustments and settings and options into their receivers that you need a manual just for the remote and that's a bad trend.
We have both kinds of music here. We have Country and Western...
Once you have the AVR-3312CI properly set-up, fire it up with music and let it play for a few albums. Just like the Blues Brothers at Bob's Country Bunker, this AVR needs to warm up the audience before things start to get interesting. Drinks, however, are not on the house. One of the most surprising things about this receiver is just how powerful it sounds when it has to provide that ample degree of punch at that critical moment; whether listening to Bruckner, Green Day, or Adele, or when Luke and Darth Vader duel for the first time in The Empire Strikes Back.
At lower listening levels, the receiver does not shine as brightly; the midrange sounds just slightly recessed and there is a small but perceptible (at least by me) loss of musical detail. That being said, I've heard mega-buck high-end component amplifiers omit the same information at similar listening levels, so don't be too hard on the Denon for its errors of omission. Better this than screechy highs or timbral inaccuracies. A piano still sounds like a piano, a harmonica like a harmonica, and Brian May's home-made "Red Special" playing through a Vox amplifier, well... you get the idea.
Depending on the size of your home theater room (mine qualifies as medium-large), the AVR-3312CI has the ability with the right surround system to shake the foundation of your home and elicit some nasty stares from the wife and kids. Films such as Despicable Me, Avatar, and Peter Gabriel's sensational concert film, New Blood, were not only completely enveloping, but their bass output energized my room in a way that few AVRs ever have. I tried the Denon with subwoofers from REL, NHT, Linn, and MartinLogan and the results were always the same: impressive... most impressive.
From a cabling perspective, I would not go crazy with the Denon, even though it has enough room for some thick garden hose-sized cables back there. In my experience, copper cables work better than silver and I would recommend AudioQuest, Analysis Plus, and Kimber as compatible choices. Banana pins work better than bare wire, plus they're easier to work with.
The audiophile that resides within my four walls can't stand receivers that don't do music as well as movies and the Denon is most certainly up-to-the-task with music. I have never been a huge fan of internet radio as its compressed signal rarely sounds great, but the AVR-3312CI sounded better than most; warmer sounding midrange, genuine depth to the soundstage, and tighter bass.
When I fed lossless tracks to the Denon, it really came alive. Even when pushed hard, the soundstage never collapsed and the top end never became too hot. I would leave the 3312CI running for hours during the day with music playing the background and I found myself constantly distracted by it.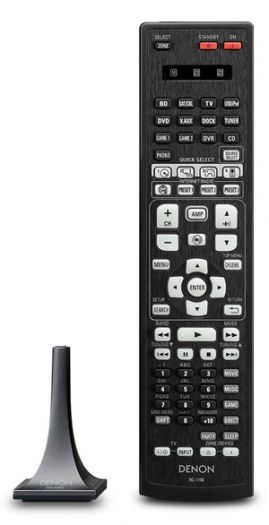 There are a number of really good integrated amplifiers on the market right now from companies such as Rega, Cambridge Audio, and Peachtree Audio that come in around $1,000 and I would have to add the Denon to that list because it is no slouch when it comes to midrange resolution or dynamic range. With the right pair of loudspeakers from MartinLogan, NHT, Paradigm, Spendor, or Polk Audio, the AVR-3312CI can really become the nerve center of a great sounding system.
If the tonal balance of the Denon isn't your cup of Carib Beer (I'm writing this from sunny Saint Maarten), you can always use it as a surround processor/preamplifier and drive your system with a multi-channel amplifier from Emotiva or Anthem and still keep the price on the right side of sane. The warm, slightly darker tonal balance of the Emotiva amplifiers is a really great mix with the Denon if you are using more forward sounding loudspeakers.
The AVR-3312CI offers Apple's AirPlay and once you have it set-up controlling and streaming your music collection with an iPhone or iPad is a piece of cake.  Don't ever underestimate the value of being able to access your music collection or internet radio from the comfort of your favorite chair or sofa. We had three parties in our home during my time with the Denon and it never failed to work or impress our guests who often fought for control of the iPad.
Some receivers stumble when it comes to switching, but not this one. The lag time between sources was negligible and we were never greeted with a blank screen; unless of course Comcast was up to its usual bag of tricks and our cable signal was not working well.
How does the Denon compare to the competition?
Rather well.
While it may not sound as effortless as the MRX-700 from Anthem, which I think is the best sounding AVR currently available (it's also double the price of the Denon), the Deno AVR-3312CI does a better job with switching and has fewer operational issues with Blu-ray 3D sources. Anthem's ARC system is not the easiest to set-up; although those willing to spend the time and do it properly will be impressed with the results.
Denon's Audyssey MultiEQ XT system is far easier to use; especially if you have never set-up a home theater in your home before. The aural results may not be quite the same, but Denon has made it easy to achieve a really excellent sounding system with a minimum of fuss.
And as for those extended surround options, Dolby Pro Logic IIz is far more interesting to my ears than Audyssey DSX.  I really don't know too many people who would want to place a second pair of loudspeakers to the right and left of their front channels. It is far easier to add height channels and the effect; especially with concert videos and music is more impressive. With the Peter Gabriel Blu-ray 3D concert, the soundstage grew much larger (although let's be clear...there still wasn't a huge stage present in my home theater room) and the music was more enveloping.  But with the Denon, you can experiment with multiple speaker configurations and pick the one you like best.
Whatever the speaker complement, the final result is still amazingly impressive, particularly for the cost.
Turns Ons
Incredible value for the money
Very powerful sounding amplifier
Enough inputs/outputs for multiple home theater systems
Excellent with movies and music
Easy to set-up and optimize
AirPlay
Internet Radio
So many features!
Turn Offs
Too many features?
Remote app doesn't always work properly
Slightly recessed sounding at low listening levels
Final Thoughts
For $1099.99, it would be difficult (nigh on impossible) to find a more complete home theater receiver than the AVR-3312CI.  It has enough power and features to drive one's home theater system for many years to come. A well-thought out GUI and set-up procedure makes this receiver easy to optimize and use and unless you need something more sophisticated than a 7.2 set-up, you can't go wrong with this black box from Denon. If you have $1,500 or less to spend on an AVR, put the Denon on the top of your list. Highly recommended.
Technical Information: