Dave Made a Maze Review
By Matthew Passantino
'Dave' is Creative But Slight
Dave (Nick Thune) is at a crossroads in his life. He is an artist, who starts more projects than he finishes, which leaves him in a pit of frustration and self-loathing. We've all experienced what Dave is going through and felt that overwhelming sense of creative bankruptcy that plagues us when we just want to fuel our passions.
"Dave Made a Maze" is an offbeat exploration of those themes. One day, Dave's girlfriend, Annie (Meera Rohit Kumbhani) comes back to their apartment to find a large fort made of cardboard boxes in the middle of the living room. Baffled, of course, she calls out for Dave, whose voice comes from inside the labyrinth. As you could imagine, any girlfriend returning home from a business trip to find out their boyfriend has been inside his fort for three days would have cause for concern.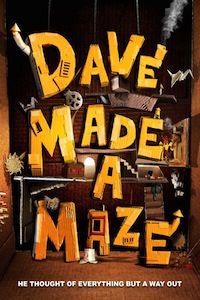 Annie asks Dave to come out but he says he can't find his way - it's a lot bigger inside than it looks, he warns her. When Annie decides enough is enough, she says she is coming in to bring him back out but Dave warns her it's too dangerous for her to enter the maze. She calls his friend Gordon (Adam Busch), who invites a few others over, and together they all decide to enter Dave's labyrinth (there's some discussion of maze or labyrinth is the proper term for what Dave has constructed).
Inside is a whole new world. The maze is seemingly alive and has a personality of its own. Oh, not to mention, there is an angry Minotaur roaming about, inflicting harm on those who cross his path. To call "Dave Made a Maze" strange is an understatement but it's undeniably creative from visual perspective. Though the movie clocks at a scant 80 minutes, the premise wears thin early on, which makes me think "Dave Made a Maze" would have made for a really great short.
At its heart, director Bill Watterson's film is about creative longing and emptiness and how one reconciles both. As a creative experiment, "Dave Made a Maze" is something to behold but as a full-length feature, it comes up feeling a bit slight.